Guide to Merge C and D Drive in Windows Server and PC
Hard disk drive is an indispensable component for both Windows server and personal computer. To use the disk space more efficiently, you have to do many operations such as create, delete, format, resize, copy or convert partitions. Recently, many Windows 10 users ask me questions about merge partitions. For example: is it possible to combine C and D drive together, is there a way to merge two drives without losing data. In this article, I'll show you how to merge C and D drive in Windows 10/8/7/Vista/XP and Server 2016/2012/2008/2003 (R2).

Advantages and disadvantages of merging two drives
Merge partition means combine two drives together into a larger one, which brings two advantages:
Decrease number of volumes – we know that it is not good to create a single partition C in a whole disk and put everything into it. But on the contrary, some people created too many volumes. Nowadays, it is very common to use a hard disk with 2TB or 3TB space in personal computer. Too many volumes make it difficult to identify partition and locate the files you need. By merging partitions, you can decrease the number of drives without losing data.
Occupy free space of another volume – running the computer for a certain time, some drives are running out of free space, especially for the system C drive and the partition that is used to store backup files. It is easy to transfer files in non-system drive or change the output path to other volume for specific service or programs. It is annoying for C drive, but you can merge D to C drive and then the free space can be used to C drive.
Yes it is possible to merge C and D drive, but there is a problem if you do that. Many people install programs or Windows services to drive D, if you merge volume D into C, D will be lost and the program or services will stop working. If your aim is to extend C drive, you'd better resize volume instead of merging drives.
In this article, I'll show you how to combine D and C drive in Windows Disk Management snap-in and 3rd-party program. I'll introduce how to resize volume as well, so choose the method you like.
How to merge C and D drive in Disk Management
In Disk Management console of Windows 10/8/7/Vista and Server 2016/2012/2008, you can merge two drives by Extend Volume function indirectly. But for Windows XP or Server 2003, there is no such function, so you have to use partition software.
Note: the GUI and method are absolutely the same in these Disk Management, so the steps below are valid for Windows 10/8/7/Vista and Server 2016/2012/2008.
Step 1. Back up or transfer all files in drive D to other device.
Step 2. Right click Windows flag on bottom left corner of the screen and select Disk Management. Right click drive D and select Delete Volume, the disk space will be converted to Unallocated.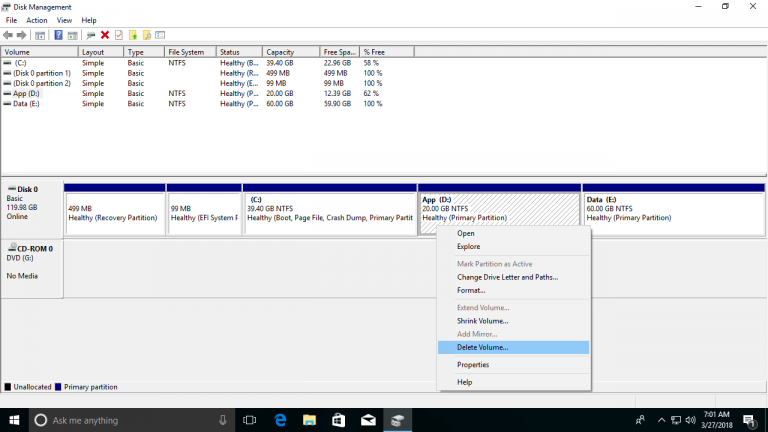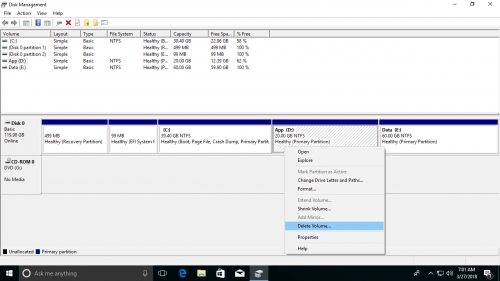 Step 3. Right click drive C and select Extend Volume.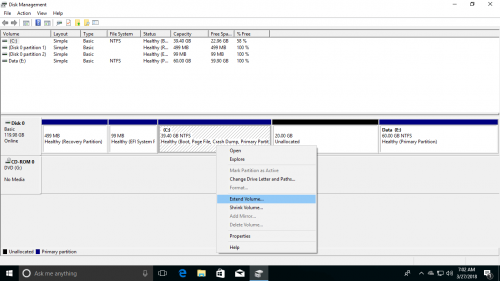 Step 4. Click Next in the pop-up Extend Volume Wizard window.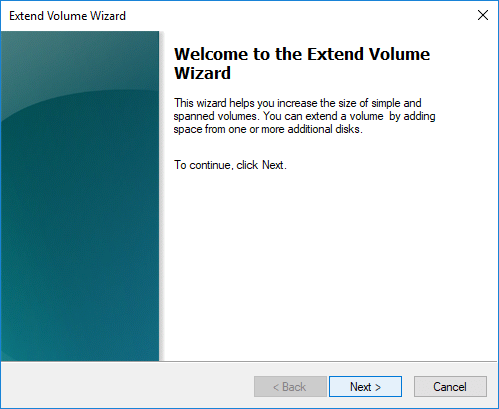 Step 5. The available disk space has been selected by default, simply click Next to continue.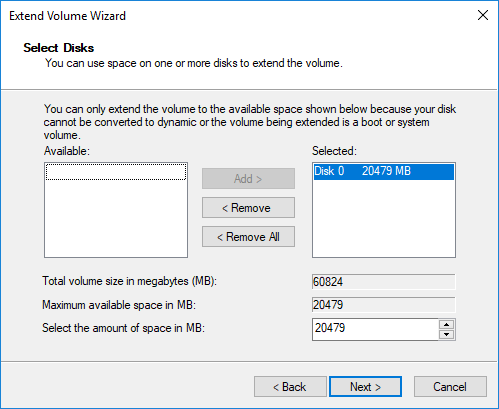 Step 6. Confirm this operation and click Finish to proceed.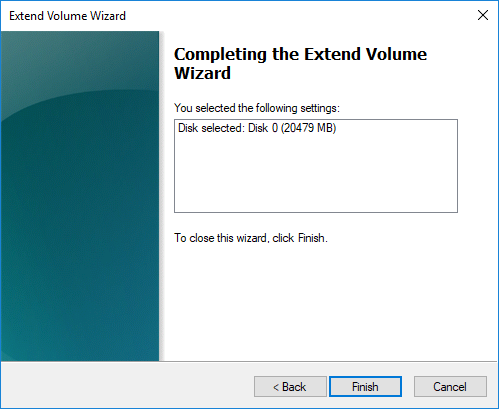 In a while, drive D is merged into C.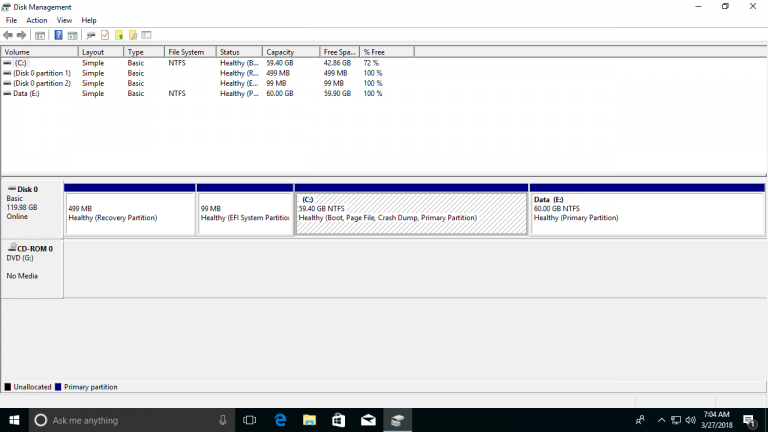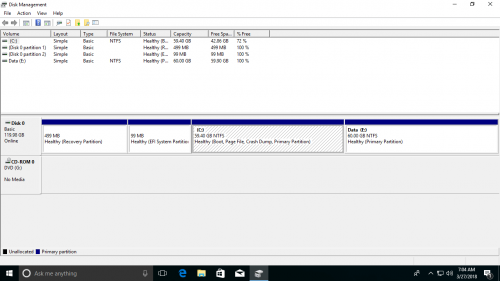 Is it difficult? There is much easier way to merge D to C drive with free partition software.
How to combine C and D drive with free partition software
Better than Windows Disk Management, partition software can move all files of drive D into C while merging the two drives, so you don't have to transfer files manually. However, if you don't want to move files into C drive, you have to transfer to other device by yourself before merging.
Step 1: Download NIUBI Partition Editor, right click drive D and select Merge Volume.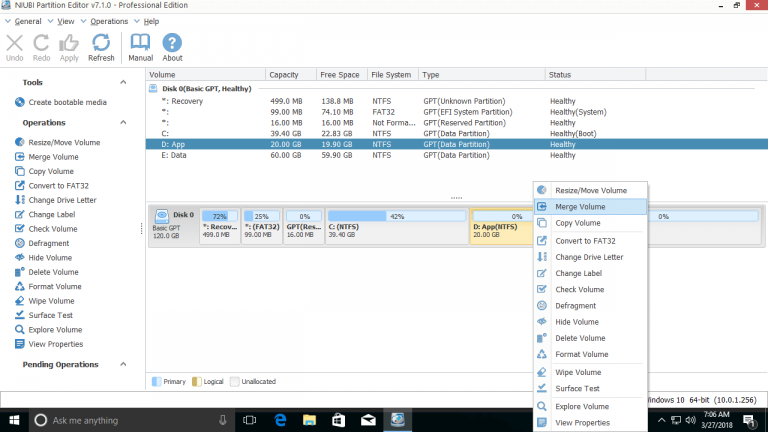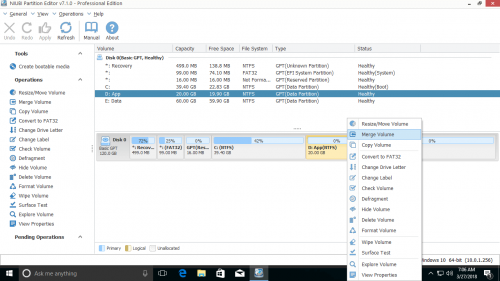 Step 2: In the pop-up window, select both drive C and D, and then click OK.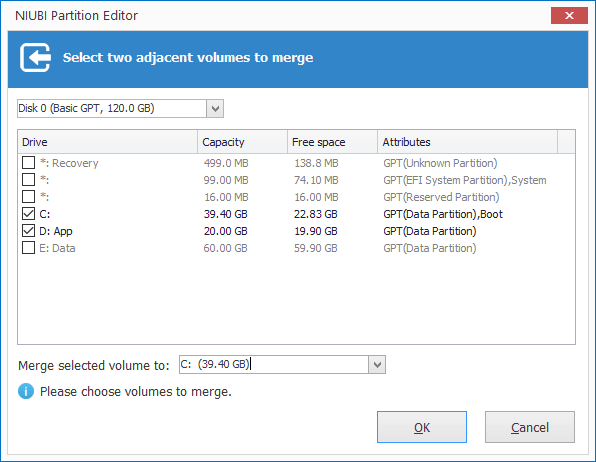 Press Apply button on top left to execute. (Otherwise, this operation only works in virtual mode).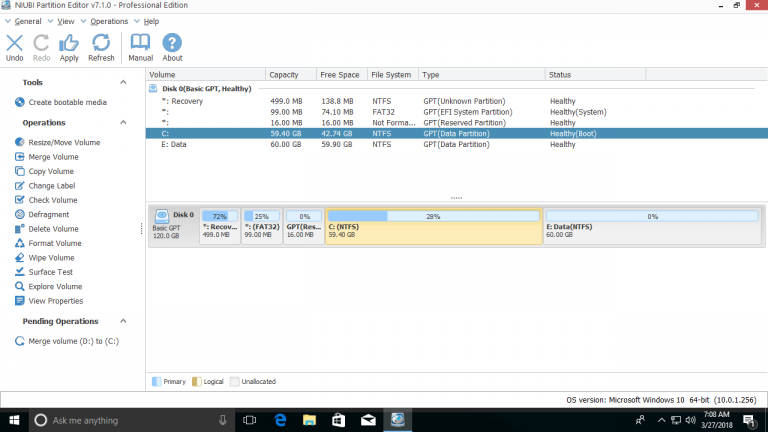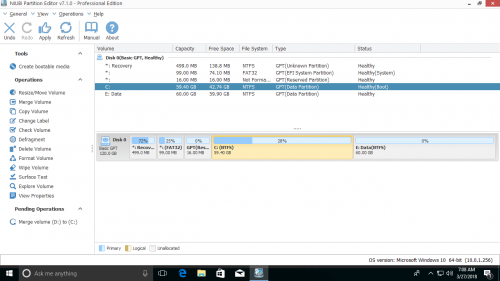 Is it much easier? After merging complete, open C drive in Windows Explorer and then you'll see a fold that is named as D to C(03-27-2018_07-10). All files of D will be moved to this folder. According to the name, you'll know that when you merged D to C drive.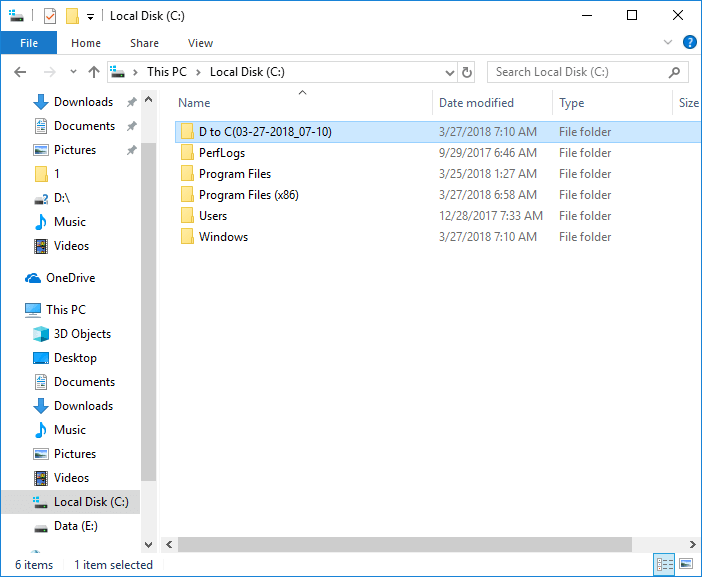 Indeed, you can merge C and D drive easily. However as I said in the beginning, it is not the best way to increase C drive space by merging D to C, instead, you'd better resize these volumes. Watch the video and you'll understand how to do this.
Note: there is risk of system/partition damage and data loss while change partition by resizing, merging, moving etc. So you'd better select a safe partition software. The built-in 1 Second Rollback Protection technology in NIUBI Partition Editor can ensure 100% everything intact. This is very important for both Windows Server and PC.