How to repartition disk drive without losing data
Many computer users have the experience that system C: drive is out of space. In a server, the rate of low disk space is higher than a PC. Besides C: drive, any other volumes for backup or other Windows services also becomes full in certain time, so many servers are equipped with large storage device. What to do when a drive is running low on disk space? It can't be better if you can repartition hard drives directly. Who likes to waste a whole day to start from scratch, especially for a server. In this article, I'll show you how to repartition hard disk drive without reinstalling Operating System or losing any data.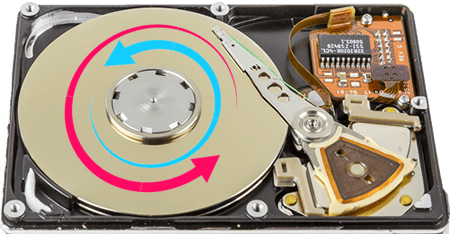 Which tool to repartition hard disk
A right partition software can help you solve this problem fast and safely, but an unreliable program can bring you trouble. There is system damage and data loss risk while repartitioning disk drive. It still costs several hours to restore even if you have backup. In addition, you'll lose part of data if the backup software is not backing up in real time.
Then which is the reliable partition software? As the safest Windows partition software, NIUBI Partition Editor is integrated unique 1 Second Rollback technology, which is able to ensure 100% system and data safe while re-partitioning hard drives. How does it work? Thanks to the innovative protection technology, NIUBI Partition Editor can automatically roll back the computer to the status before repartitioning in ONE second, if any software related error or hardware issue occur. Nothing will be changed or lost if it detects any error and roll back automatically. Besides data being protected, system could be back online rapidly. No server administrators like to see server offline for several hours.
You'll be amazed at its fast resizing ability if you have testing environment to compare with other tools. The special file-moving algorithm helps resize and move partition 30% – 300% faster than any other tools.
There are many other benefits such as:
Virtual mode to avoid mistake before applying changes to hard disk drive.
Hot Resize to extend volume without rebooting computer.
More about NIUBI Partition Editor
Repartition hard drive by resizing
For Windows 10/8/7/Vista/XP home users, NIUBI Partition Editor Free Edition is 100% free without any ADs bundle or plugins. Its resize/move volume feature can help you repartition hard disk drive easily.
Download
NIUBI Partition Editor and you'll see connected hard disk, detailed information of disk and each volume. On the left side, you'll see available functionalities. To show you how it works to repartition existing volumes, I captured several screenshots to
shrink D and extend C drive
.
Step 1: Right click D drive and select Resize/Move Volume.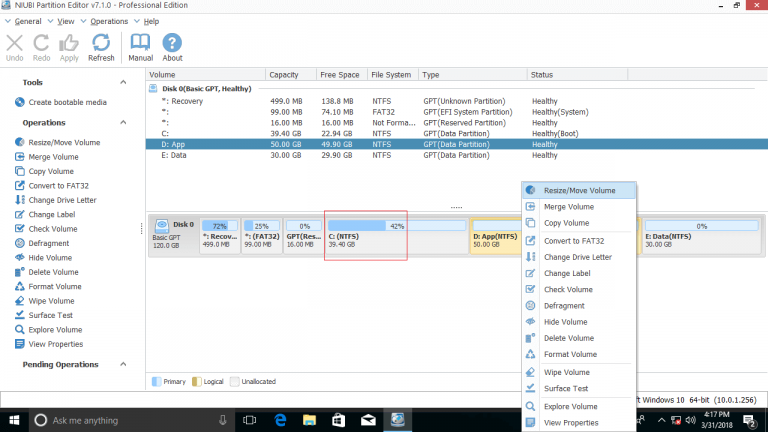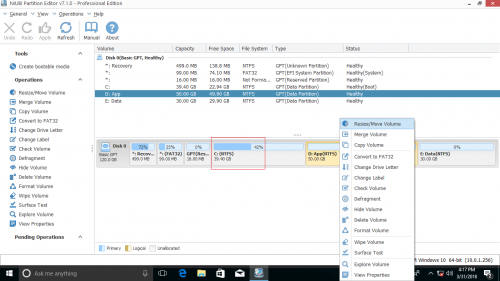 In the pop-up window, drag left border rightwards to shrink D.

Unallocated space is generated behind C drive.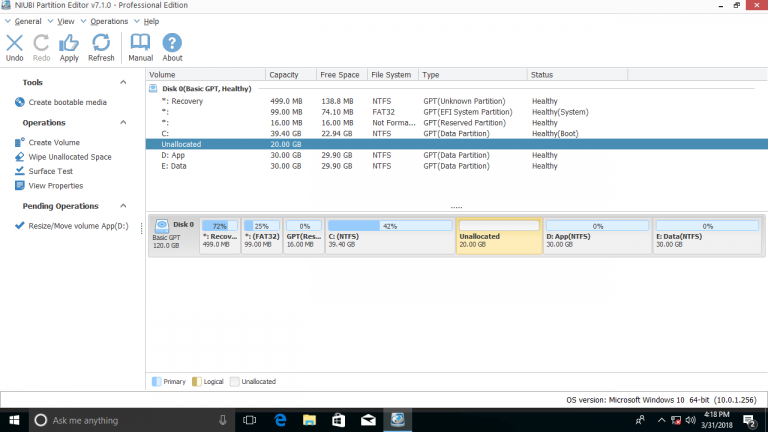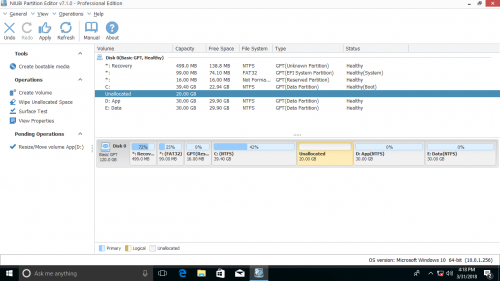 Step 2: Right click C drive and select "Resize/Move Volume" again. In the pop-up window, drag the right border rightwards to merge the Unallocated space.

Step 3: Click Apply on top left to execute, done.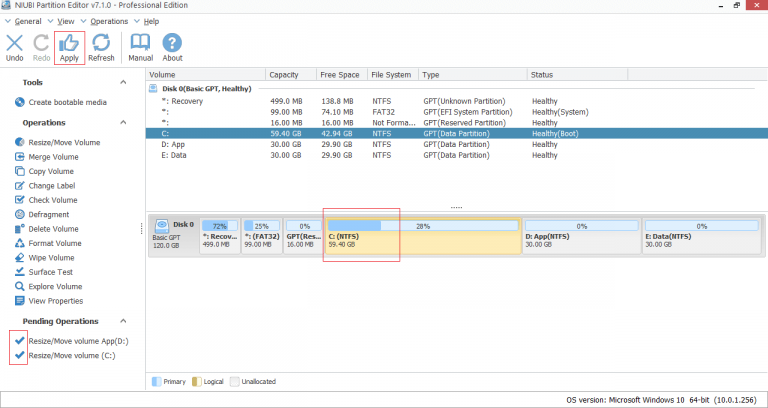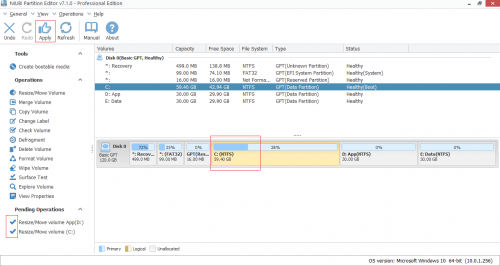 I mentioned the Hot Resize feature above, have you noticed the tick in front of the tasks listed below Pending Operations on bottom left? It means that these operations can be done in Windows without rebooting.
By this method, Operating System, all programs, all files and everything else keep the same after resizing.
Repartition disk drive by merging
By merging another volume, you can increase free space by occupying the free space in that volume.
Right click drive D and select Merge Volume.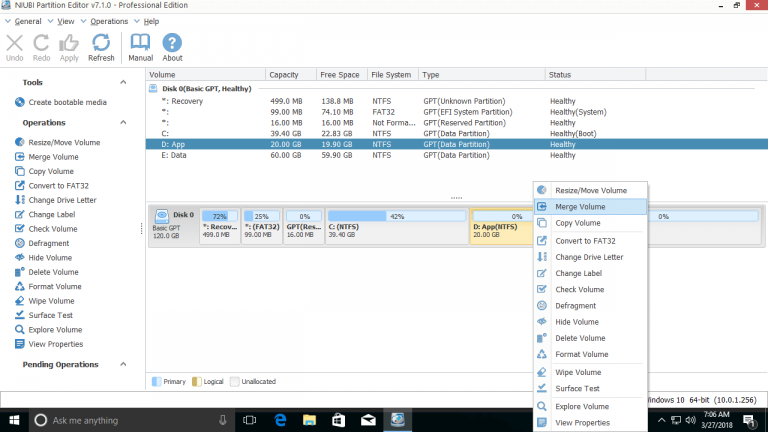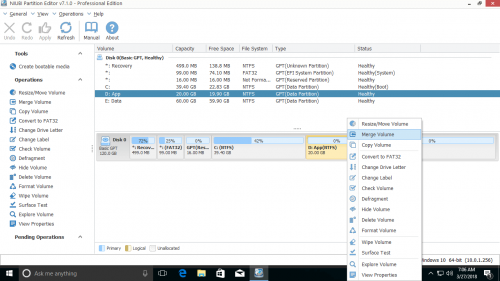 In the pop-up window, click the check-box of the drives that you want to combine together, and then select the destination drive in the drop-down box behind "Merge selected volume to:" on the bottom. (To avoid computer unbootable, merging system C drive into D is disabled by default. You can only merge D into C.)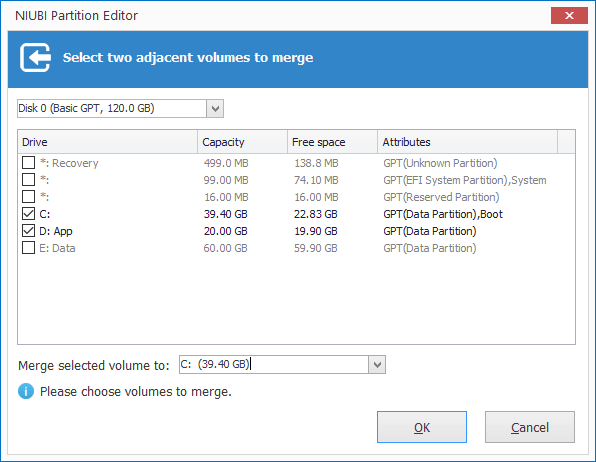 Press Apply button on top left to execute.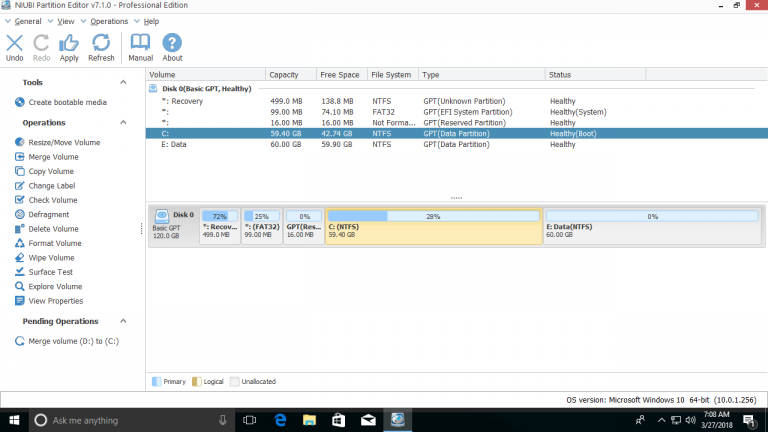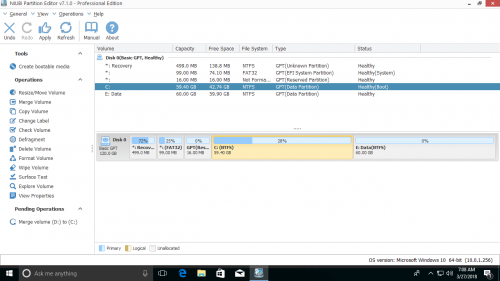 Note:
If you merge non-system volumes such as D and E, either volume can be selected as destination drive.
All files in drive D will be moved to a folder named as "D to C" in drive C after merging.
After merging volumes, D drive will be removed, so do NOT merge D into C, if there are applications or Windows services running from D. You'd better resize partitions instead of merging.
If you want to repartition hard disk drive on Windows Server 2016/2012/2008/2003, the steps are exactly the same with above. The difference is that you need server partition software.