4 options to extend Windows 10 partition without data loss
When any data partition or system C: drive is getting full in Windows 10, you can extend this partition drive with free space in other one. If there is not plenty of free space in all drives in a hard disk, you may clone to a larger disk and extend partition with extra disk space.
This page shows 4 options to extend disk partition on Windows 10 without losing data or reinstalling Operating System.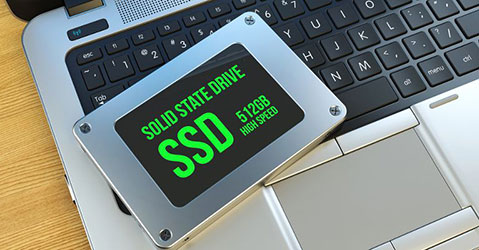 Extend partition in Windows 10 DM
Windows 10 Disk Management utility provides built-in Extend Volume functionality to extend disk partition. However, not all partitions can be extended. Only when there is adjacent Unallocated space on the right side, Extend Volume is valid to this partition. In my Windows 10 laptop, Extend Volume is disabled for C drive, because Unallocated is on the right side of D. Extend Volume is greyed out to drive E, because Unallocated space is on its left side.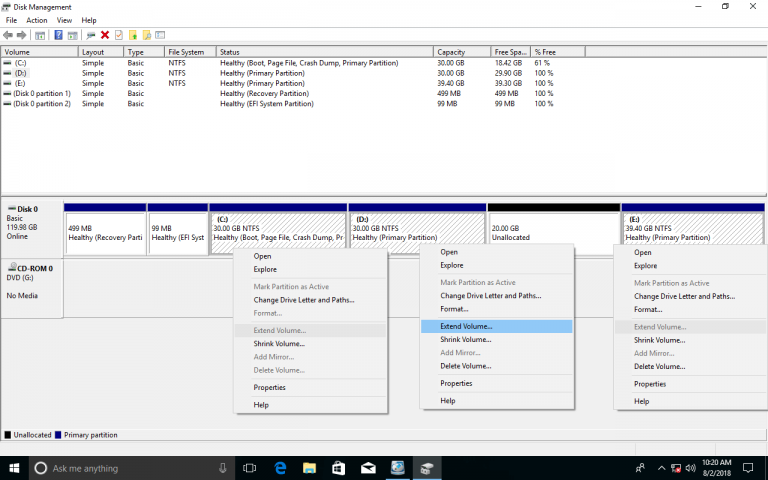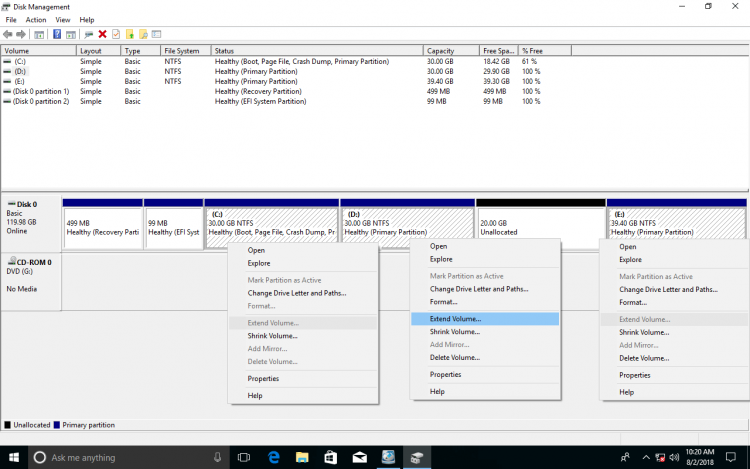 Actually, Extend Volume supports NTFS partition only, so you cannot extend other types of partitions including the common FAT32 partition.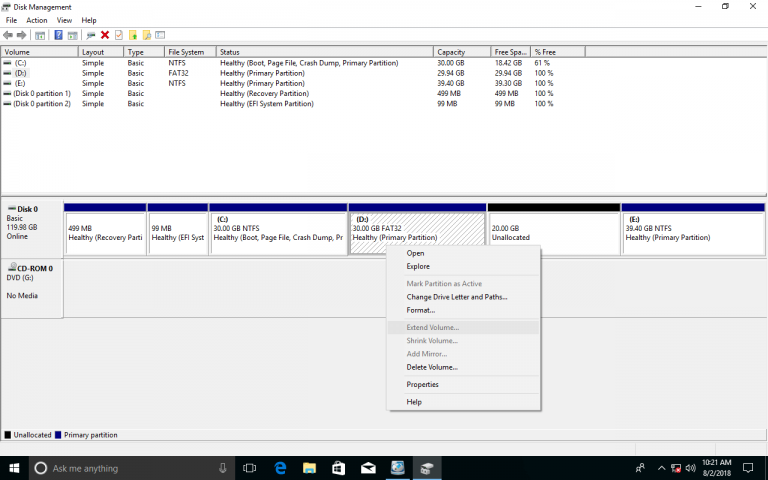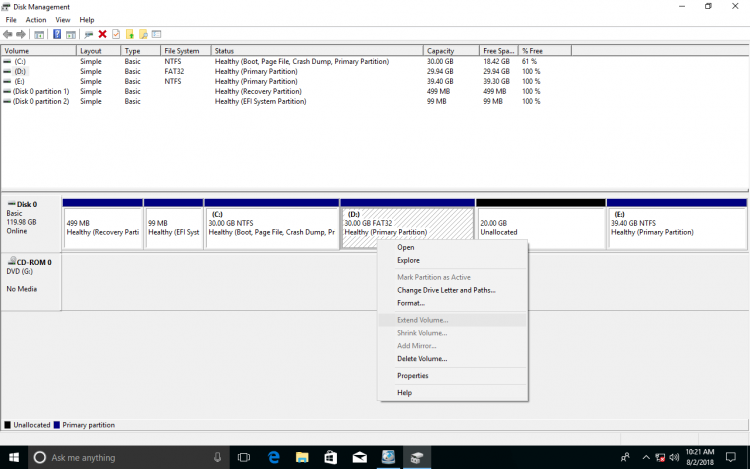 It is very easy to extend NTFS partition in Windows 10 Disk Management if there is such adjacent Unallocated space. Simply right click this partition and select Extend Volume, then finish the pop-up Extend Volume Wizard.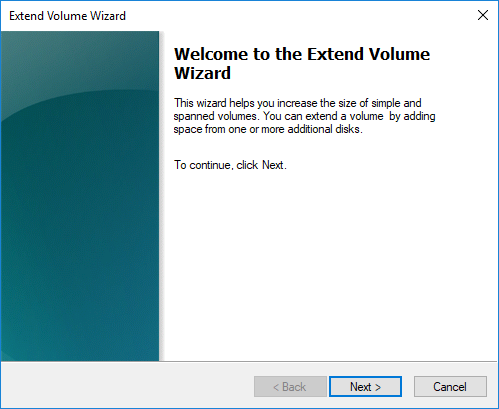 Because of these restrictions, you can't extend partition in Windows 10 Disk Management in most cases, then you need professional disk partition software such as NIUBI Partition Editor. Better than other partition tools, NIUBI has advanced technologies and benefits, for example: 1 Second Rollback, Virtual Mode and Cancel-at-will to avoid mistake and ensure system/data intact. Hot-Resize and advanced file-moving algorithm to extend partition without rebooting computer and finish in less time.
The disk partition configurations are different, you'd better select the option that fits for your own configuration. There are 3 options to extend partition on Windows 10 with NIUBI Partition Editor and I'll show you one by one.
 Extend partition by merging
By merging partitions, the files and all unused space in a partition will be transferred to the other one. For example, there is drive C and D in a hard disk, C is 30GB and 5GB unused, D is 50GB and 30GB unused. By merging C and D drive, C drive will be 80GB and 35GB unused.
How to extend partition in Windows 10 by merging other drive:
Download
NIUBI Partition Editor, right click drive D or E and select
Merge Volume
.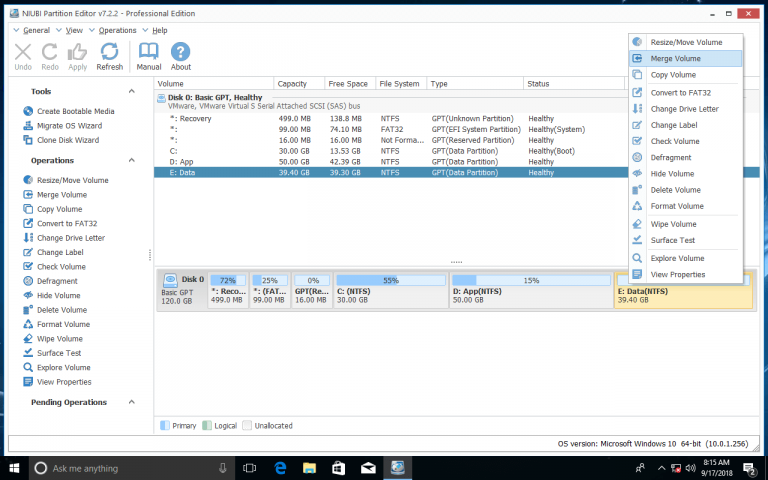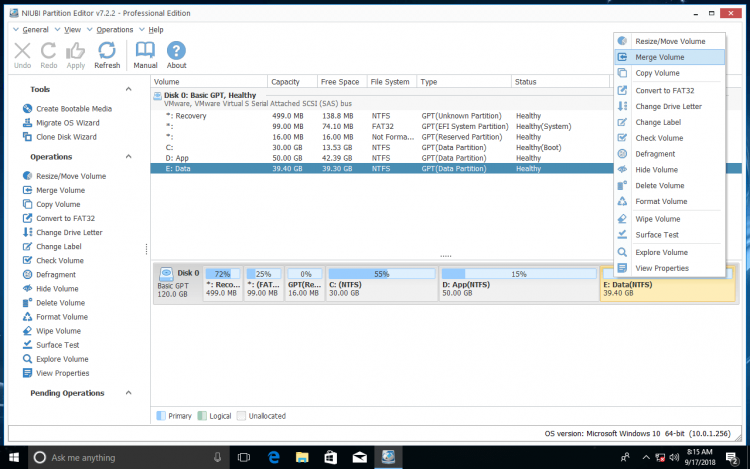 In the pop-up window, click the check-box in front of both drive D and E, and then click the drop-down box to select the destination drive. If you select D, drive E will be merged into D.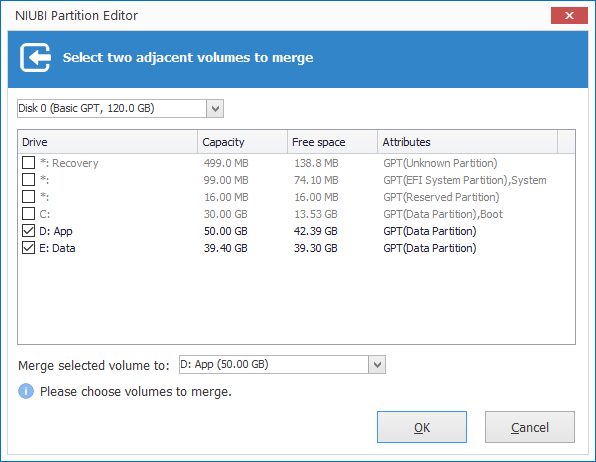 Click OK and back to the main window, drive D is extended to 89.40GB. All files in original drive E will be automatically transferred to a folder in D named as E to D (Date-Time)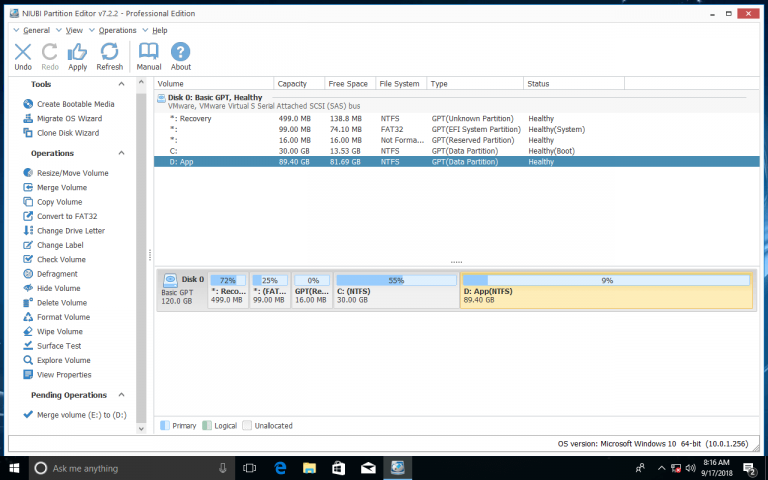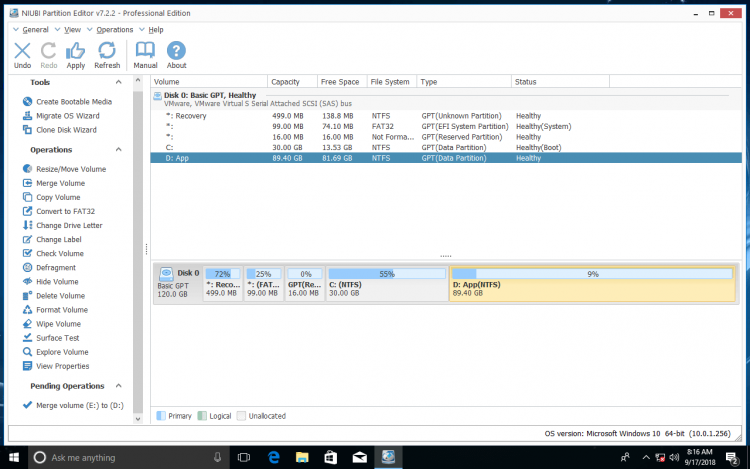 NIUBI is working in virtual mode to avoid mistake, to change real disk partition, you need to click Apply on top left to confirm.

 If programs are installed in drive D, do not merge it to other partitions.
 Extend partition by shrinking
It is easy to extend disk partition in Windows 10 by merging another one, but there is a disadvantage: a partition will be removed, although files are moved. If you do not want to lose this partition, there is better option by shrinking. For example: by shrinking drive D, only part of unused space will be used to extend other drives, thus, you won't lose D and everything keeps the same (expect partition size).
Watch the video how to extend Windows 10 partition by shrinking other drives:
 Extend partition by cloning
If you use a small SSD or traditional mechanical hard disk for a long time, this disk maybe full and no free space in all partitions. In this case, you can clone this disk to another one, then the extra disk space can be used to extend any partitions, steps:

 Click Clone Disk Wizard below Tools on top left corner.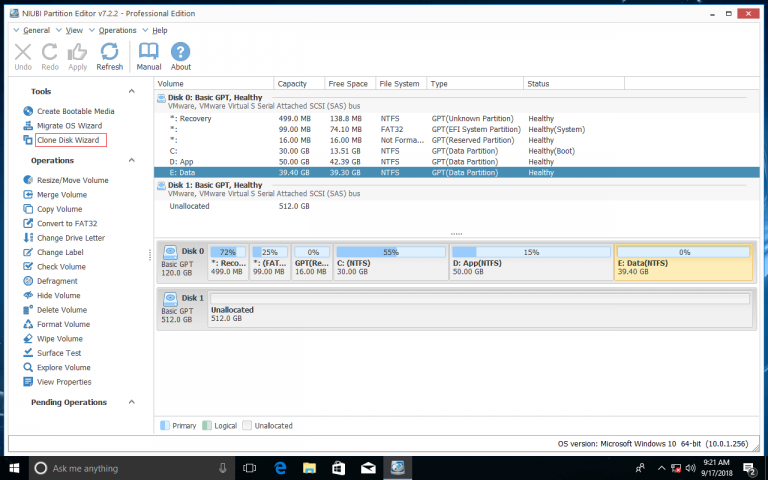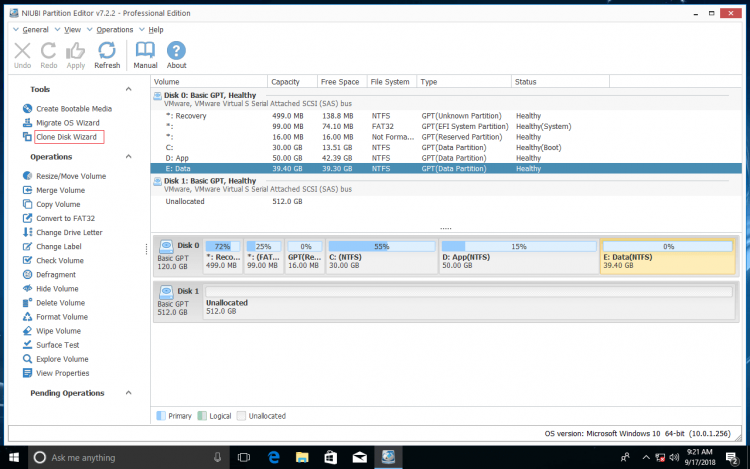 Select the source disk and click Next.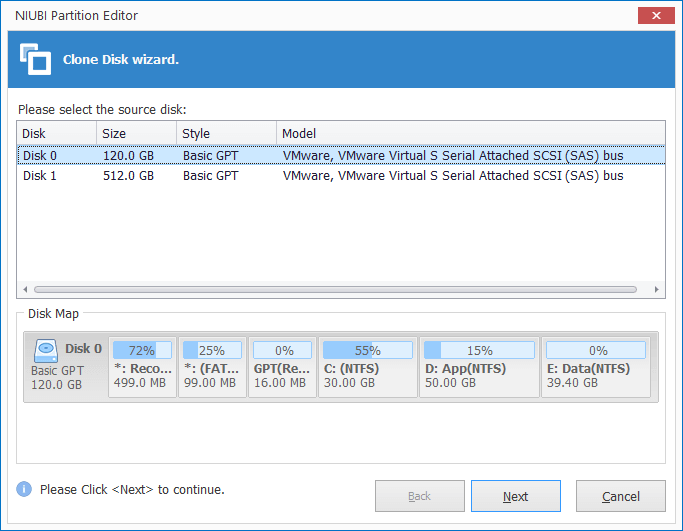 Select the target disk and click Next.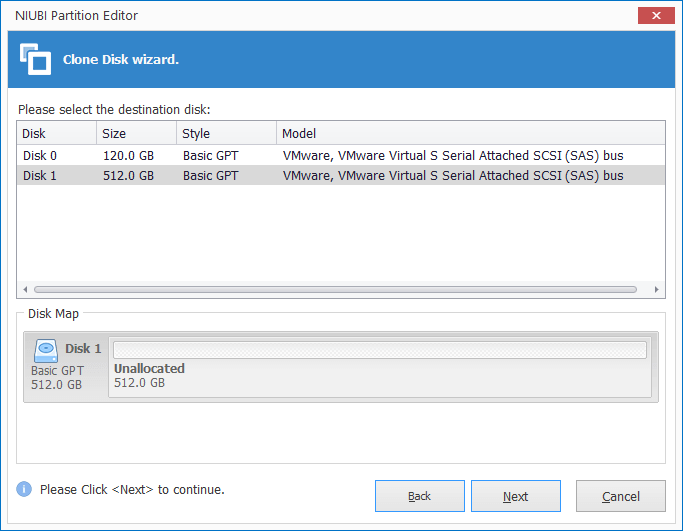 The extra disk space is displayed at the end of disk, edit partition size and location one by one.


 Click Next and back to the main window, press Apply on top left to execute. You can extend any one or all partitions with the extra disk space.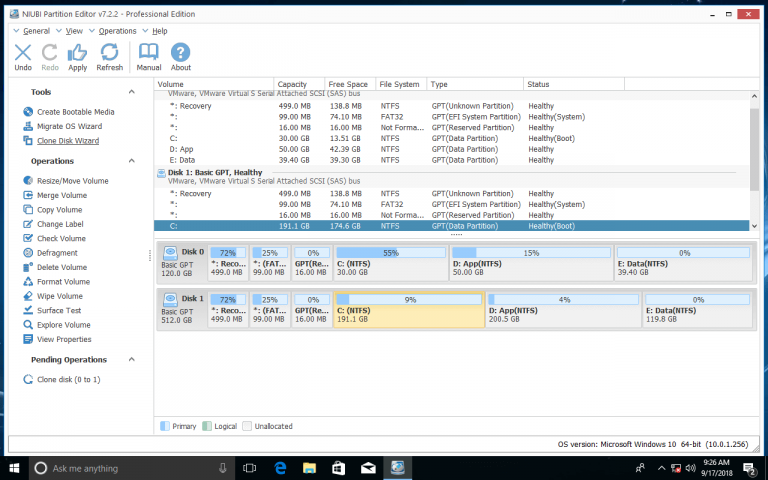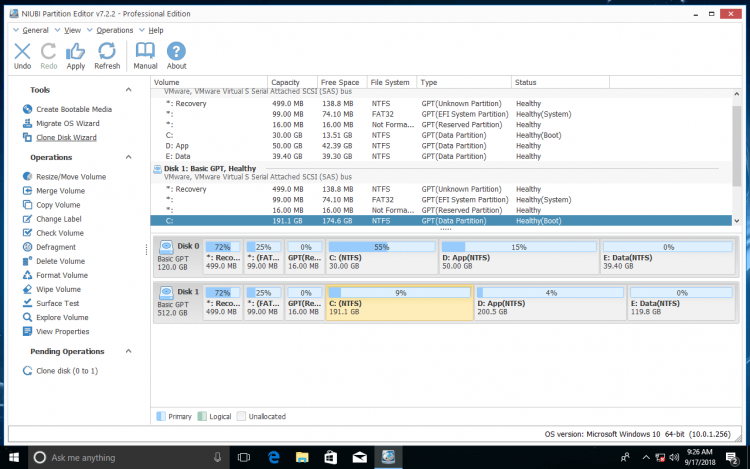 In Summary
To extend partition on Windows 10, the native Disk Management tool can only help you extend a NTFS partition with adjacent Unallocated space, so you need professional partitioning software in other cases. NIUBI Partition Editor provides you 3 options to expand Windows 10 partition by merging, shrinking and cloning. Select the option that fits for your disk partition configuration.