How to increase C drive space on Windows Server 2019
Comparing with data volumes, system C: drive has much higher risk of running out of free space. When a data drive is getting full, you can transfer files and change output location, but to system partition, it is much more complicated. If you contact support from server OEM manufacturer, they'll tell you to back up, recreate disk drives and restore everything. This traditional method works indeed, but it may costs several hours to a whole day. Nobody wants to see server offline for such a long timel
In this article, I'll show you how to increase C drive space in Windows Server 2019 without starting over. Increase C drive disk space by taking free space from other drives without losing data.
Which tool to reallocate disk space
Windows Server 2019 has built-in Disk Management component, which is able to decrease and increase partition size. But to increase C drive space in Server 2019, Disk Management is not the best choice.
Entire disk space cannot be increased itself, so before extending a volume, you must shrink another drive. Both Shrink Volume and Extend Volume feature of Disk Management are restricted. When you shrinking drive D with Shrink Volume, Unallocated space can only be produced on the right side, but to expand C drive with Extend Volume, there must be Unallocated space on the left side of drive D. The only option to get adjacent Unallocated space behind C drive is by deleting D, but who can do this, as programs and some Windows services are running from it.
To increase C drive space in Server 2019, you need server disk partition software, however, not all software can accomplish this task well, because there is data loss risk.
When resizing, moving and merging partitions to reallocate disk space, NIUBI Partition Editor is the first choice. As the safest partitioning software, it is integrated with unique 1 Second Rollback technology to ensure system and data intact. It can rolls back to original status automatically and rapidly if anything goes wrong. Furthermore, because of its special file-moving algorithm, it is 30% – 300% faster than other tools.
How to increase C drive space with NIUBI
Download NIUBI Partition Editor, you'll see all separate partitions on the top and all disks with drive layout on the bottom. In my test server, there are 3 small system reserved partitions and drive C, D, E. Both drive D and E are almost empty, so I can take free space from them to increase C drive disk space.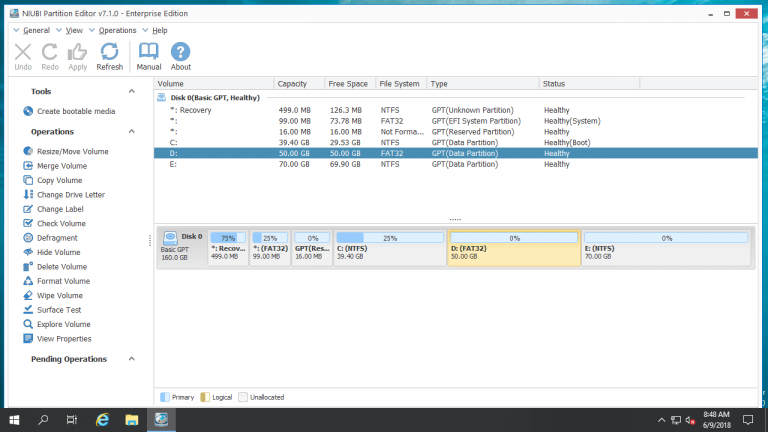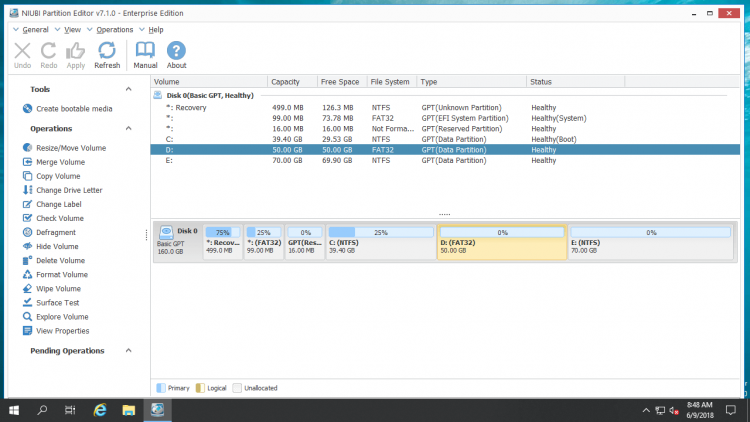 Step 1: Right click drive D and select Resize/Move Volume. In the pop-up window, drag left border rightwards.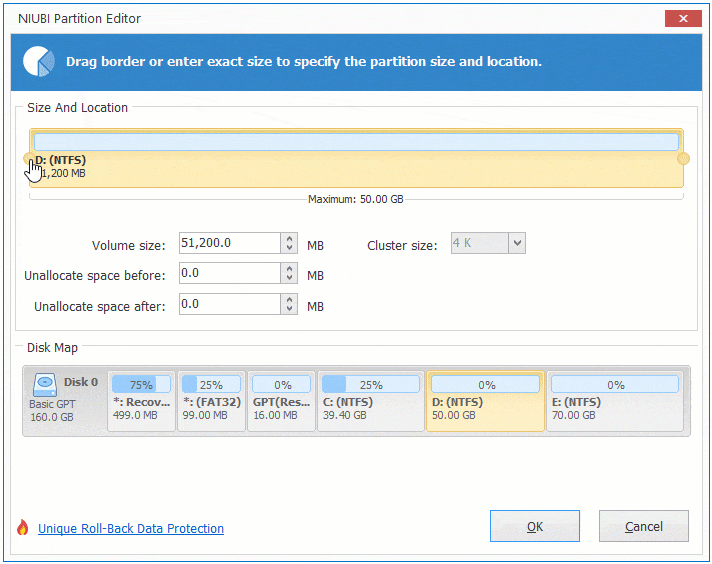 20GB free space is taken out from drive D and display as Unallocated on the left side.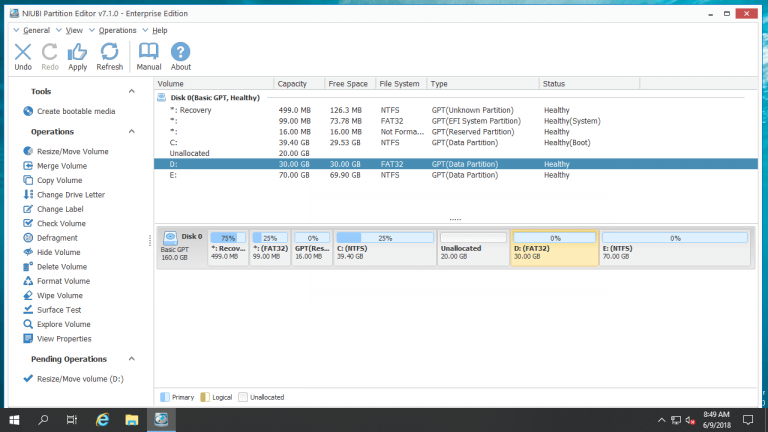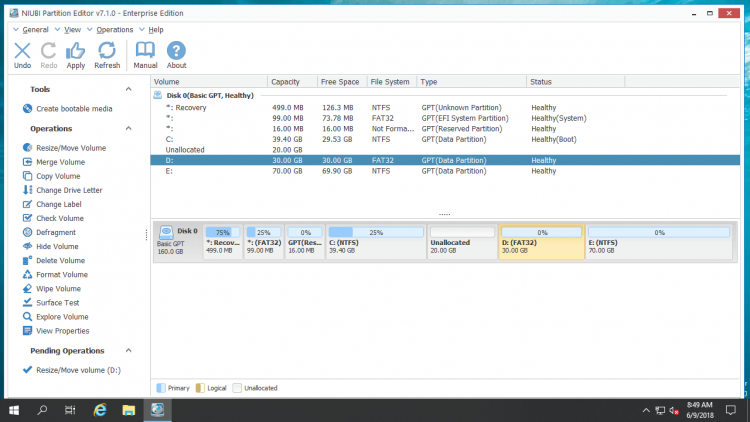 Step 2: Right click drive C and select "Resize/Move Volume" again, drag the right border rightwards to combine the Unallocated space in the pop-up window.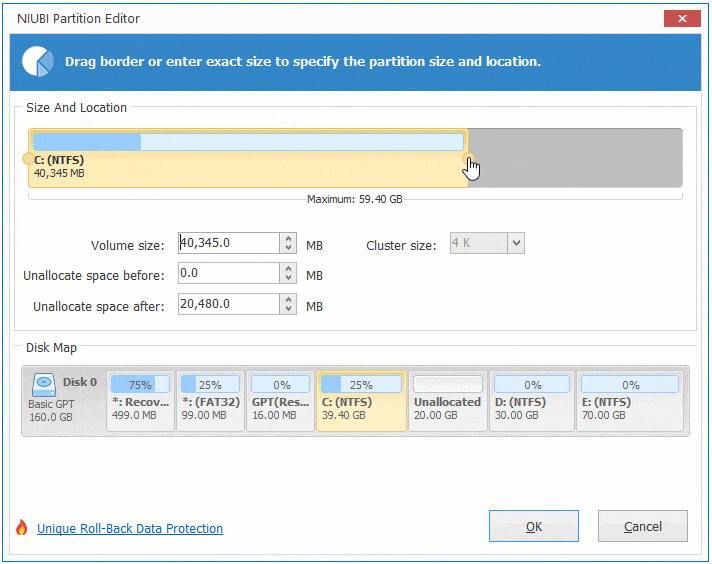 C drive size is increase to 59.40GB.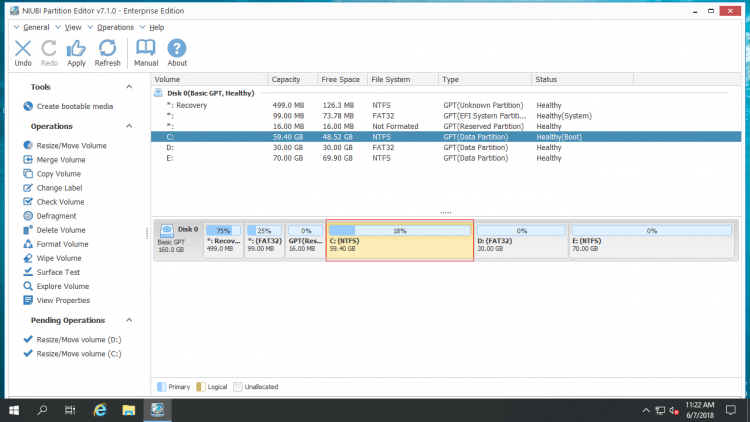 Note:
To avoid mistake, this software work in virtual mode, that means the operations you do won't be executed immediately. Instead, they'll be listed as pending on bottom left corner. You can cancel the unwanted operations by clicking Undo on top left. After clicking Apply to confirm, the pending operations will be execute.
NIUBI Partition Editor has Hot Resize technology to resize partition without rebooting. The operations with  can be done in Windows.
You can get free space from any contiguous or nonadjacent partitions in the same disk, watch the video how to decrease data volumes and increase C drive in Windows Server 2019.
Beside changing partition size, NIUBI Partition Editor can help you do many other disk and partition management operations, such as create, delete, format, copy, convert, defrag, repair, hide, scan and wipe disk partition.