To manage disk partitions more easily, many people want to find a powerful, reliable and easy-to-use partitioning software. Originally, Norton Partition Magic of Symantec is the first choice, however, it isn't compatible with Windows Server 2003, 2008, not to mention Server 2011, Windows 8/7/Vista are neither supported. Today, I want to introduce a best alternative – Aomei Partition Assistant 5.1, as the most popular partitioning software, it helps you manage disk partitions of Windows Server and PC fast and easily.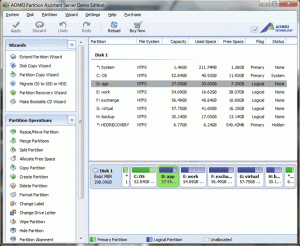 Editions
The same with other partition utility, Aomei Partition Assistant is divided into major 4 editions – Home Edition, Professional Edition, Server Edition and Unlimited Edition.
Edition differences
Home Edition is for 32-bit (x86) PC home users, including Windows 7/Vista/XP/2000 SP4.
Pro Editions is for 32 and 64 bit (x64).
Server Edition and Unlimited Edition support both Windows Server and PC, supported OS and functions keep the same, but Unlimited Edition allows unlimited installation.
Features
Similar with Norton Partition Magic, you can do basic and advanced disk partition management with Aomei Partition Assistant 5.1, such as resize partition, split and merge partition, shrink and extend partition, create, delete, format partition, etc.
Better than Partition Magic, Partition Assistant provides more features.
Disk/Partition Copy – you can copy from/to RAID virtual and physical disk partition.
Extend Partition Wizard – step by step wizard to extend system or data drive, fast and easily solve "Low Disk Space" problem.
Partition Recovery Wizard – recover deleted, lost or virus damaged partitions.
OS migration – transfer operating system and applications to another disk without starting over.
Aomei PA also provides option to create bootable CD/DVD/USB disc.
In a word, it has the ability to fix most of the common disk partition issue. If you have the life time upgrade license, you can enjoy new features without additional charge, just send your suggestions and wait for the next release.
Learn more http://www.partition-assistant.com
Download http://www.partition-assistant.com/download.html