Partition Assistant Server Edition is a highly-efficient, easy-to-use and multifunction server partition manager software specially designed for Windows Server 2003/2008/2000 and Small Business Server 2011/2008/2003 (32 and 64 bit). This server partition manager software is widely being used by small-medium sized enterprises, college labs, institutions, government sectors, security organizations, public associations etc.
Aomei Partition Assistant Server Edition 4.0 is an all-in-one disk partition management solution to assist you to optimize server disk space usage and improve server performance.
This server partition manager process advanced partition operations without data loss, functions are brought together Partition Manager, Disk Copy Wizard, Extend Partition Wizard and Allocate Free Space. With partition assistant server, you can resize and move partition, merge and split partitions, create and delete partition, format, convert between Primary and Logical partition, hide partitions, wipe hard drive/partition, disk surface test, etc.
You can also copy/clone physical hard disk drive and RAID array virtual drives to transfer/migrate data and application programs to a new storage device without reinstalling.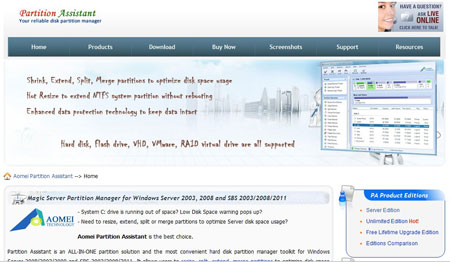 What's new in Version 4.0:
Supports to merge/split partition, quick allocate free space from one partition to another, support 4TB GPT disk.
Aomei Partition Assistant Server 4.0 system requirements
Supported Operating Systems
Windows Home Server 2011
Windows Small Business Server 2011, 2008, 2003
Windows Server 2008 and 2008 R2 SP1 (all editions)
Windows Server 2003 and 2003 R2 (all editions)
Windows 2000 Server and Advanced Server SP4
Windows 8 Consumer Preview
Windows 7 (all editions, including SP1)
Windows Vista (all editions)
Windows XP (all editions)
Windows 2000 Professional SP4
Supported Storage Media
IDE, SCSI and SATA interfaces Hard disk drive, External FireWire (IEEE-1394) hard disk and solid-state drives (SSD)
All types of SCSI, IDE and SATA RAID controllers
Support all hardware RAID levels, such as RAID 0, RAID 1, RAID 5, RAID 10, etc.
Support Hyper-V, Virtualbox, VMware virtual disk partitions
Support removable USB flash drive, memory card, memory stick, etc.
Support MBR disk up to 2TB and GPT disk up to 4TB
For enterprise users, Partition Assistant Unlimited Edition allows unlimited installation and usage within one company