About Aomei Partition Assistant
Aomei Partition Assistant 3.0 is comprehensive disk partition management utility which held Partition Manager software and three wizards (Extend Partition Wizard, Partition Copy Wizard, and Disk Copy Wizard) together for Windows 7/XP/2000/Vista, Server 2008/2003/2000. It provides powerful and professional features to manage hard disk drives like partition/disk manage and data transfers with highly data security guarantee.
As partition magic alternative, Aomei Partition Assistant has been widely used by many companies as well as individuals all around the globe with fine reputation. You will be amazed by its complete functions and low price.
Aomei Partition Assistant Editions
Partition Assistant Professional Edition – for Windows 2000, XP, Vista and Windows 7 (both 32bit and 64bit)
Partition Assistant Server Edition – for both Windows PC (XP/Vista/7) and Server 2008, 2003, 2000
Partition Assistant Unlimited Edition – the same with Server Edition
Partition Assistant Key Features
Basic Partitioning Features
Create, Format, Delete partition
Assign/Change/Remove drive letter
Hide/Unhide partitions
Mark a partition as Active
Change partition volume labels
Check file system integrity
Check disk bad sectors
Permanently wipe disk data
Convert file system
Clear system disk
Advanced Partitioning Features
Hot resize system partition without reboot
Resize partition to optimize disk space management
Move partition from one location to another
Merge two or more partitions into a larger one
Split one big partition into two or more
Extend partition to increase the capacity
Shrink partition to release more unallocated space
Redistribute free space to create new partition
"Extend Partition Wizard" helps you step by step extend partition
Repartition without data loss
Clone Disk to migrate data without reinstalling Windows NEW!
Clone Partition to backup your data
See detailed features of Partition Assistant
Partition Assistant Unlimted Edition
As a administrator, I'm very interested in Partition Assistant Unlimited Edition. It provides inconceivable price to allow unlimited usage within the company. I don't like other server edition licenses, as I have to purchase several copies and download each to every Server, really unpleasant.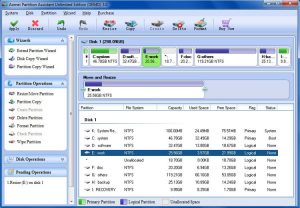 Partition Assistant Unlimited Edition is easier to use. Different with other Server partition software such as Partition Wizard Server, you can drag and move on the main window to resize partitions directly, without right-clicking.
It also provides unique Extend Partition Wizard to help you extend system partition or data partition step by step if you don't know how to repartition, Humanistic.
If Partition Assistant integrate dynamic disk convert feature, it is the best Server partition tool I'll recommand.