Many computer users have encountered the problem that the C drive running out of space and Windows pop up a window with Low Disk Space warning. This problem is very normal for both Windows PC (XP/Vista/7) or Windows Server 2003/2008, you are very likely to encounter this problem, as more and more applications are installed to the system partition.
The symptom of "C drive running out of space"
Windows XP and Server 2003 displays the low disk space warning as "You are running out of disk space on Local Disk (C:). To free space on this drive by deleting old or unnecessary files, click here."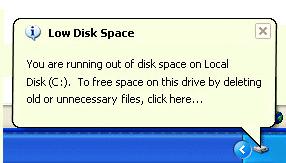 If Windows Vista/ 7/Server 2008 C drive running out of space, this partition will be shown in red in "My Computer" as below:

The risks of C drive running out of space
No matter you are PC or Windows Server users, you must solve disk out of space problem immediately, as it will cause many problem, such as:
1. System is running extremely slow.
2. You cannot install any applications or update Windows again.
3. System may be crash if there is no free disk space.
How to solve disk out of space problem?
To resolve "C drive running out of space" issue, follow each of the steps below.
Clean up the hard disk drive. Run the Disk Cleanup function by clicking on the Low Disk Space popup or right-clicking the partition that is running out of space. This tool will scan your drives and look for files that you can safely erase. Usually this will be little help.
Remove programs. You can consider removing programs that you don't use and moving large media files (videos, music, and graphics) to other partition. But you will spend a lot of time to do this.
Extend partition. You may use partition magic software to resize or merge partition and it is the easy and efficient way. You can extend your partition quickly without data losing or reformatting, deleting partitions.
Short introduction of Partition Wizard Server
Minitool Partition Wizard Server edition is an all-in-one magic Server partition manager software to resize, merge, copy, format, delete partitions, etc. It helps extend system partition, copy partition, do partition recovery, convert dynamic disk, etc. in Windows Server 2000/2003/2008 systems.
Partition Magic Server helps extend server system partition to solve low disk problem, it allows you to drag and drop on the disk map to repartition. Moreover, it doesn't require a reboot when extending NTFS partition to minimize the computer downtime.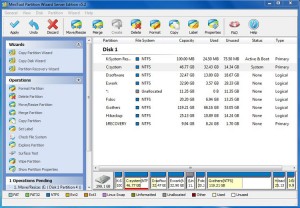 Key features of Partition Wizard Server
Resize/Move/Merge partitions
Extend NTFS system partition without reboot
Convert FAT to NTFS
Rebuild MBR
Wipe disk/partition/unallocated space
Set Active/Label partition
Change cluster size without data loss.
Set partition as primary. Set partition as logical.
Change Partition Serial Number.
Change Partition Type ID.
Hide/Unhide partition
Up to 2TB disk supported
Support all kinds of hardware RAID
Special features of Partition Wizard Server
Enhanced data protection technology – resize, merge partitions without losing data.
Hot Resize – extend NTFS system partition without rebooting Server or interrupting your work.
Changes made on partitions can be previewed before applying to the hard disk.
Easy to use, just dragging and drawing on the disk map to resize, merge partitions.
Comparing to other Server partition software, for example, Acronis Disk Director Server, Paragon Partition Manager, Partition Wizard Server is much cheaper and provides plenty of features. Comparing to the latest partition software such as Partition Assistant Server, Partition Wizard Server provides more features.
The most exciting feature of Partition Wizard Server Edition is its data protection, as I've tested almost every partition software, Partition Wizard Server is the only tool that can complete resizing and boot to Windows if shut down for reboot when resizing partition.
Please note: the Server edition is commercial, you need to purchase if you need this software, download trial before buying.