Windows 7 has been released for a long time and many users have installed it. You may need Windows 7 boot manager to manage multi operating systems. For example, Windows 7 & Windows XP, Windows & Linux.
In fact, Windows provides boot manager to manage multi operating systems and it helps you boot from either. Windows boot manager is easy to use. If you installed Windows XP before and you want to install Windows 7, you just need to install Windows 7 to another partition normally, after that, Windows will create a boot manager automatically. After installing Windows 7 and reboot, the boot manager will let you to choose booting from which operating system.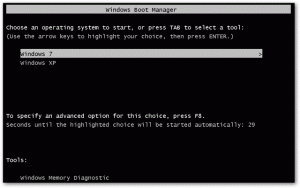 Though Windows 7 built-in boot manager is easy to use, it also has some disadvantages.
Disadvantages of Windows 7 boot manager
There are two huge disadvantages of Windows boot manager.
1. To use Windows 7 boot manager normally, you have to install different Windows from lower version to higher. That is to say, you must install Window XP firstly, after that, install Windows 7. If you install Windows 7 then Windows XP, there will be no boot manager and you can only boot from Windows XP.
2. Current backup software cannot backup multi operating systems. If you have dual boot with Windows XP and Windows 7, you may install backup software to either operating system. The problem is, if you installed this backup software in Windows 7 and restore after a period of time, you can boot from Windows 7 but no boot manager again. What a troublesome problem.
Third party Windows 7 boot manager
Acronis® Disk Director® 11 Home includes a boot manager called Acronis OS Selector that is powerful, reliable, and easy-to-use. Acronis OS Selector allows you to install different multi-boot systems for your children, your work and for software tests. You can also protect multi-boot operating systems with passwords.
Key Features of this Windows 7 boot manager:
Boot from an additional hard disk drive. Acronis OS Selector enables you to set the disk order so you can boot from any hard drive you select
Insert a bootable CD/DVD and it will automatically be detected and displayed as a multiboot option by Acronis OS Selector
Detect multiple operating systems that became unbootable due to some accidental reasons with Acronis OS Selector detection tool
Protect multi-boot operating systems and setup with a password
Boot virus protection included
Repartition your system for a new operating system installation
Install and boot an operating system from any partition of any hard disk
Support 100 or more operating systems including Windows 7 and Linux on a single PC
Install several versions of Windows on a single partition. Operating systems with the same folder names (e.g. C:\Program Files) on one partition are supported
Clone an operating system installation as a back-up
Hide operating systems and partitions
Supported operating systems:
DOS
Windows 3.1 + DOS
Windows 95
Windows 98
Windows ME
Windows NT 3.1
Windows NT 3.5
Windows NT 3.51
Windows NT 4.0
Windows 2000
Windows XP
Windows Vista
Windows 7
Linux (any distribution)
FreeBSD
Solaris
SCO UNIX
UNIXWARE
OS/2
BeOS
QNX
B-TRON
Special support for unknown systems