NIUBI Partition Editor Server Edition is a powerful server partition software designed for small and medium organization. It supports Windows Server 2019, 2016, 2012, 2008, 2003 (R2) and Small Business Server 2012, 2011, 2008, 2003, as well as Home Server.
Local/removable hard disk, VMware/Hyper-V, all types of hardware RAID arrays, USB disk and memory cards are all supported. This server partition manager helps you change size of allocated partition, optimize, copy, convert and manage disk partitions with ease.

Reallocate Disk Partition

Resize/Move Volume
What to do when system C: drive or any data volume becomes full, waste a long time to start from scratch? NO! NIUBI Partition Editor Server helps resize allocated partition easily and safely.
Shrink volume and generate Unallocated space on either side.
Extend volume by taking free space from other partitions.
1 Second Rollback technology to ensure OS and data intact!

30% – 300%

 faster than ANY other tools.
Hot-Resize technology helps resize partition on the fly.
Virtual Mode to avoid incorrect operations.
Simply click, drag and drop on the disk map.

Watch Video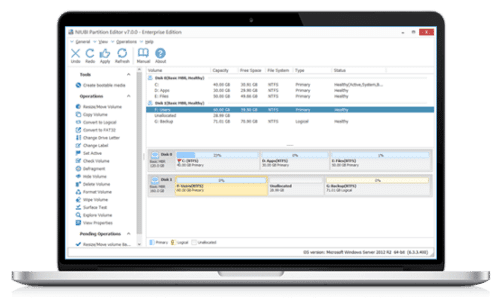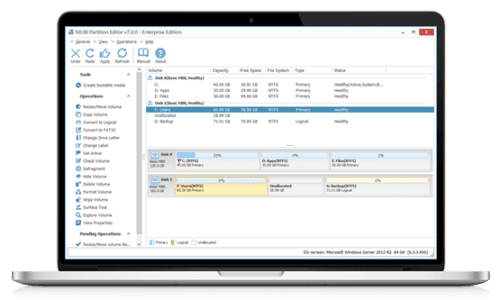 Combine two adjacent partitions into a larger one by simple clicking.
Drag and drop to move non adjacent Unallocated space to be contiguous.
Copy & Convert

Clone entire disk to migrate Operating System and data.
Clone single partition to back up or migrate data.
Convert MBR style disk to GPT without data loss.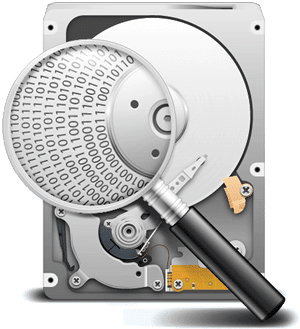 Convert NTFS partition to FAT32 without data loss.
Convert Primary partition to Logical without data loss.
Convert Logical partition to Primary without data loss.
Utilities

Bootable Media
Create bootable CD/DVD/USB disk without installing again, or in case of system boot failure.
Data Security
Hide partition, Wipe disk/partition to erase sensitive data, preventing from recovering again.
Management

For Disk & Partition
Create Volume – create new drives with Unallocated space.
Format Volumen – rebuild file system of a drive and reuse as new.
Hide Volume – hide a drive in explorer to prevent accessing.
Set Active – mark a drive as Active to boot system.
Change Drive Letter – reset letter of a drive to C: D: E: etc.
Delete Volume – delete single or all drives with simple step.
Change Label – add or change name of a partition.
Properties – view detailed parameters of a disk or single drive.
Check Volume – check file system integrity and fix errors if exists.
Surface Test – scan to find out if there is bad sector.
Explorer Volume – view content of the selected partition.
Change disk status to online and offline.
Set Read-only attribute to hard disk.
Initialize new hard disk
100% 90-day money back guarantee & 24/7 live chat support
Why NIUBI Partition Editor
Unique technologies & Advantages
1 Second Rollback
Data safety is most important to a server, but there is system damage and data loss risk when modify disk partition. Because any software error or hardware issue causes part of the parameters of related disk partition failed to be modified, then damage occur.
To eradicate these risks, NIUBI Partition Editor brings innovative 1 Second Rollback technology to ensure system and data intact. If anything goes wrong, it automatically reverts the server to original status in a flash.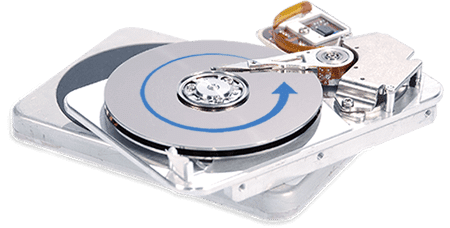 Virtual Mode
It is common that you did something wrong, or change your mind after did an operation. To avoid mistake, NIUBI Partition Editor is designed to work in virtual mode and all your operations will be listed on bottom left as pending for preview. If you find any incorrect operations, simply click Undo to cancel. Real disk partition won't be modified until you click Apply to confirm.
Cancel at will
When you resizing disk partition, other partition software don't allow you cancelling the ongoing operation even if you did something wrong. Because it causes part of the parameters unable to be modified, then damage occur.
Thanks to the unique Cancel-at-will technology, while running NIUBI you can cancel the ongoing operations at any progress without losing data.
Hot Resize
Keeping online is very important to a server. With the help of Hot-Resize technology, NIUBI Partition Editor has less probability to reboot server. Resize partition on the fly. (Close other running programs/files before starting.)
Bootable Media
Build Partition Editor portable CD/DVD/USB to resize, optimize and manage disk partition without Operating System or if you cannot install program to production server.
Much Faster
Sometime when you resizing disk partitions, for example: shrink D to extend C drive, the start position of drive D is changed, so all files in this drive must be moved to new locations. It costs much time especially when there are large amount of files in this drive. A good algorithm is very important to reduce time. Thanks to the unique file-moving algorithm, NIUBI Partition Editor is 30% to 300% faster than ANY other tools.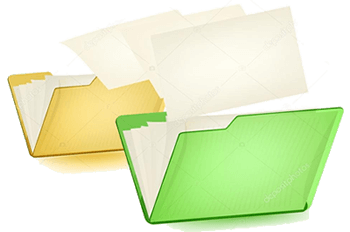 Advanced Editions
100% 90day Money Back Guarantee
$175.2
Server Edition
+ Free Lifetime Upgrade

(20% off)

One license can be registered on 2 Servers to save cost.
Buy Now
$399
Enterprise Edition
1 Year free upgrade
One license can be registered on unlimited PCs and servers in a company.
Buy Now
$699
Technician Edition
Include lifetime upgrade
Provide profitable service for unlimited companies and individuals.
Buy Now
Have Any Questions?
Support is 24/7, fill in the form or contact via live chat.