Best Partition Software for Windows Server
Disk partition management software is very useful for a server, it helps resize allocated partition to optimize disk space without reinstalling Windows, fix file system error and defrag partition to improve server performance, monitor, convert and manage disk drives, etc. In this article, I'll introduce the best server partition software for Windows Server 2019, 2016, 2012, 2008, 2003 (R2).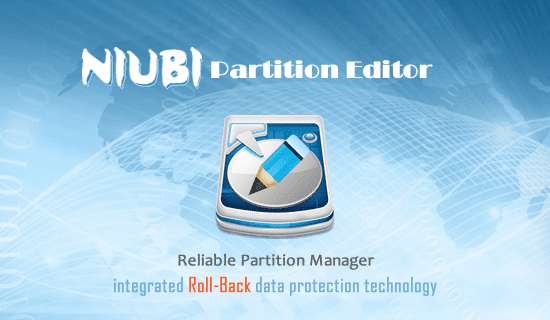 First ability to a server partition software
What is most important to a server? Data! The disk partition software is useless if it cause data loss, no matter how many functionalities it provides or how beautiful it looks like. In fact, there is indeed potential system damage and data loss risk when you resizing disk drives with partition software.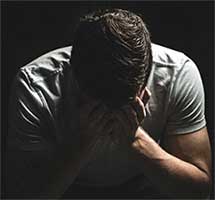 When you resize or modify disk partition, the parameters of related disk and partition should be updated absolutely correct. But if some software internal error or hardware issue occur, part of the parameters cannot be updated. In that case, you cannot boot Windows or lose all files in related partition. So, disk partitioning software is called as "data killer" by the people who have experienced such disaster.
Better that other server partition software, NIUBI Partition Editor provides unique 1 Second Rollback technology to ensure system and data intact. If anything goes wrong, it reverts the server to original status automatically and rapidly like nothing happens.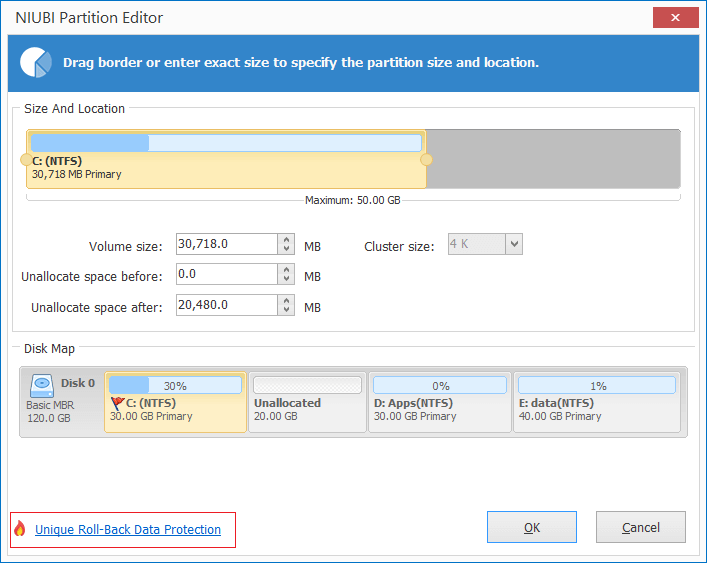 Keep server online
To a server administrator, one of the most important task is managing hard disk drive without server offline. To help server running smoothly, many hot-exchange technology is developed.
NIUBI Partition Editor provides Hot-Resize technology to shrink and extend disk drives without rebooting. However, there is precondition: close the running applications and opening files/folders in the partition that you want to shrink before starting NIUBI.

 The operations you do will be listed as pending on bottom left. The operations marked as 

 can be done in Windows and the ones with 

 should be reboot to complete. If you find any operations require rebooting, you may close NIUBI, close the applications or files/folder, and then start it to repeat.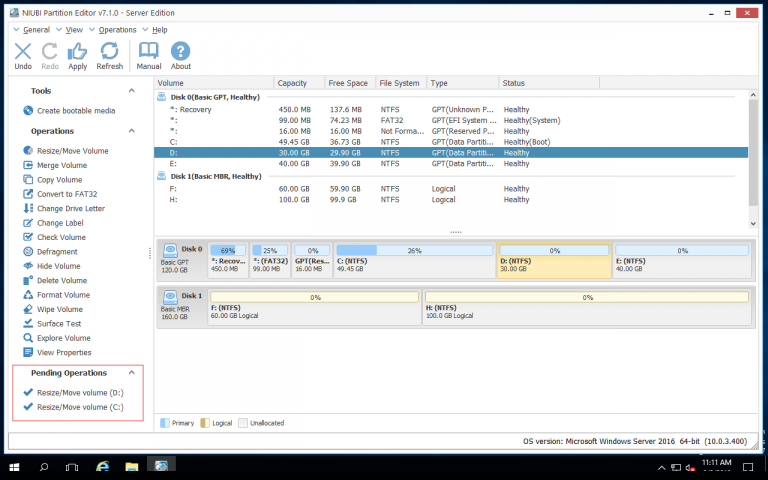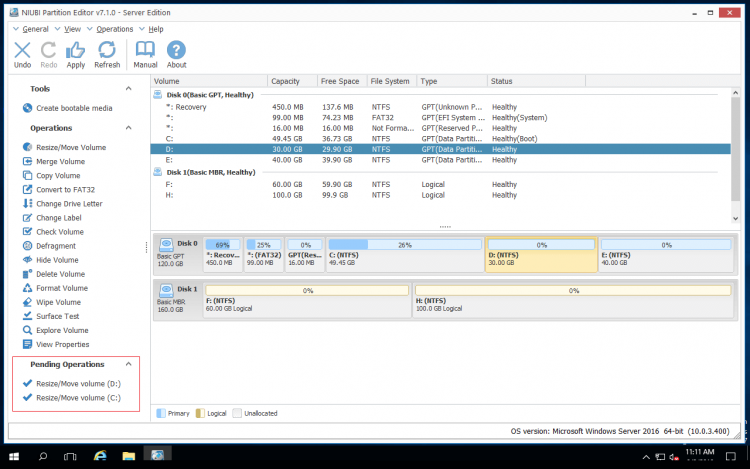 If the pending operation is still shows as 

 it means that there are some services cannot be closed in this partition. In this situation, ALL server partitioning software require reboot, but another advantage of NIUBI is reflected.
Much faster
When you shrink D to extend C drive, the start position of drive D is changed, so all files in this drive should be moved to new locations. It costs much time especially when there are large amount of files in this drive. A good algorithm is important and helpful to reduce time. Thanks to the unique file-moving algorithm, NIUBI Partition Editor is 30% to 300% faster than ANY other server partition software. That means much less server offline time, if rebooting is required to resize and move partition.
Other benefits of this partition software for server
Cancel at will
When you resizing or moving partition, other server disk partition software won't allow cancelling even if you did something wrong. Because the cancellation causes part of the parameters unable to be modified, then system and/or data will be damaged. Similarly, you cannot forcely terminate the programs with ongoing operations or reboot the computer manually even if the computer is running slowly because of low CPU/RAM.
Thanks to the unique Cancel-at-will technology, while running NIUBI you can cancel the ongoing operations at any progress without losing data. In addition, cancellation will be done in a flash without waiting a long time to revert.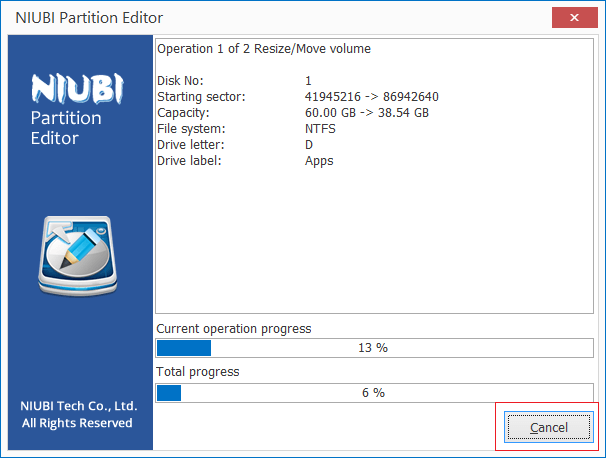 Virtual mode
When you modify disk partition, you may do something wrong. To avoid mistake, NIUBI Partition Editor is designed to work in virtual mode. The operations you do won't be executed immediately, instead, they'll be listed as pending for preview on bottom left. If you find any unwanted operations, simply click Undo on top left to cancel. Real disk partition won't be changed until you click Apply button to confirm. (You still have chance to cancel the ongoing operations, as I show you above.)
Easy to use
You just need to click, drag and drop on the disk map to modify disk partitions, anyone can use this disk partition software well without help. For example: how to shrink and extend partition on Windows Server 2019:
What's inside of Partition Editor Server
Resize Volume
Shrink, extend and merge partitions to optimize disk space usage without reinstalling Windows or losing data.

Manage Partition
Set partition Active. Copy, Create, Format, Delete, Explorer partition. Change partition label and drive letter, etc.

Optimize System
Fix file system error. Scan bad sectors. Partition defragment. Initialize new disk, view disk/partition properties.

Convert Disk/drive
Convert Logical partition from/to Primary. Convert GPT disk to MBR. Convert NTFS partition to FAT32.

Secure Data
Hide partition. Set disk read-only attribute. Wipe disk, partition, Unallocated to erase sensitive data.

Build Bootable Media
Create bootable CD/DVD/USB disc to do disk partition management without Operating System.

NIUBI Partition Editor Server Edition supports Windows Server 2019, 2016, 2012, 2008, 2003 (R2), Small Business Server 2012, 2011, 2008, 2003 and Home Servers. Local/removable hard disk with any interface, VMware/Hyper-V virtual machines, all types of hardware RAID arrays and USB disk/card are all supported.
Advanced server partition manager
Because of its data protection and fast resizing ability, powerful features and easy to use, NIUBI Partition Editor is recommended as the best server partition software by many professional editors. However, it is not expensive. Better than other server partition manager software, NPE Server can be registered on 2 servers to save cost for small organizations.
For medium and large organizations, NPE Enterprise Edition can be registered on

unlimited

servers and PCs, regardless of locations.
For technical service provider, NPE Technician Edition can be used to provide profitable service to unlimited companies and individuals.