Some readers reflect that they don't know the difference among hard drives, so this article introduces the hard drive interface, including IDE, SATA and SCSI.
What is IDE/ATA Hard Drive?
Integrated Device Electronics. It is the most widely-used hard drive interface on the market. The fancy name refers to how the IDE technology "integrates" the electronics controller into the drive itself. The IDE interface, which could only support drives up to 540 MB has been replaced by the superior EIDE (Enhanced-IDE) technology which supports over 50 GB and allows for over twice as fast data transfer rates. The other most common hard drive interface is SCSI, which is faster than EIDE, but usually costs more.
Although it really refers to a general technology, most people use the term to refer the ATA specification, which uses this technology.
What is ATA?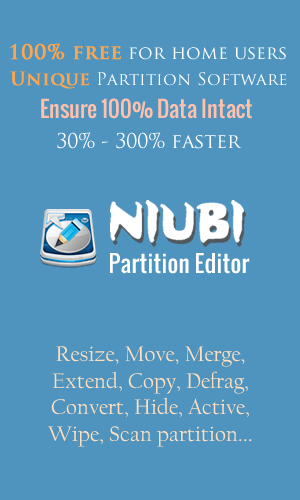 AT Attachment. The specification, formulated in the 1980s by a consortium of hardware and software manufacturers, that defines the IDE drive interface. AT refers to the IBM PC/AT personal computer and its bus architecture. IDE drives are sometimes referred to as ATA drives or AT bus drives. The newer ATA-2 specification defines the EIDE interface, which improves upon the IDE standard. (See also IDE and EIDE.)
There are several versions of ATA, all developed by the Small Form Factor (SFF) Committee:
ATA: Known also as IDE, supports one or two hard drives, a 16-bit interface and PIO modes 0, 1 and 2.
ATA-2: Supports faster PIO modes (3 and 4) and multiword DMA modes (1 and 2). Also supports logical block addressing (LBA) and block transfers. ATA-2 is marketed as Fast ATA and Enhanced IDE (EIDE).
ATA-3: Minor revision to ATA-2.
Ultra-ATA:[b] Also called Ultra-DMA, ATA-33, and DMA-33, supports multiword DMA mode 3 running at 33 MBps.
[b]ATA/66: A version of ATA proposed by Quantum Corporation, and supported by Intel, that doubles ATA's throughput to 66 MBps.
ATA/100: An updated version of ATA/66 that increases data transfer rates to 100 MBps.
ATA also is called Parallel ATA.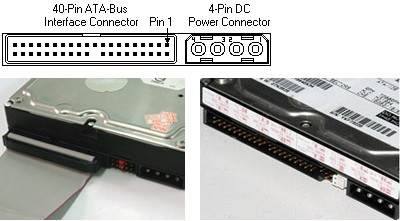 What is SATA Hard Drive?
Definition
Serial Advanced Technology Attachment, often abbreviated SATA or S-ATA, is a serial link – a single cable with a minimum of four wires creates a point-to-point connection between devices. As an evolution of the older Parallel ATA physical storage interface, SATA host-adapters and devices communicate via a high-speed serial cable.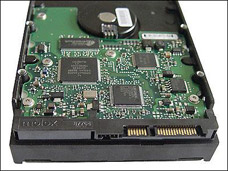 According to Wikipedia, SATA computer bus, a storage-interface for connecting host bus adapters (most commonly integrated into laptop computers and desktop motherboards) to mass storage devices (such as hard disk drives and optical drives), offers several compelling advantages over the older parallel ATA/"EIDE" interface: reduced cable-bulk and cost (7 pins vs 40 pins), faster and more efficient data transfer, and the ability to remove or add devices while operating (hot swapping).
Advantage
Transfer rates for Serial ATA begin at 150MBps. One of the main design advantages of Serial ATA is that the thinner serial cables facilitate more efficient airflow inside a form factor and also allow for smaller chassis designs. In contrast, IDE cables used in parallel ATA systems are bulkier than Serial ATA cables and can only extend to 40cm long, while Serial ATA cables can extend up to one meter.
What is SCSI?
An acronym for Small Computer System Interface. This interface was introduced as a method of connecting multiple peripherals to computers. Based on a parallel bus structure, with each device having a unique ID (or address), the SCSI bus will support up to seven devices plus the host adapter. Newer 'wide' interfaces, used almost exclusively for hard drives, can support up to 15 devices plus the host controller, and can transfer data at burst speeds of up to 320 MB/sec. Because of the multiple device support and extended cable length (up to 6 meters for SCSI-2), the higher transfer rate, and the ability to install multiple host adapters on the motherboard or in available connectors, the SCSI interface is used most often to connect external devices such as scanners, CD-ROMs, CD duplicators, and multi-drive storage enclosures, while at the same time connecting to SCSI devices internally, usually on the same adapter.
Although SCSI is an ANSI standard, there are many variations of it, so two SCSI interfaces may be incompatible. For example, SCSI supports several types of connectors.
The following varieties of SCSI are currently implemented:
SCSI-1: Uses an 8-bit bus, and supports data rates of 4 MBps.
SCSI-2:Same as SCSI-1, but uses a 50-pin connector instead of a 25-pin connector, and supports multiple devices. This is what most people mean when they refer to plain SCSI.
Wide SCSI: Uses a wider cable (168 cable lines to 68 pins) to support 16-bit transfers.
Fast SCSI: Uses an 8-bit bus, but doubles the clock rate to support data rates of 10 MBps.
Fast Wide SCSI: Uses a 16-bit bus and supports data rates of 20 MBps.
Ultra SCSI: Uses an 8-bit bus, and supports data rates of 20 MBps.
SCSI-3: Uses a 16-bit bus and supports data rates of 40 MBps. Also called Ultra Wide SCSI.
Ultra2 SCSI: Uses an 8-bit bus and supports data rates of 40 MBps.
Wide Ultra2 SCSI: Uses a 16-bit bus and supports data rates of 80 MBps.