Best partition software for Windows Server 2003 (R2)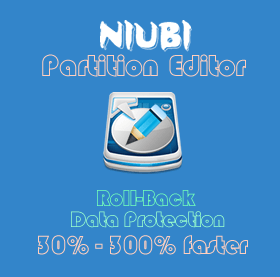 What does server partitioning software do?
It is very necessary to have a reliable partition software for your Windows 2003 Server, which could help you optimize disk space usage and manage disk partitions easier and better. As the most popular server partitioning software, NIUBI Partition Editor is highly recommended by many professional editions of CNET, PCWORD, SOFTPEDIA, etc.
Resize Volume
It helps resize existing disk volumes safely and easily, extend NTFS partition without rebooting server.

Manage Partition
Set partition Active. Copy, Create, Format, Delete, Explorer partition. Change partition label and drive letter, etc.

Optimize 
System
Fix file system error. Scan bad sectors. Partition defragment.  Initialize new disk, view disk/partition properties.

Convert Disk/drive
Convert Logical partition from/to Primary. Convert GPT disk to MBR. Convert NTFS partition to FAT32.

Data Security
Hide partition. Set disk read-only attribute. Wipe disk, partition, Unallocated to prevent data been recovering.

Bootable Media
Create bootable CD/DVD/USB disc to do disk partition management without installing to server.

The best partition software for Windows 2003 Server?
Data is most important to a server, the partition manager software cannot be best if it is not reliable and safe. Especially when resizing disk volume, the partitioning software will modify all parameters of related disk, partition, files in file system, so a slight error could cause data loss. It costs such a long time to restore and back everything to normal even if you have backups.
Better than other tools, NIUBI Partition Editor integrated unique Roll-Back technology to ensure 100% system and data safety. It is the only program than can roll back the server to the status before resizing in ONE second, if any software error or hardware issue such as power failure occur while resizing partitions. Furthermore, its unique file-moving algorithm helps resize volume at least 30% faster than other tools, which is strictly tested. Decreasing operation time is also important to a server.
Due to the tremendous innovations in disk management industry, NIUBI Partition Editor is recommended as the best server manager software.
Other benefits of this partition software
Hot Resize to extend NTFS partition without rebooting server.
All operations you do will be working in virtual mode and you can cancel or redo any steps before executing.
Extremely easy to use, anyone without such experience can operate without help.
90day money back guarantee and 24*7 live chat support.
Free lifetime technical support and after-sale service.
If you have many servers to manage, Enterprise edition can be installed on unlimited PCs and servers to save time and cost.
If you are IT technical service provider, Technician edition can be used to provide profitable service for unlimited companies and individuals.
Watch the video how to resize partition on Windows Server