More and more Windows updates and applications installed to the system partition, when the system C: drive running out of space, the Server computer will be fighting for the precious space and will run much slowly. System maybe crash if there is no free space. What will you do in this situation?
To start over is a solution but longer Server downtime means less customers and no one would like to waste their happy weekend to rebuild the Server, it may also cause data loss. The time-saving and easiest way is to resize system partition in Windows 2008 Server with reliable Server 2008 partition software. That is to say, shrink other existing data partition and get some free space, and then extend the system C drive with the Unallocated space, so there is no need to delete, format partition and start over again to save time.
Ensure data security when resizing Server 2008 system partition
The security and stability are undoubtedly the most significant aspect for Server computers since a Server computer usually stores the most important classified and daily-used files. However, even a slight error on Server computer might directly leads to exposure of the whole network to the outside.
So you must select the right partition software for your Windows 2008 Server. With the unique Enhanced Data Protection technology and Disk/Partition Copy Wizard built-in Partition Magic Server, you don't need to worry about the data security when resizing your Server disk partitions.
How to resize system partition for Windows 2008 Server
– It is extremely easy to resize system partition in Windows 2008 Server. You just need to drag and move on the disk map to shrink an existing data partition to get some Unallocated space, and then you can extend the system partition with this space.
– Any operations you do on the Server will be listed in the "Operations Pending" column and no changes will take place on your partitions before you click "Apply".
– If the system partition is NTFS, you can extend it without rebooting Server.
Step by step tutorial to resize Windows 2008 system partition
Firstly, check the disk partition layout in disk management. Here is drive C: D: and G: in Disk 0, I want to extend C: drive by taking space from G:.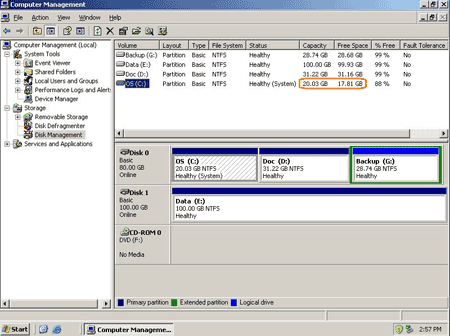 Step 1: Launch Partition Assistant Server edition, you'll see all disk partitions and the layout is similar with disk management.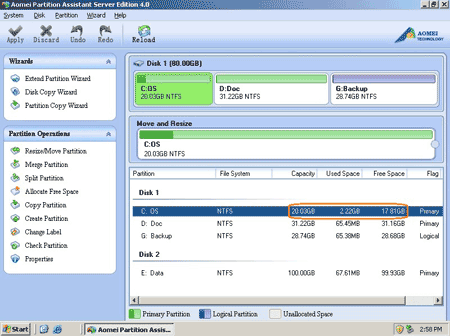 Right click drive G: and select 'Allocate Free space'.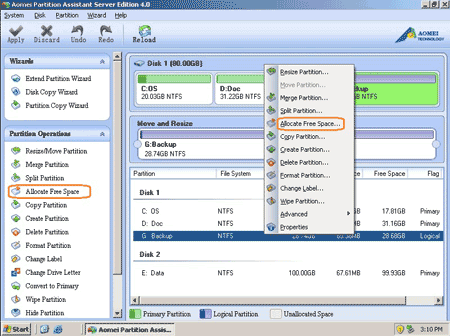 Step 2: In the pop up window, input the value how many space to shrink from G: and add to C: drive.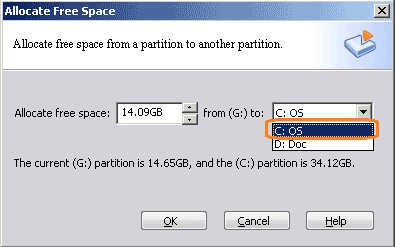 Click OK and you'll back to main window, where you'll see that drive G decreased to 14.65GB and C drive increased to 34.12GB.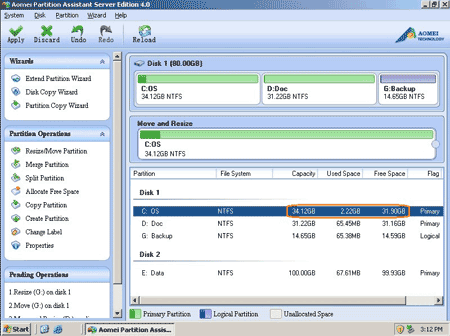 Step 3: Press 'Apply' button on top left to preceed resizing.

Within several minutes, done. Check again in disk management, yes, partitions resized successfully.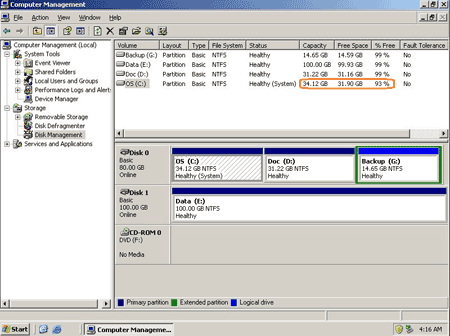 In conclusion, to resize server 2008 system partition, you just need to select which partition to shrink and which partition add the free space to, you can resize any partitions easily. Before running this program, I closed all files and applications, so the partition resizing proceed in Windows even without rebooting, amazing?
Download partition magic server free trial and check how easy it is to extend system partition on Windows 2008 Server.