Best Partition Manager for Windows Server & PC
Partition manager software is useful and important to help manage disk partition, no matter for servers or personal computers. Windows native Disk Management can only help you do some basic management operations such as create, delete, format partition, change drive letter. For advanced management such as resize, move, copy, hide, set active, convert, defrag, check partition, etc, you need third party disk partition software.
There are many choices in the market including free and commercial, Windows and Linux-kernel based, for server and PC, by installation or via bootable media. Then which is the right choice, here, I'll introduce the safest and fastest partition manager for Windows computer.
What's Inside
of this partition manager
Reallocate Partition
Shrink, extend, split and merge partitions, move location of partition and Unallocated space.
System Optimization
Partition defragment, Fix file system error, Scan bad sectors, Initialize disk, view disk/partition properties.
Clone & Migration
Migrate Operating System to new disk, Clone entire disk or single partition to back up or transfer data.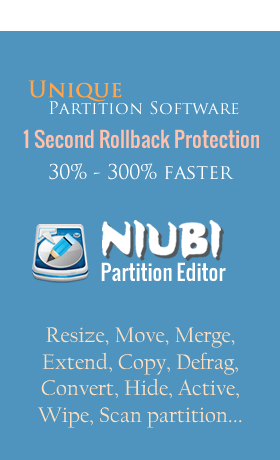 Partition Management
Create, Delete, Format, Explorer partition. Change partition label and drive letter, Set Active partition, etc.
Disk Partition Conversion
Convert MBR disk to GPT, Convert Logical partition from/to Primary, Convert NTFS partition to FAT32.
Data Security
Hide partition, Set read-only attribute, wipe disk, partition, Unallocated to prevent recovering.
Why NIUBI Partition Editor
Unique technologies & benefits
1 Second Rollback
Unique 1-Second Rollback technology to protect system and data, automatically reverts computer to original status in a flash if any software or hardware issue occur.
Hot Resize
Hot-Resize technology helps shrink and extend disk partition on the fly. (Close running programs & files)
Advanced Algorithm
Unique file-moving algorithm helps resize partition 30% to 300% faster than ANY other tools.
Virtual Mode
NIUBI is designed to work in its virtual mode. The operations you do will be listed as pending for preview and real disk partition won't be modified until click Apply to confirm.
Cancel-at-Will
This unique technology enables you to cancel the ongoing but wrong or unwanted operations without losing data.
Bootable Media
Build portable CD/DVD/USB to resize, optimize and manage disk partition without Operating System or if you cannot install program to production server.
Free partition manager
NIUBI Partition Editor Free Edition is the most popular free partition manager for Windows 10/8/7/Vista/XP (32 & 64 bit).
Unlike other free partition manager software that disable some functionalities and/or bundle other programs or advertisements, NIUBI Partition Editor is 100% clean, 100% free for all home users.
Professional partition manager
NIUBI Partition Editor Professional Edition covers all the features of Free Edition and has 2 additional benefits:
It provides unique

1 Second Rollback technology to ensure system and data intact.
NPE Professional edition has the option to create bootable CD/DVD/USB disc, so you can do all disk partition management without Operating System.
Better than other partition tools that can only be installed on 1 computer, NPE Pro can be registered on 2 computers.
Server partition manager
NIUBI Partition Editor Server Edition covers all features and abilities of Professional Edition. It supports Windows Server 2019/2016/2012/2008/2003 (R2), Small Business Server 2012/2011/2008/2003 and Home Servers. All types of local/removable hard disk, all types of hardware RAID arrays with any RAID controller, VMware/Hyper-V/Virtual Box, SSD, USB disc are supported.
NPE Server can be registered on 2 servers to save cost for small organizations.
Enterprise partition manager
NIUBI Partition Editor Enterprise Edition covers all feature of Server Edition. It can be installed on unlimited Servers and PCs in an organization regardless of locations.
Technician partition manager
NIUBI Partition Editor Technician Edition is the ultimate choice. Besides company-wide installation, you can provide profitable technical service to unlimited companies and individuals. It is also integrated lifetime free upgrade service. That means, you can update to all latest versions 100% freely lifetime.


[kkstarratings]
Last updated on: