Yesterday I wrote an article about how to resize server 2008 partition, some people ask me if the tool and steps fit for SBS 2008, so I want to explain how to resize SBS 2008 partitions, or rather, resize sbs 2008 system partitions.
Here I don't want to waste time talking about what SBS is, the editions or features, in one word, Windows Small Business Server (SBS) 2008 provides less features and connections comparing with Windows Server 2008 (R2), but File System and the way managing disk partitions keep the same. After opening SBS 2008 Disk Management you'll find there is no difference.
Two points when resizing SBS 2008 partitions
Firstly, pay attention to server data safety, because this is most important for a server, so select an reliable partitioning software and backup your system and files.
Secondly, I always suggest opening disk management to check out disk partition layout before resizing, because in "My Computer" and "Server Storage" tab in SBS console, you can only see the partitions, but you don't know which partitions are on the same disk. Please note, no partitioning utility is able to extend system drive by taking free space from another physical hard disk drive.
Steps to resize SBS 2008 system partition
Generally speaking, the system partition is most likely running out of disk space, so I want to introduce how to resize partitions and extend the system C: drive. If you want to resize a data volume, no problem, the steps are similar.
Actually, the steps to resize SBS 2008 volumes are same with resizing Server 2008 drives, the content below seems duplicate, but you'll know how it works on SBS2008 Server.
Firstly, open disk management.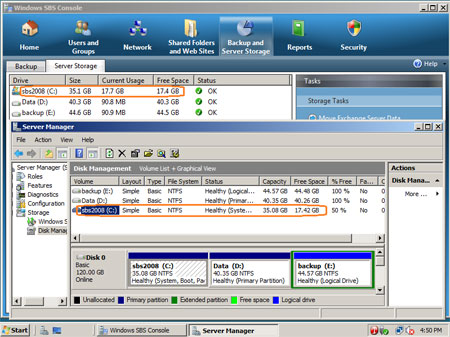 I opened SBS Console and Disk Management in one window, from the screen shot, there are 3 partitions in Disk 0 and system C drive is 35.08GB, let's begin to resize the sbs 2008 partitions.
Step1, launch partition assistant, you'll see the disk partitions in the main window, the layout is similar with disk management.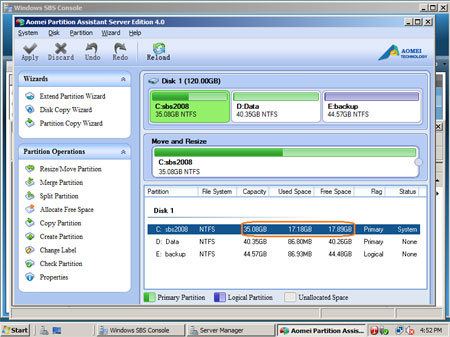 Right click any data drive on the same disk and select "Allocate Free Space", here I want to take free space from drive E: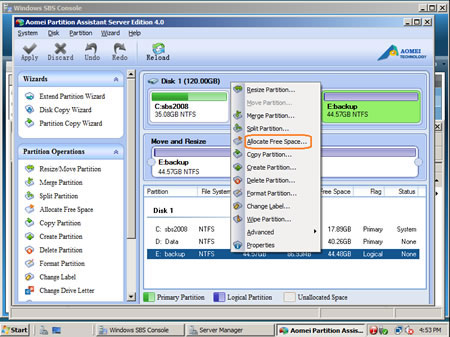 Step2, in the pop-up window, specify how much free space to take from E: and select C: as target partition.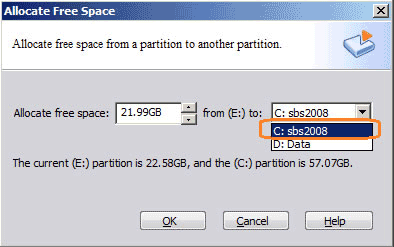 Click OK and back to main window, where you'll see partition resized.
Till now, the operations are in virtual mode, so you can preview the resizing operations, if you don't want to resize partitions like this, click "Undo" or "Discard" to restart. (Undo – cancel last operation while Discard means cancel all operations)
Step3, click "Apply" on top left to proceed, very quickly, sbs2008 partition resizing complete.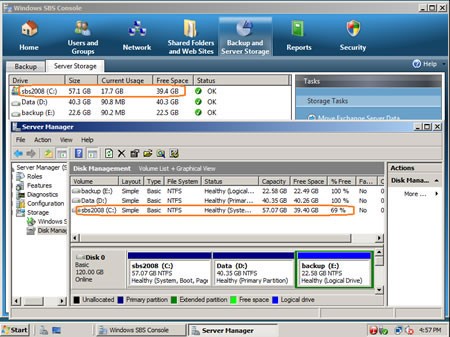 As you see, c drive space increased to 57.1GB and it costs only 3 minutes to proceed,
Is it easy to resize sbs 2008 system partition? Unlike other partitioning tools resizing partitions one by one, with partition assistant, it is much easier, you just need to select which drives to shrink and extend without resizing by yourself manually.
Some people may ask the question "how do I resize the sbs 2008 partitions when there is no data drive", good question. Actually, there is another special scenario – the hard disk is small and you cannot get enough free space from the data drives.
Don't worry, there's still easy solution, check the second part of complicated situations resizing server 2008 partitions.