RAID data recovery can be divided into two types, the first is recovering files from RAID, which works normally, the only problem is you deleted files, formatted partition or virtual partition was lost. In this condition, it is very easy to recover files from the RAID and many data recovery software has this ability.
The second is recovering files from corrupted RAID, this is much harder, so few data recovery software has the ability. In this article, I'll introduce the best RAID recovery software.
Generally, if the RAID was corrupted and you need to recover files, you'd better send it to the data recovery company. The problem is manually recovering files is very expensive, to many people or small company, it is hard to bear. Why not try the RAID data recovery software firstly? Maybe it could recover the files.
Quick Recovery for RAID
Quick Recovery for RAID is RAID data recovery software; it has been rated as the best RAID partition recovery tool. Quick Recovery RAID's unique Guided File Excavation Technology (GFETCh) helps in locating files and folders lost behind overwritten partitions as well. Quick Recovery for RAID offers RAID Data Recovery from both RAID-0 & RAID-5 of windows OS. Quick Recovery for RAID is automated RAID Data Recovery Software to recover lost or deleted data when RAID Servers are down.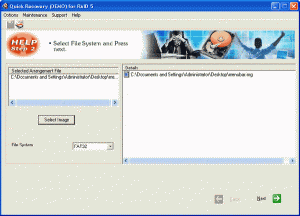 Features of Quick Recovery for RAID
Damaged RAID array can be easily recovered.
Recovery from damaged disks.
Recovery of files from un-accessible drive
Corrupt or damaged partition table can be recovered.
Restoring the disks after a crash
Deleted by accident recovery of files.
Recovery from Recycle Bin which were deleted.
Recover corrupted RAID arrays in a fully automatic mode. RAID Recovery is the first tool to automatically detect the type of the original RAID array while still allowing for fully manual operation. RAID Recovery is no doubt a highly valuable tool for users of all types of RAID arrays, whether hardware, native, or software. The drag-and-drop user interface allows specifying parts of the RAID array by simply dragging and dropping icons representing the disks.
Reconstruct all types of arrays just as easily as a single hard disk. RAID Recovery recognizes all imaginable configurations of various types of arrays, including RAID 0, 1, JBOD, RAID 5, and 0+1, no matter whether they are connected to a dedicated RAID controller or a RAID-enabled motherboard from NVidia, Intel, or VIA. Microsoft software RAIDs (also called Dynamic Disks) are also supported, including JBOD (span), RAID 0, 1, and 5 configurations. Version 1.5 and higer works with Adaptec RAID Controllers and DDF compatible devices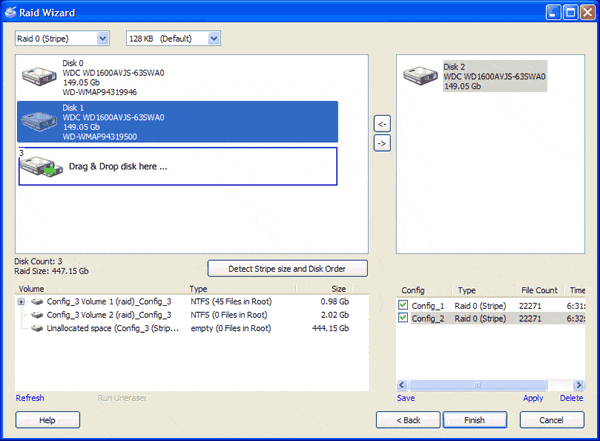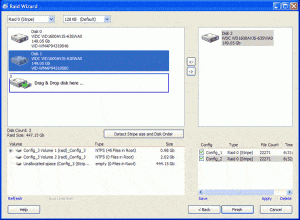 Detecting the right type of an array is vital for correct recovery. RAID Recovery supports both manual and fully automatic detection of essential parameters such as type of array, type of RAID controller, stripe size, and disk order.
DiskInternals RAID Recovery Features:
Recovered files can be Uploaded to Ftp or NAS!
Recovered files can be burned to CD or DVD!
Preview recoverable files before purchasing the product.
Easy Recovery Wizard.
Works under Microsoft Windows 95, 98, ME, NT, 2000, XP, 2003 Server, Vista, Windows 7, Server 2008.
Supported file systems: FAT16, FAT32, EXT2, EXT3, NTFS, NTFS 4, NTFS 5.
Recovered files can be saved on any (including network) disks visible to the host operating system.
Creates recovery snapshot files for logical drives. Such files can be processed like regular disks.
Creates Virtual partitions. Such partitions can be processed like regular disks.
Recover damaged RAID arrays
Recover files from damaged disks
Recover files from inaccessible drive
Recover corrupt or damaged partition table.
Restore disks after crash
Unformat NTFS drives
Recover files deleted by accident
Recover Photos from the erased or formatted media
Undelete files deleted from the Recycle Bin.