Good news, Acronis – the leading data backup, disaster recovery and disk management software company provides 15% discount to HDD TOOL readers.
About Acronis Company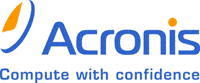 A global company, Acronis has offices in the United States, Europe and Asia and sells its products both direct and through enterprise resellers. Acronis is a world leader in providing advanced, scalable storage management and disaster recovery software that helps enterprises safeguard their information and assures the availability, security, integrity and recoverability of their infrastructure. Acronis' patented disk imaging and disk management technology has won broad industry acclaim and numerous awards for excellence in data protection, backup and recovery, system deployment, and server migration for both physical and virtual machine servers. Its flagship product, Acronis True Image, is a leading commercial disk-imaging and bare-metal restore solution for Windows and Linux servers, as well as being an automated system portability and migration tool. Since 2002, Acronis True Image has been the solution of choice for tens of thousands of customers, from small and mid-size businesses to the Fortune 500 in the banking, professional services, healthcare, technology, retail, government and manufacturing markets.
The discount software includes: