Best Partition Software for Windows 7
As the indispensable component of a computer, disk partition should be maintained regularly. For example, shrink a very large drive to create new volumes, merge the small drives, resize and extend a drive when it is running out of space. An easy and powerful partition software can help you a lot.
However, have you experienced or heard about disaster that caused by some partition software? Few people know about this risk while selecting a partition software. The first factor to many people is the amount of functionalities. But to me, it's data protection ability, there are large amount of my family photos and videos, as well as the work documents, so I cannot lose them.
The partition software is useless if it may corrupts my data, no matter how 'powerful' or beautiful it is. If you also care about your data, this article will help you, because today I'll share a Windows partition software that can 100% protect your data without damage.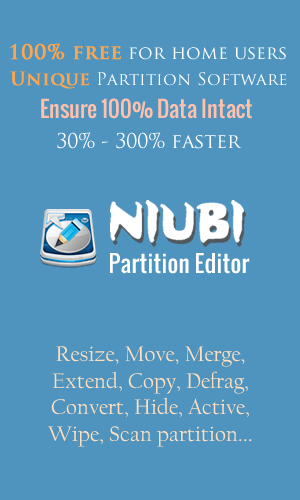 How to protect data?
Why there is data loss risk with partition software? Different with read-only software, partition software will modify disk drives. For example, when resizing a partitioned drive, the software will modify the parameters of this drive such as start location, end location and size in MBR, DBR and other places. In some situation, all files in this drive should be moved to new locations. So any software related error or hardware issue will cause part of parameters unable to be modified correctly. If it happens, system and/or partition will be damaged, files will be lost.
Better than other partition software, NIUBI Partition Editor is integrated innovative 1 Second Rollback technology, which can automatically roll back the computer to original status in ONE second, if any software or hardware issue occur. If it happens, nothing will be changed or lost, so it is the unique partition software that can ensure 100% system, drives and data intact.
Better than backup software that requires several hours to restore, NIUBI Partition Editor can roll back to original status in a flash.
What does this partition software do?
Functionality is not the first but still an important aspect to select a disk partition software. As the best partition software for Windows 7/8/10, NIUBI Partition Editor can fulfill most of your disk partition management requirement.
Repartition Disk Drive
Resize, move, split and merge existing volumes safely and easily, extend NTFS partition without reboot.

Partition Management
Set Active, Copy, Create, Delete, Format, Explore partition. Change drive letter and partition label, etc.

System Optimization
Partition defragment. Scan bad sectors. Fix file system error. Initialize new disk, view disk/partition properties.

Convert Disk/Partition
Convert NTFS partition to FAT32, Convert partition between Primary and Logical. Convert MBR disk to GPT. .

Protect Data Security
Set read-only attribute to disk. Hide partition. Wipe disk/partition/Unallocated space to erase sensitive data.

Bootable Media
Build bootable CD, DVD, USB disc to do disk partition management without Operating System.

Benefits of this partition software
Besides the unique data protection ability, there are many other benefits, such as:
Much faster
Because of the special and optimized file-moving algorithm, NIUBI Partition Editor is 30% to 300% faster, which is strictly tested. To resize and move a volume with 500GB files, it can be done within an hour in most conditions. But other partition software can only move 30MB to 50MB files per second, so they cost about 3.5 hours. If you have virtual machine or physical testing environment, just compare with a timer.
Extremely easy to use
You just need click and drag to operate, anyone without such experience can use this partition software well.

Virtual mode
To avoid incorrect operations, all tasks you do will be listed below Pending Operations, you can preview, undo or redo any operations. The physical disk partitions won't be changed until you click Apply button on top left to confirm.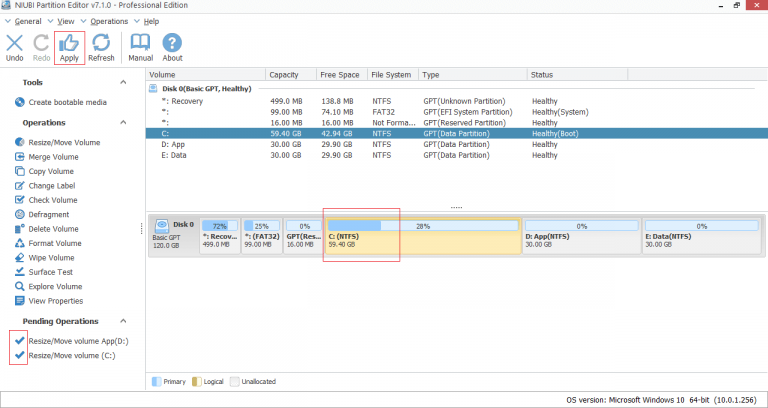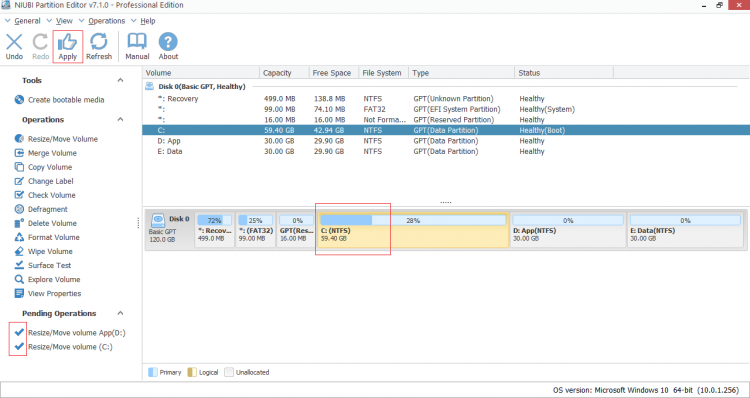 Extend partition without reboot
Close other running applications and files, you can extend NTFS partition without rebooting. The tasks listed below Pending Operations on bottom left with 

 can be done in Windows.
Risk free
The vendor provides 100% 90 day money back guarantee & 24/7 live support.
How to resize Windows 7 partitions?
Download
the best partition software for Windows 7.