Free Partition Manager for Windows 10/8/7/Vista/XP
Looking for a partition manager to resize existing disk volumes to optimize space usage, need to copy, convert, check, hide, defrag partition to better manage disk partition and improve computer performance? Here I recommend NIUBI Partition Editor Free Edition. It is 100% free without any bundle, clean and safe. You can use it to resize volume without any limitations.

Free partition manager overview
NIUBI Partition Editor Free Edition is free partition manager software for Windows 10/8/7/Vista/XP (32 & 64 bit).
It provides basic partition management to create, delete, format partition, change drive letter, etc. Advanced management to resize/move existing partition without data loss, copy, hide, set active, convert, defrag, check partition and much more. Download to use freely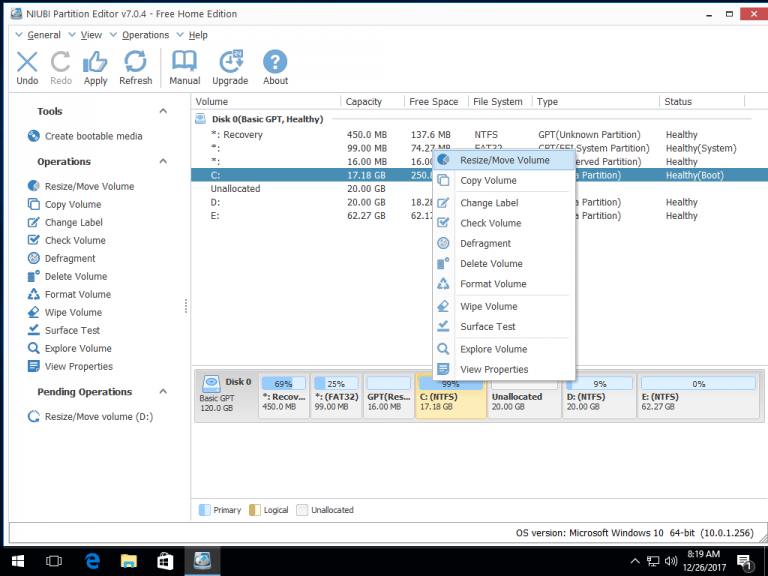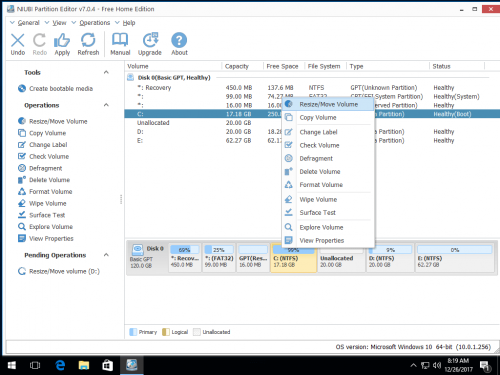 Key superiority of NIUBI Partition Editor
Better than other partition manager software, NIUBI Partition Editor integrated unique 1 Second Roll-Back protection technology, which is able to automatically roll back the computer to the status before resizing in ONE second, if any software error or hardware issue such as power failure occur during resizing, so Operating System and data always keep intact. It is tremendous innovation in disk management industry.
Unique file-moving algorithm helps resize partition 30% – 300% faster than any other tools, which is strictly tested. It save much time especially when there are large amount of files in the partition you want to shrink.
Other benefits of this free partition manager
As the most popular free partition manager for Windows PC. NPE Free has many advantages such as:
100% free, no bundle, no ads.
Easy to use with simple GUI, no help or experience is needed.
Hot Resize to extend NTFS partition with rebooting.
All in one toolkit, most of your disk management requirements can be fulfilled.
Same technical support with paid versions.
Local/removable hard disk, all types of hardware RAID, VMware, Hyper-V are all supported.
Advanced partition manager editions
Because of the powerful features, easy to use, data protection and fast resizing ability, NIUBI Partition Edition is recommended as the best partition manager on Windows platform.