It is indeed a headache for most of the server administrators to resize server 2008 partitions, especially for Windows Server 2008 R2, as it is 64-bit. Many people ask me if there is an easy and safe way resizing server 2008 volumes without starting from scratch, so in this article, I want to give some hints and try to cover overall disk configurations.
Easy-to-use isn't chief reason when you select a partition resizing utility, but data protecting ability, because to a server data is most important. An unreliable partition software is very likely to cause system failure or losing data, in that case, things become worse. Here I recommend a partition magic server software – Partition Assistant, which is similar with Norton Partition Magic.
Partition Assistant is not only reliable itself with built-in unique data protecting technology, but also integrates Disk/partition Copy Wizard to backup or migrate data, Partition Recovery Wizard to recover lost partitions. Furthermore, it is able to resize any data drives and extend NTFS system volume without rebooting to minimize downtime.
Back to the topic of HOW TO resize server 2008 partitions. To explain more clear, I want to divide the disk configurations into common and complicated situations.
Common situation resizing Server 2008 partitions
The first thing you should know is that no partitioning software can resize partitions beyond two disks, that is to say, to extend a partition, there must be other drives in the same disk, you cannot shrink and get free space from another physical hard disk.
In most of the servers, the administrators want to resize system C: drive and there are one or more other data drives in the same disk, this situation is common. Then how to know whether your server 2008 disk partitions is in common or not, just open disk management.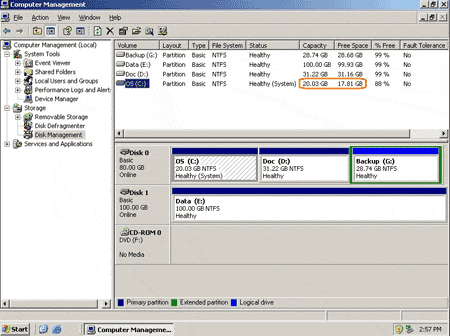 From the screen shot, there are 3 drives in Disk 0, single drive E: in Disk 1.
Steps to resize server 2008 partitions and extend system C: drive
Step 1, launch partition assistant and then you can see the disk partitions connected to the server, the disk partition layout is similar with Disk Management.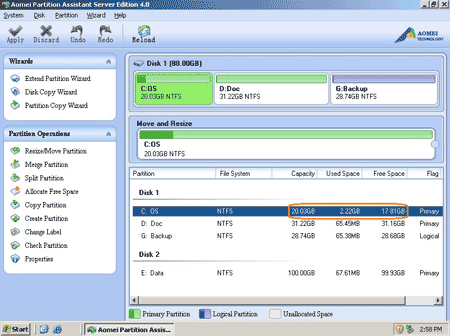 Right click any data drive and select "Allocate Free Space", here I want to shrink the second data drive G: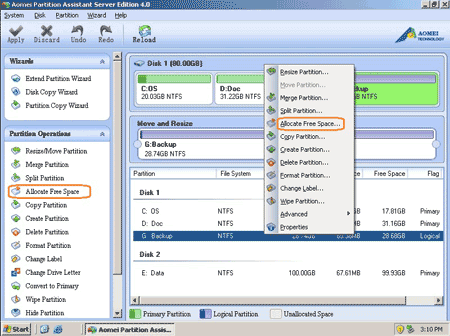 Step 2, in the pop up window, specify the amount of free space to shrink from G: and add to system C: drive.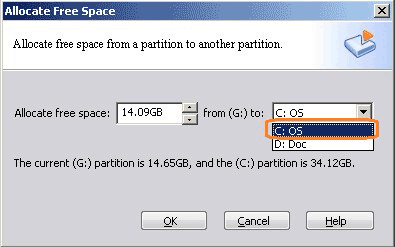 Step 3, click OK and back to main window, press "Apply" button on top left to proceed resizing.

In a short time partition resizing complete, check in disk management. 14.09GB free space added to C drive.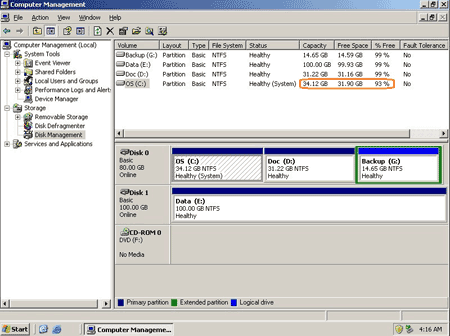 In conclusion, unlike complicated partition resizing steps in other tools, Partition Assistant provides easier way. To resize Server 2008 (R2) partition, you just need to select which partitions to shrink and extend without resizing by yourself.
Complicated situations resizing Server 2008 volumes
If your server disk partition layout is similar with my test server and you can get free space from any data drive of the same disk, to save your time, ignore the contents below, otherwise, please continue reading.
You cannot get enough free space from one data drive.
There is no other partitions in the same disk (such as Disk 1 Partition E above).
The disk is small and you cannot get enough free space from all data drives.
These situations are more complicated, but don't worry, there are still easy corresponding solutions.
For case 1, you may consider shrink 2 or more data drives to extend C. The built-in "Extend Partition Wizard" feature of Partition Assistant is able to shrink more partitions at the same time with few steps.
For case 2 and 3, copy this disk to another larger disk or raid array and then extend C drive with extra space in target disk or raid. In this situation, the built-in feature "Disk Copy Wizard" will help you.
This is the most powerful partition resizer I've seen, actually, it is not a disk partition resizer, but a must-have toolkit, because it provides full set of features help you optimize disk space usage and improve server performance. Learn more…