Free Partition Software for Windows 10/8/7/Vista/XP
Disk Partition Software is very useful for all Windows computers, which helps you do basic management to create, delete and format partitions, advanced management to resize, move, merge, split volume to change partition size. A powerful partitioning software provides variety of disk and partition management functionalities. In this article, I'll introduce the best free partition software for Windows 10, 8, 7, Vista, XP (32 & 64 bit).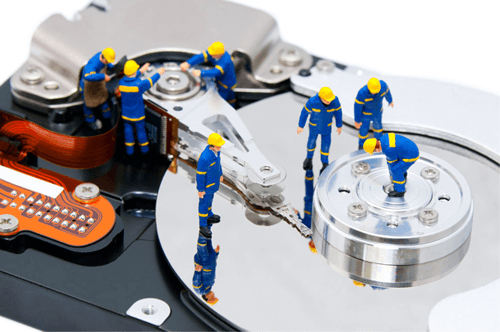 Windows native free partition manager
Windows XP to Windows 10 has built-in Disk Management utility to manage disk partitions, with which you can do some basic operations such as create, delete and format partitions. Better than Windows XP, Windows Vista and later editions has new Shrink Volume and Extend Volume to change size of allocated partition without losing data. However, comparing with third party professional disk partitioning software, Windows Disk Management snap-in works like a semi-finished utility.
| | | | |
| --- | --- | --- | --- |
| Features | Windows XP Disk Management | Windows Vista, 7, 8, 10 Disk Management | NIUBI Partition Editor Free |
| Create, delete, format partition | | | |
| Change drive letter, set Active | | | |
| Shrink NTFS partition and produce Unallocated on the right | | | |
| Shrink NTFS partition and produce Unallocated on the left | | | |
| Extend NTFS partition with adjacent Unallocated on the right | | | |
| Extend NTFS partition with adjacent Unallocated on the left | | | |
| Extend/Shrink FAT32 partition | | | |
| Resize, move, merge partition | | | |
| Copy, convert, defrag, wipe, hide partition | | | |
| Check volume, surfact test, change status, set read-only attribute… | | | |
NIUBI free partition editor
Download
and install NIUBI Partition Editor, you'll see the main window with 5 blocks: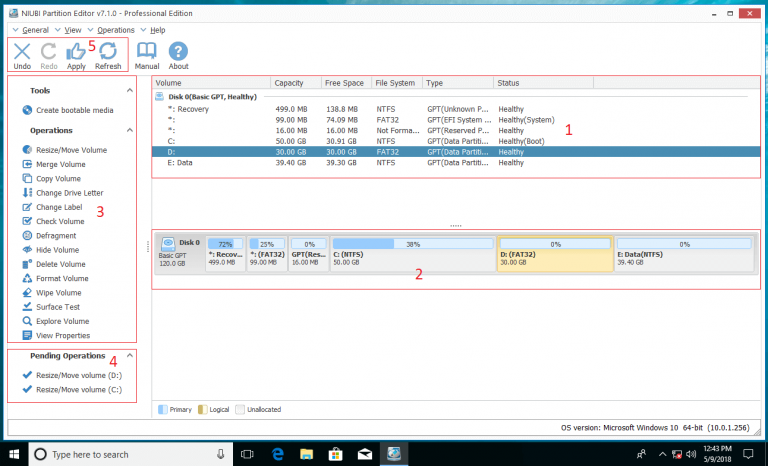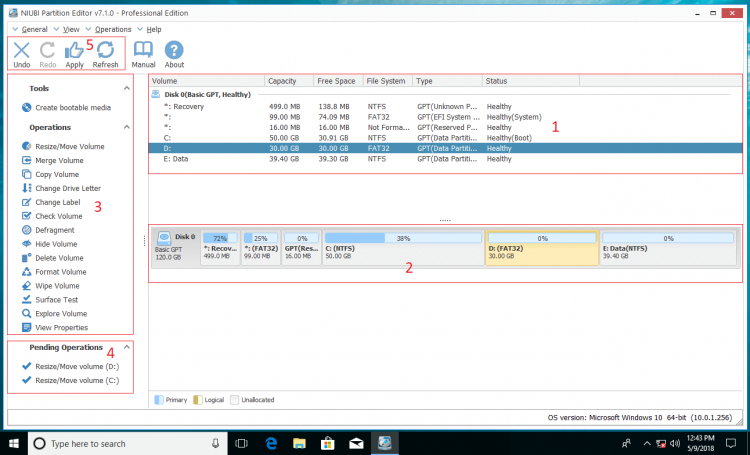 Lists all separate partitions with detailed parameter including capacity, free space, file system, type and status.
Displays all physical and RAID virtual disk with graphical configuration.
All available operations to the selected disk or partition, unavailable operations are hidden cleverly.
Pending operations, the operations you do won't be done immediately, instead, they'll be listed here.
The buttons to undo, redo or apply the pending operations.
What does partition editor free do
Change Partition Size
It helps resize, move, merge and split partitioned to optimize disk space usage without losing data..

Partition Management
Set partition Active, copy, create, format, delete, explorer, change partition label and drive letter, etc.

System Optimization
Fix file system error, scan bad sectors, defrag partition, initialize new disk, view disk/partition properties.

Disk/Partition Conversion
Convert Logical partition from/to Primary, convert MBR disk to GPT, convert NTFS partition to FAT32.

Data Security
Hide partition, set disk read-only attribute, wipe disk/partition/Unallocated space to erase sensitive data.

Bootable Media
Create portable CD/DVD/USB disc to do disk partition management. (upgrade to Pro)

Why this free partition software is recommended?
There are many free and commercial partition software including Windows based and Linux kernel based. The disk partition management functionalities are very similar, too. Then why I recommend this free partition software?
100% free for home users
Different with other free partition manager software that disable many functionalities and bundle advertisements or plugins, NIUBI Partition Editor Free Edition is 100% free for all home users, 100% clean without any bundled ADs or plugins. In addition, the vendor provides the same 24/7 live support with the paid versions fast and freely.
Unique features and advantages
NIUBI Partition Editor is not the one that has the most amount of functionalities, but it has many unique technologies and advantages than other free and commercial partition software.
1 Second Rollback technology
There are many precious files in your computer such as family photos, work documents, but there is system damage and data loss risk when resizing and moving partitions.
All parameters of related disk, partition and files should be modified correctly, what happens if any software internal error and hardware issue such as power outage occur during these operations? Part of the parameters will failed to be updated. In that case, you cannot boot to Windows or lose all files in related partition. So it is very important to make a backup and use safe partition software.
To eradicate these risks, NIUBI Partition Editor brings innovative 1 Second Rollback technology. It creates snapshot of all disk partitions and monitors the whole process. If anything goes wrong, it revert the computer to original status automatically and rapidly.
Special file-moving algorithm
Sometimes when you shrinking a drive towards the right or moving the location of a partition, all files in this partition should be moved to new locations. A good algorithm is very important if there are large amount of files, especially if this operation requires computer reboot to finish. Because of the special file-moving algorithm, NIUBI Partition Editor is 30% to 300% faster than other free and commercial partition tools
Cancel-at-will technology
When you resizing or moving partitions, what will you do if the computer stuck or you have to leave but these operations are not finished? If you forcely terminate the program with ongoing operations or reboot the computer manually, system and/or data will be damaged. So other disk partition software including commercial version won't allow cancelling from the beginning or over 50% progress, even if you did something wrong. Thanks to the unique Cancel-at-will technology, you can cancel the ongoing operations at any progress without losing data. Furthermore, the cancellation will be done in a flash without waiting a long time to revert.
Other benefits of this free partition software
1. Extremely easy to use
You just need to click, drag and drop on the disk map to modify disk partitions, anyone without such experience can use this program well.
2. Virtual mode
To avoid incorrect operations, all tasks you do will be listed below Pending Operations, you can preview, undo or redo any operations. The real disk partitions won't be changed until you click Apply button to confirm.
3. Resize partition without reboot
To a personal computer, it is not as important as a server to complete the modification without reboot, but why not modify the disk partition without interrupting other tasks. (Note: close the running applications and opening files/folders in the partition that you want to shrink before stating NIUBI. The pending operations with

in front can be done in Windows.
4. All-in-One toolkit
Most of your disk & partition management requirements can be fulfilled, in addition, more functionalities are added continuously. If you have any ideas, send to the vendor and they'll come true in some day. BTW, when you start this free partition software, you'll receive a notification if an updated version is detected.