Step 3: Enter the amount of space and then click Shrink to execute.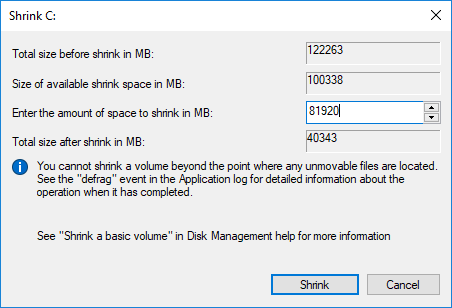 In a short time, C drive is shrank. Windows 10 Shrink Volume function can only make Unallocated space on the right side.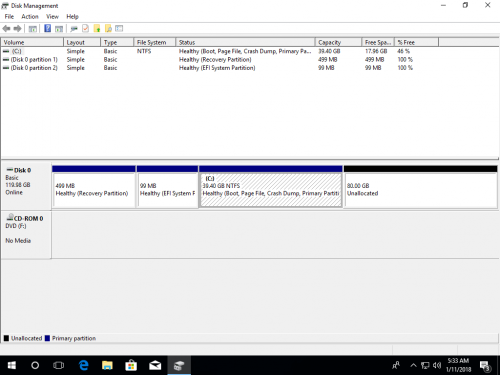 Cannot shrink C drive in some situation
Disk Management is easy to use, but you may encounter error when shrinking C drive volume.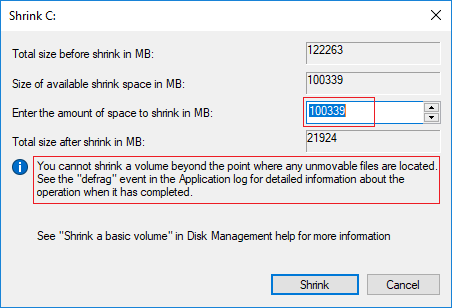 In the Shrink window, Disk Management give you maximum available space by default. Generally speaking, you'd better enter the amount manually according to your C drive size. (1024MB=1GB)
When I testing, I did click Shrink with default maximum amount of space. After clicking Shrink, I got the error message: "There is not enough space available on the disk(s) to complete this operation."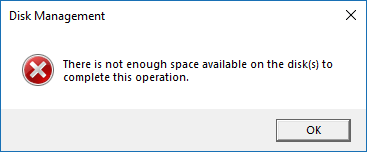 Another common issue: there is plenty of free space in C drive but Disk Management only allow shrinking with little space.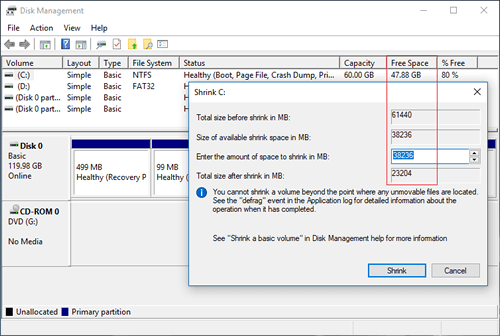 As you see in my test computer, there is 47.88GB unused space in C drive, but Disk Management give me maximum 38226 (37.33GB).
Have you noticed the tip on the bottom of the Shrink Window: "You cannot shrink a volume beyond the point where any unmovable files are located."
For example: C drive is made up of 4 blocks. If the unmovable files are located in block 3, you cannot shrink C drive to block 2 or 1 even though there is free space.

This is the reason why I got error message when using the default maximum space. "Unmovable" files include Paging file and the very large file such as hibernation, system backup files. If there are such files in C drive, you can only shrink a little space.
Shrink volume with partition editor
Comparing to Windows Disk Management, NIUBI Partition Editor has many advantages such as:
Both NTFS and FAT32 partitions can be shrank.
Unallocated space can be generated on either side.
It can move the "unmovable" files, so it can shrink volume to minimum size if you want.
To shrink C drive volume in Windows 10, you just need to click and drag on the disk map. Besides shrinking partition, it also helps you extend, merge, copy, convert, defrag, wipe, hide partition, etc.
How to shrink partition in Windows 10 with NIUBI:
Download NIUBI Partition Editor, right click the partition that you want to shrink and select "Resize/Move Volume".
Option 1: If you drag left border towards right in the pop-up window,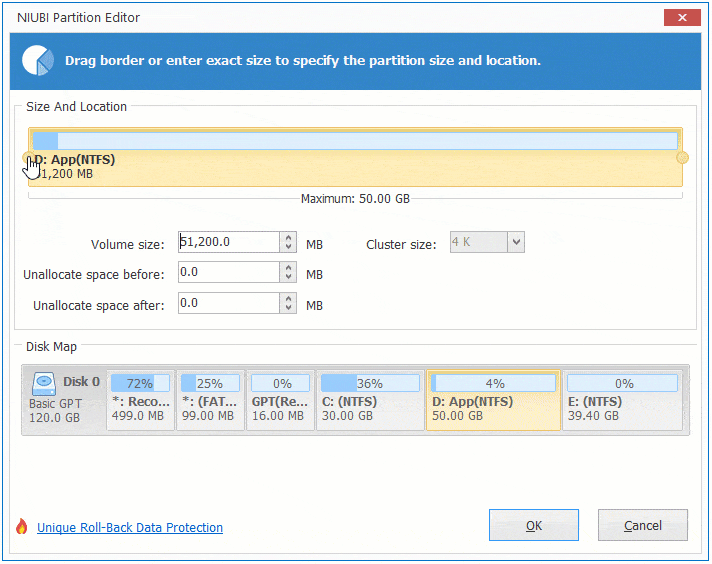 Unallocated space will be produced on the left side.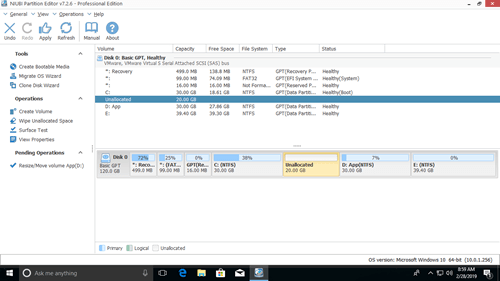 This software work in virtual mode to avoid mistake, to shrink physical disk partition, click Apply on top left to execute.
In Summary
To shrink partition in Windows 10 (either system or data partitions), the build-in Disk Management tool is one of the choices, but it has limitations including:
Only support NTFS partition, FAT32 and other types of partitions can't be shrank.
It can only make Unallocated space on the right side.
Can only shrink little space if there are some unmovable files.
Cannot shrink even 1MB is some special situations.
NIUBI Partition Editor is better choice. Besides shrinking and extending disk drive, it can do many other operations.
➤