Why this technology is important and useful?
When resizing allocated partitions, the parameters of associated disk, partition and files must be modified correctly. Sometimes, all files in the partition should be moved to new locations. If you resize system partition, boot related files must be updated, too. Therefore, it is not an easy task. If the modification can't be done in Windows environment, partitioning software will restart your PC or server to PreOS mode, where only basic Windows components are required and loaded.
If partition resizing and other operations can be done in Windows, you can continue your other work without interruption. Of course, it's better to resize partition without rebooting, especially to a server. With the help of Hot-Resize technology, NIUBI Partition Editor cannot avoid but reduce the probability of computer rebooting.
It doesn't requires rebooting while installing this program.
How to identify whether rebooting is required?
NIUBI Partition Editor is designed to work in its own virtual mode first, the operations you do will be listed as pending on bottom left. Each operation has a symbol in front.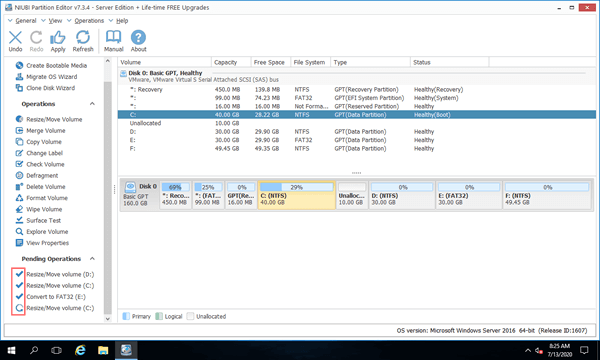 The operations with symbol in front can be done in Windows environment.
The operations with symbol in front requires computer rebooting to execute.
What to do if an operation requires rebooting?
Click Undo to cancel the pending operations and close NIUBI Partition Editor.
Close the running programs and opening files/folders in the partition that you want to shrink and move.
Restart NIUBI Partition Editor to resize partition again.
If the operations are still marked as

symbol, it means that rebooting is inevitable. Then you'd better modify disk partition at a proper time. After clicking Apply on top left, you'll see a confirmation window. After that, there's nothing to do. NIUBI Partition Editor will automatically reboot your computer to PreOS mode (DOS similar black screen), after partition resizing or other modification is completed, your computer will boot to desktop or login screen automatically.
Watch the video how NIUBI Partition Editor works in Windows environment and PreOS mode.