It is a headache for many people who want to resize raid partitions, because RAID array is different with a single hard disk drive. Hardware RAID 1 array is create by two physical hard disk drives with full or part of the disk space, so a RAID partition often called as "virtual" drive.
The same with single disk drive, raid virtual drives also runs out of space, especially for system C: drive, because RAID 1 "waste" space of a disk, it is used to install Operating System for fast boot recovery.
When low disk space problem occurs, it cannot be better to resize the raid1 partitions, because this is the fastest and easiest way, who can bear wasting days to start from scratch? Then how to resize raid 1 partition?
To most of the people who want to resize raid1 partitions, there is a "query" and "worry":
Should I break the raid array before resizing?
Is it safe, will it cause data loss or rebuilding the raid1 array?
Relax, it is very easy to resize raid 1 virtual drives.
To the people who are not familiar with raid1 array, I suggest reading more articles about it, otherwise, it is a bit difficult to understand the content below.
As we know, RAID 1 creates exact copy on two disks. If you build a raid 1 array with 2 120GB disks, you get a virtual disk 120GB in disk management. Of course you can create many virtual partitions in this virtual disk (raid1 array).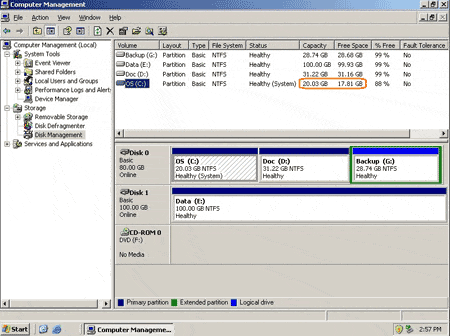 In my computer, Disk 0 (raid 1) is created via 2 80GB hard disk and there are 3 virtual drives on this disk (raid array). I always suggest you open disk management and find out the configuration.
Case 1, there is free space in any data drive on the same disk (raid 1)
In this situation, you can easily resize the raid partitions, follow the steps below:
Step1, launch aomei partition assistant, right click any data drive and select "Allocate Free Space".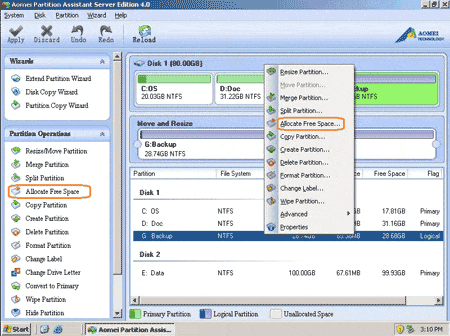 Step2, in the pop-up window, specify the amount of free space shrink from the data drive and add the space to C: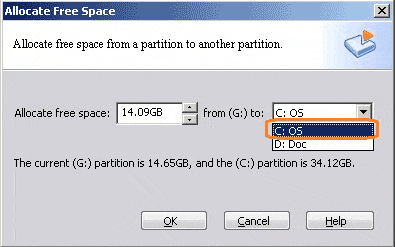 Click OK and back to main window, press "Apply" button on top left to proceed, done. Very quickly, the raid 1 partitions resized.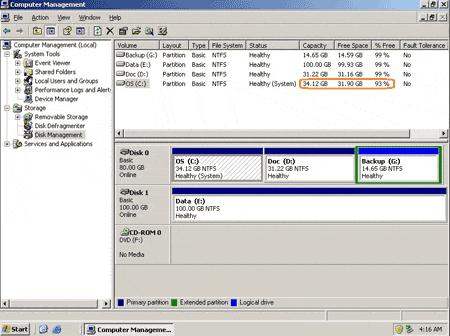 Case 2, only one partition on the raid array or you cannot get free space from other data drives.
Unlike software raid 1 (dynamic Mirrored Volume), you cannot increase hardware raid 1 capacity by breaking the array, replace with larger disk and rebuild array one by one. To resize hardware raid 1 partition, follow the steps below:
Copy your raid 1 to another hard disk (Disk 3) with the build-in "Disk Copy Wizard" feature.
Replace original raid 1 disks with 2 larger disks.
Create RAID 1 array from BIOS or via your raid application.
Copy Disk 3 to the new raid 1. (you can extend partition when copying)
If you have enough slots to connect 4 hard disks, you can directly copy old raid array to the new raid 1.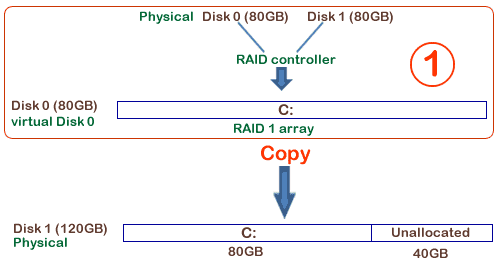 In conclusion, to resize raid 1 partitions, don't break the array, open disk management and find out the disk partition layout, if you can get free space from any data drive, follow the steps above. If there are no other partitions, copy the raid 1 array to another disk or raid, extend partition with extra space in the disk or raid during copy process.
You can change raid 1 partition size without doing anything else, all files and application shortcuts keeps intact.