This article introduces free data wiper/eraser for Windows 10/8/7/Vista/XP and how to erase disk partition with free data destruction software.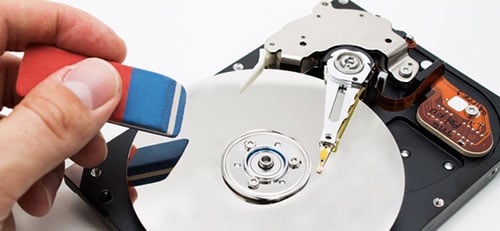 If you have some sensitive files to be removed from your computer, you need data erasing software, otherwise, the files are still recoverable even if you delete them with SHIFT or format the partitions. This page introduces how to completely erase data from you computer with free data destruction software.
Why files are recoverable?
When you delete files or format a partition, the files continue existing on your hard disk drive. If you're not careful, this will also allow other people to recover your confidential files. This is a particularly important concern when you're disposing of a computer or hard drive.
Windows track position of the files on a hard drive through "pointers". Each file and folder on your hard disk has a pointer that tells Windows where the file's data begins and ends. When you delete a file or format a partition, Windows just removes the pointer and marks the sectors containing the file's data as available. From the file system's point of view, the files are no longer present on your hard drive and the sectors containing its data are considered free space.
To increase performance and save time, Windows doesn't erase a file's contents when you delete files or reformat this partition. Thus, until Windows actually writes new data over the sectors containing the contents of the file, the file is still recoverable. A file recovery program can scan a hard drive for these deleted files and restore them. If the file has been partially overwritten, the file recovery program can only recover part of the data. In general, these partially recovered files cannot be opened and need to be repaired in special way.
To see the truth, let's do an experiment.
Step 1: I create a .txt file in drive E and then delete it by pressing "SHIFT" and "DEL" (permanently delete without throwing to Recycle Bin).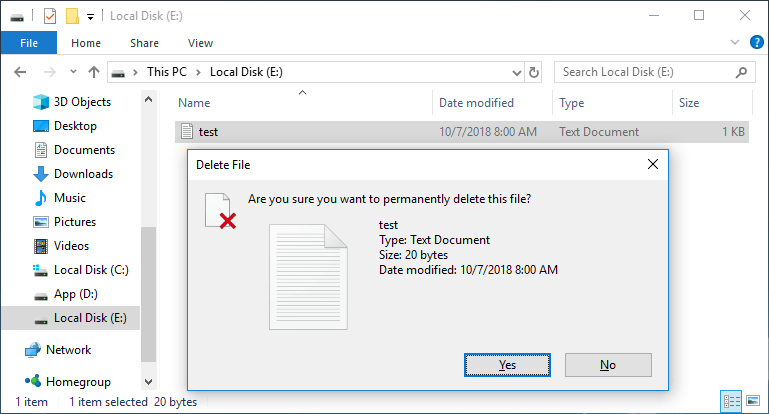 Then drive E: is empty.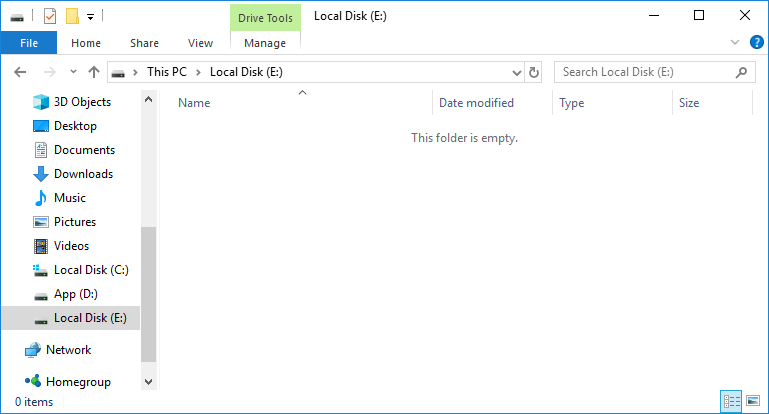 Step 2: Download Wondershare Recoverit Free (or any other recovery software) to recover the deleted file. There are many options in the main window, here I select the first "Deleted Files Recovery".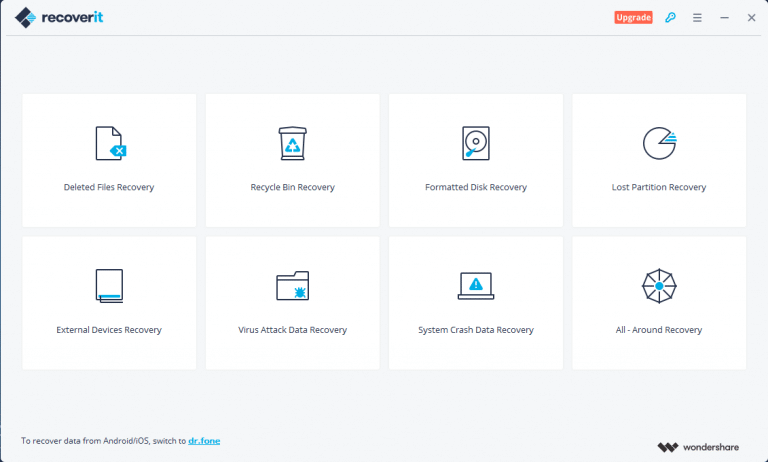 Then select the drive E to start.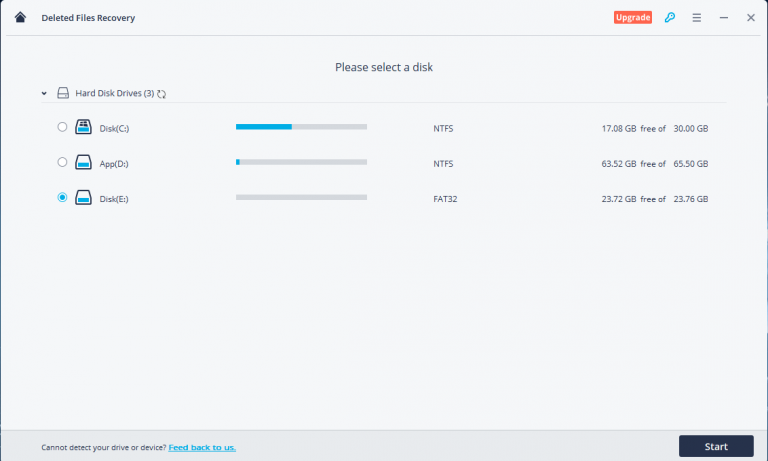 Step 3: It lists the recoverable files in a short time. It is also able to preview the files on top right corner. Click Recover on bottom right to continue.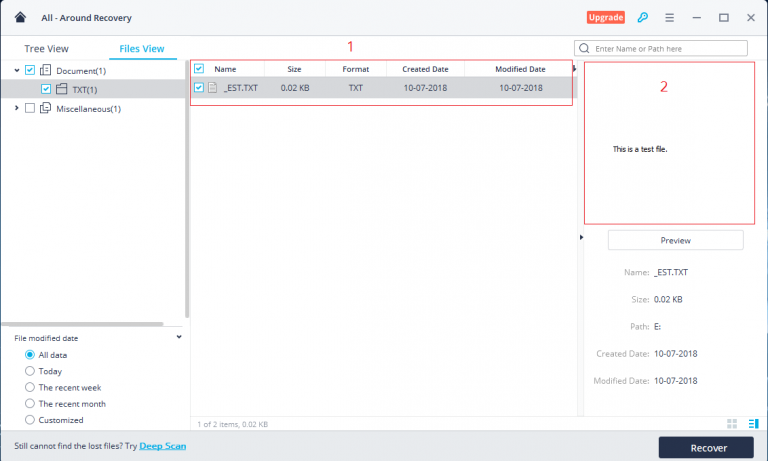 Step 4: Select the path to save the recovered files, here I select drive D.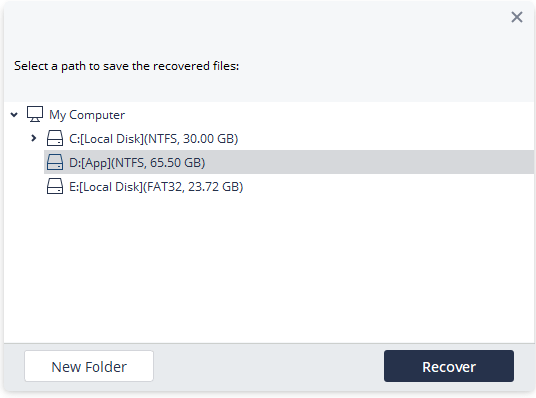 There is a folder created named as "Recoverit 2018-10-07 at 08.09.14", check the file in this folder, yes, the content is absolutely correct.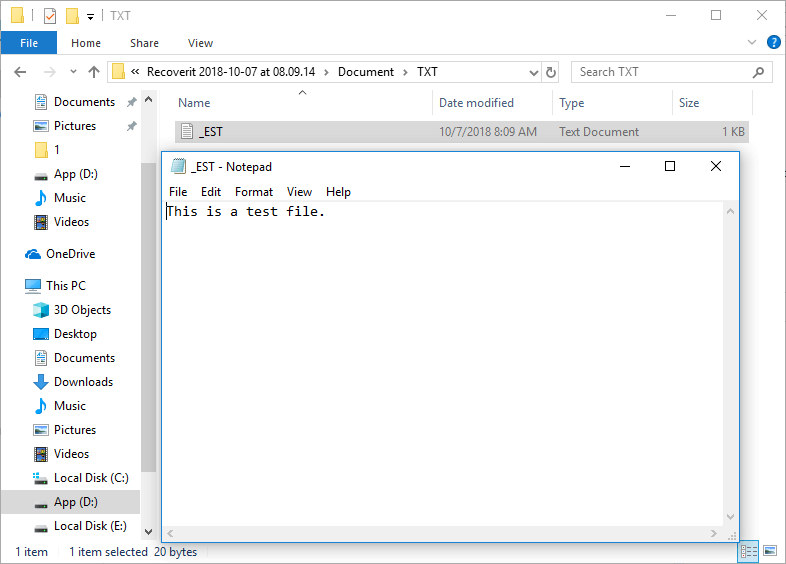 As you see, the deleted files can be easily recovered by data recovery program. Deleting or reformatting only corrupt part information of the files such as name, as long as the real data area is not overwritten, content of the files can be recovered.
Free data eraser for Windows
There are many commercial and free data wiper software that can completely erase all information of the files from your computer, here I recommend NIUBI Partition Editor Free. It is not only a free disk partition eraser but also an all-in-one disk partition management tool. It also helps you shrink, extend, move and merge partitions to optimize space usage, clone entire disk or single partition to migrate Operating system and data, convert disk/partition type, create, delete, format, convert, defrag, hide partition and much more.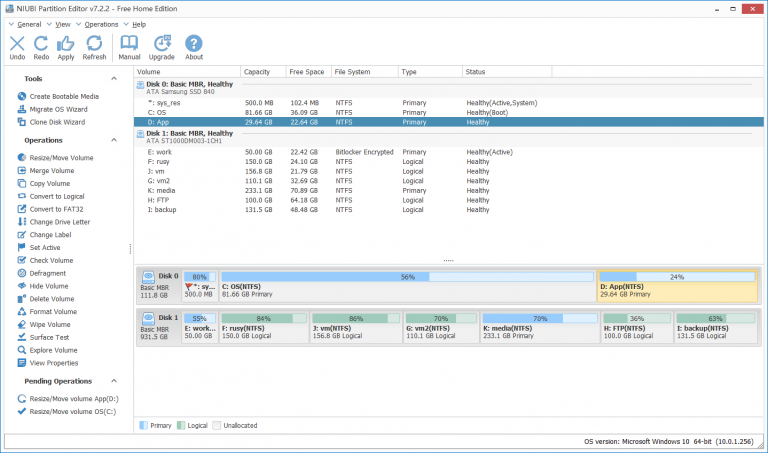 How to erase file with free data wiper?
Step 1: Download NIUBI Partition Editor Free, right click the disk, single partition or any Unallocated space and select "Wipe Disk", "Wipe Volume" or "Wipe Unallocated Space".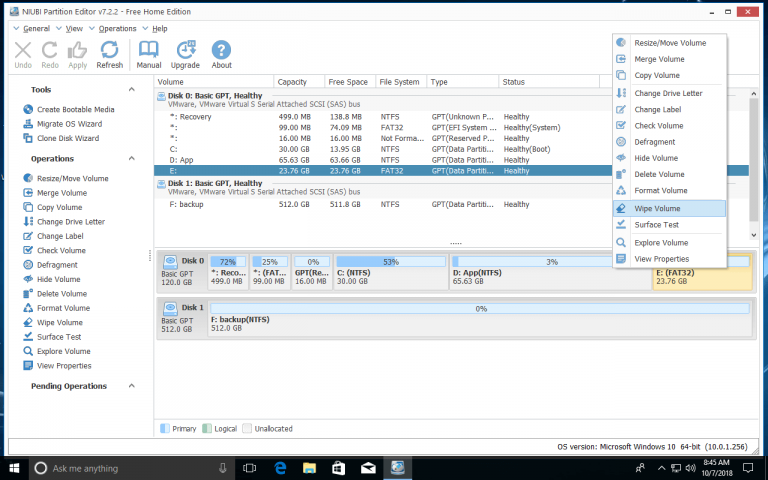 Step 2: There are 5 options to erase data, select one and click OK.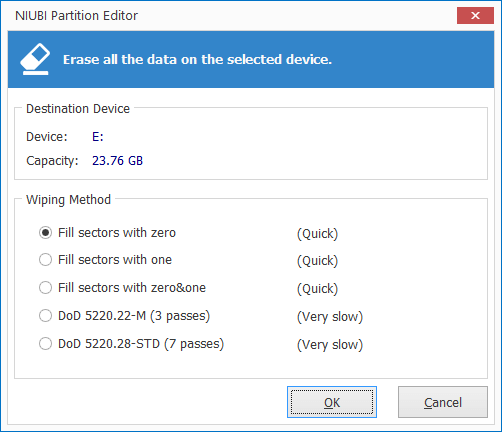 About Dod 5220.22-M:
DoD 5220.22-M is a software based data sanitization method used in various file shredder and data destruction programs to overwrite existing information on a hard drive or other storage device. Erasing a hard drive using the DoD 5220.22-M data sanitization method will prevent all software based file recovery methods from lifting information from the drive and should also prevent most if not all hardware based recovery methods
The DoD 5220.22-M data erasing method is usually implemented in the following way:
Pass 1: Writes a zero and verifies the write
Pass 2: Writes a one and verifies the write
Pass 3: Writes a random character and verifies the write
About Dod 5220.28-STD:
DoD Standard 5220.28 STD provides highest security level for data. It recommends the approach of overwriting all the locations with a character, its complement and then a random character and then verify. So as to clear and sanitize the information stored on the media. The process is as explained below:
It overwrites all addressable locations with 0x35.
Then the hard dive locations will be overwritten by 0xCA.
It overwrites the drive or any storage device with a random character
Now, all addressable locations on the hard disk are verified in hardware using the Verify Sectors command to the disk.
In order to perform this, it requires 7 passes matching the U.S. Department of Defense standards (DOD 5220.28). The method first overwrites with 01010101. The second overwrite is performed with 10101010. This cycle is repeated three times. The final overwrite is made using random characters.
Step 3: This operation is listed as pending on bottom left, click Apply on top left to execute, comparing with other operations, data erasing costs much longer time.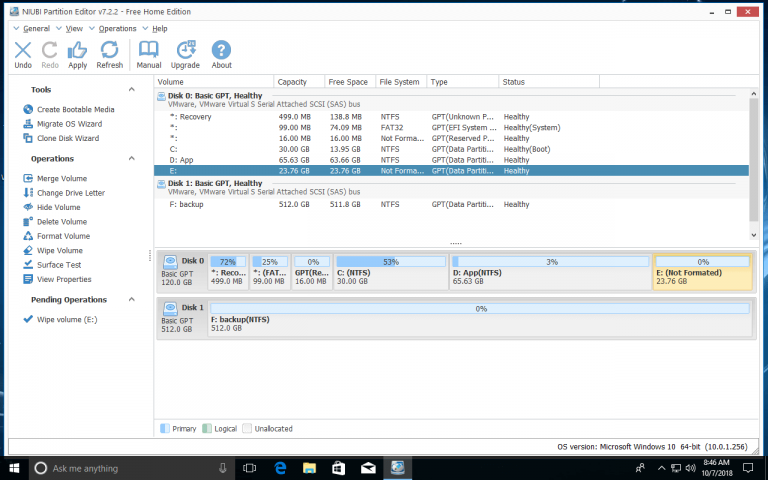 When it complete, this partition will be converted to Unformated. (To save new files to this partition, you need to right click it and select "Format Volume".)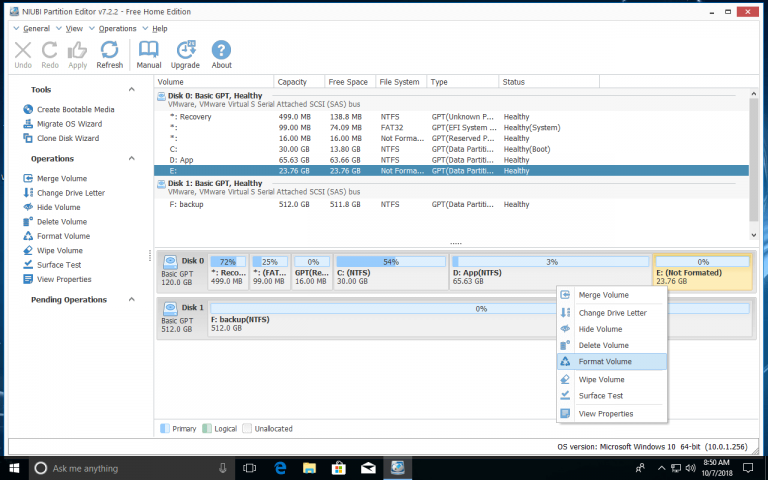 Now, it's time to verify whether this free data eraser works or not.
Scan drive E again with Wondershare Recoverit: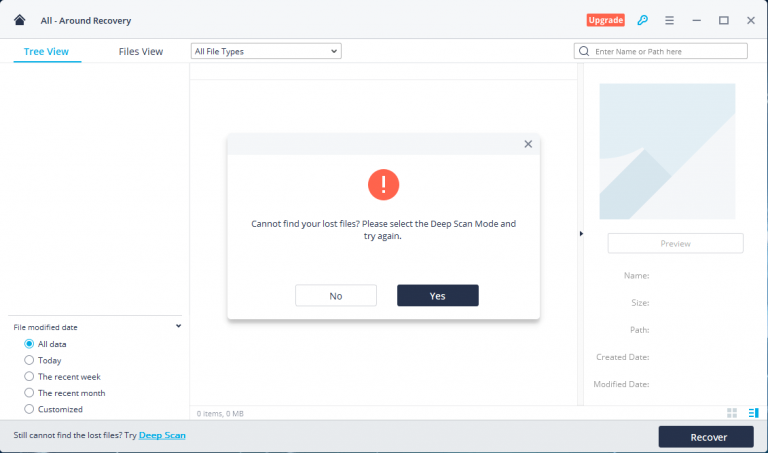 It cannot find the deleted files by normal and Deep Scan mode.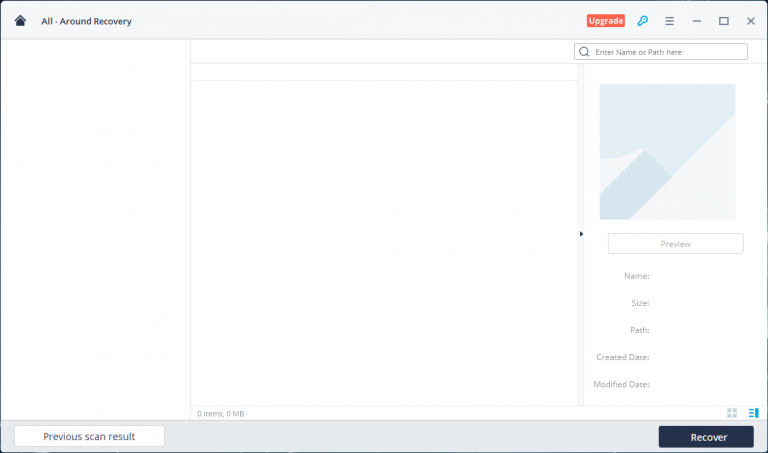 You can completely erase sensitive data from your computer by several clicks. NIUBI Partition Editor is not only a free data eraser but also a powerful disk partition manager. It helps you shrink, extend, move and merge partitions to optimize space usage, clone entire disk or single partition to migrate Operating system and data, convert disk/partition type, create, delete, format, convert, defrag, hide partition and much more.