What is Antivirus software?
Antivirus software provides an essential layer of protection from a multitude of virus, trojan, worm, spyware, adware, dialer, keylogger and rootkit infections. Traditionally antivirus programs just detected viruses and spyware removers just detected spyware but nowadays the boundary between antivirus and spyware removers is unclear. Most current antiviruses have at least reasonably good detection rates of all forms of malware.
More antivirus software is not good idea
Malware includes viruses, trojans, worms, spyware, adware, dialers, keyloggers and rootkit threats that perform malicious activities on a computer. With the huge increase in malware, antivirus software cannot keep up with detecting all of it. But using more than one real-time antivirus uses much more system resources, can cause conflicts and even reduce protection. So I recommend you only choose one antivirus for real-time protection. Instead, you can increase your protection using other security software.
Top 5 free antivirus software
1. AVG Anti-Virus Free Edition
The latest version of AVG Anti-Virus Free Edition makes further improvements to an already solid antivirus program. It now includes spyware removal, phishing and email scam protection and LinkScanner Pro.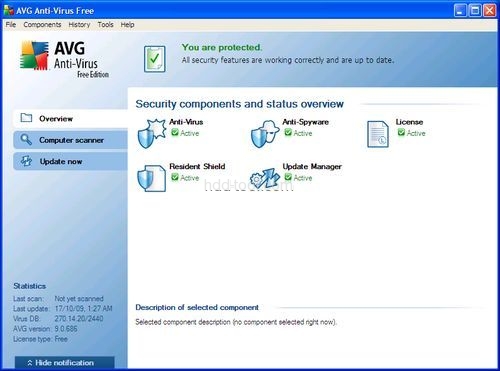 However, AVG Antivirus free has grown considerably in size and resource usage, and has very slow scan speeds. AVG also had continuous problems with updating signatures on my computer. AVG has advertisements, but they can be disabled.
These free antivirus programs are excellent software that provide a real alternative to the major commerical antivirus products.
You can increase your protection if you run on-demand scans with another antivirus. On-demand scans can be run regularly to check for viruses, trojans, worms, spyware, adware, keyloggers, rootkits and other malware that may have been missed by your main antivirus scanner. If you have a good preventive security strategy in place, however, the extra protection an on-demand antivirus scanner offers is minimal.
2. Avira AntiVir Personal Edition
Avira AntiVir Personal Edition is my top pick for the best free antivirus software if you're looking for the best protection against virus, spyware and rootkit threats. AntiVir is very light on resources and the detection rate of malware is outstanding, better than almost every other antivirus according to tests. However, there are some reservations.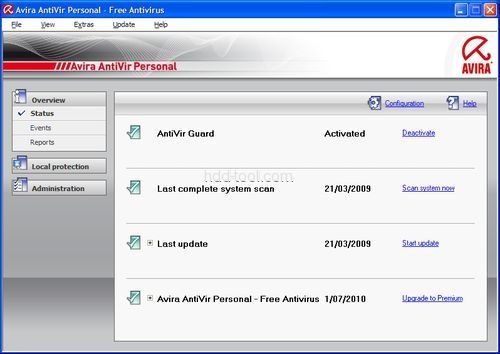 First, quite a few users have recently complained about the signature updates being very slow or not working, and this is a serious problem. There are instructions on an alternate method to download updates here. Second, AntiVir does not include web or e-mail scanning capabilities; this is only available in the paid version. The lack of an e-mail scanner is not really a disadvantage, it just means that AntiVir won't warn you of infected emails before you open them. But should you open an infected email, AntiVir will still spring into action, so it doesn't mean that you're not protected from email-based infections. Third, AntiVir has advertisements that appear with every update, although you can disable these ads. Finally, AntiVir has a time-limited license. It is renewable, but be aware that you'll have to periodically go through the hoops.
Avast! Home Edition is also an excellent free antivirus. Although its funky media player style interface is not to everyone's taste, skins can be downloaded for free, such as the MacLover OS X skin.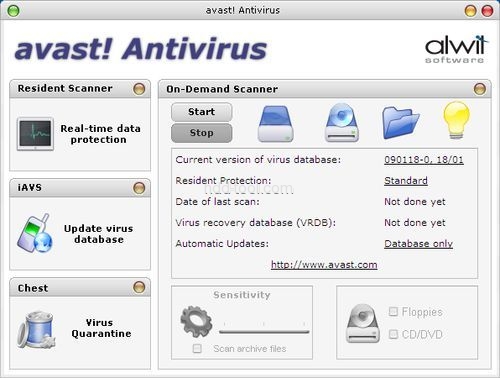 Avast has the most features, with full real-time capabilities, including web, e-mail, IM, P2P and network shields, as well as boot-time scanning. It's also got few false positives. Avast is light on resources and is also the only antivirus to continue support for older Windows platforms, although this will be dropped in the upcoming version 5. Avast can be set to automatically remove malware through the use of their Silent Mode ("Customize" under the detailed settings for On-Access Protection Control).
On the other hand, Avast has slightly lower detection rates than AntiVir. And like AntiVir, it also requires periodic re-registration, whereas MSE and AVG Free do not.
4. Microsoft Security Essentials
Microsoft Security Essentials, the newly released free antivirus by Microsoft, has a clean and modern interface, with few options to confuse users. The detection rates are very good, in particular the detection of zero-day threats and rootkits. Even more impressive, Security Essentials has very few false positives and is light on resources.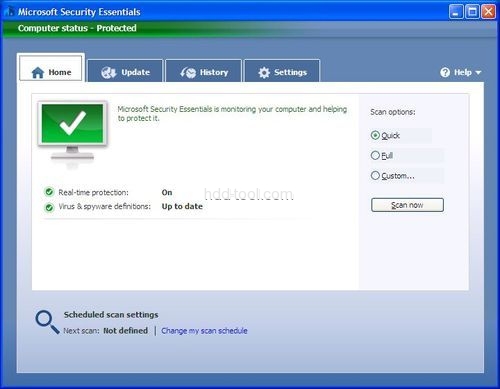 Microsoft Security Essentials is by far the best choice for average users because of the minimal user interaction required. It automatically updates and removes threats. No registration is needed, apart from a quick validating of Windows, and there are no nag screens or advertisements.
The main downsides are the slow scan speeds and the lengthy amount of time it takes to quarantine malware. MSE also is not available in certain countries so users there will have to look elsewhere. Note that Microsoft Security Essentials requires a genuine copy of Windows to install.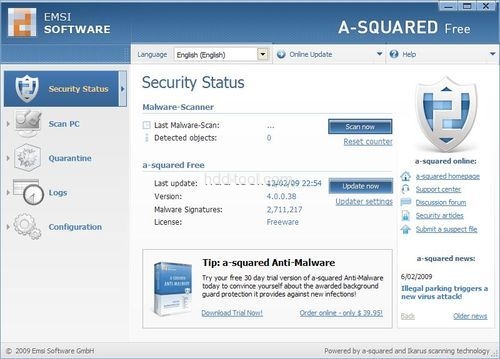 Another option is a-squared Free, which started out as a trojan remover but has recently included the Ikarus antivirus engine. The detection rate is incredibly high, on par with AntiVir, which makes it a very good choice for an on-demand scanner. Unfortunately it has many false positives, and the large update sizes make it unsuitable for dial-up users.