No matter you are using a server, desktop, laptop, iphone or other cellphones, you'll find the bad truth that the free space becomes less and less. In this article, I don't want to talk about cellphone or other devices, just the computer.
As we know, hard disk drive is the requisite component in a computer, which is used to store both operating system and data files. For different purpose, people may connect only one or many hard disk drives to a computer, in addition, they may divide a hard disk into one or many small partitions. Unfortunately, most of the people must face to the bad problem – no free disk left in a disk partition, both for system C: drive and data partition.
The system c drive is most likely running out of space, because the computer has a small c drive of factory settings. Even if you build the computer DIY, you won't create a very large disk partition for operating system, because it just consume several gigabytes. I have heard many many times the computer users complain that 'I have no free disk space left on my C drive'.
It is annoying when there is no free space in c, because Windows pops up an alert 'You are running out of space' endless. When you updating Windows for fatal threats, you get a message that the update failed due to no free disk space, you cannot install applications, either. The worst, system crash or failure, in this situation, you may lost the important personal or corporate data, lost connection with your clients, waste days to start from scratch, oh, really bad.
How to find out the amout of free space?

For old Windows versions, such as Windows XP, Server 2003, open 'My Computer', right click C drive and select 'Properties'.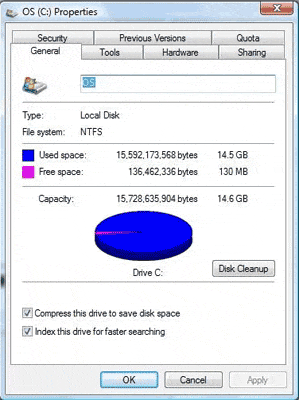 For Windows 7 and Vista, you'll see remaining free space after opening 'My Computer' (or press Windows icon & E directly on keyboard).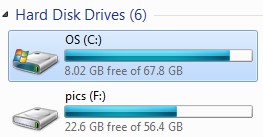 If there is few free space left on C drive or any data partitions, this drive will be marked as red.

To find out detailed info of every disk partitions, I suggest open disk mangement, right-click 'My Computer' > 'Manage' > 'Storage' > 'Disk Management' (for all versions).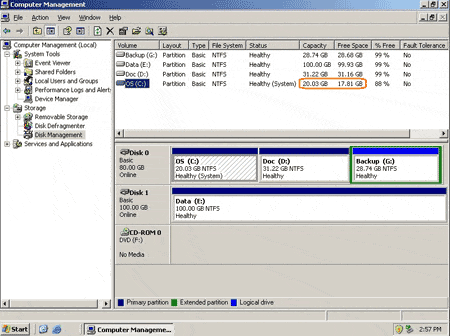 What to do?

When no space left on c drive, you may try to clean up with Windows built-in or 3rd party utilities. On different computers, the result has huge difference, but in most cases, you cannot get more than 1 gigabyte free space, that is to say, you'll try to resolve this problem shortly afterwards.
After free up disk space in C drive, I suggest you extend the system c drive, otherwise, you'll face to the same problem very soon.