Windows XP has built-in Disk Management tool, but it can only do some basic operations such as initialize disk, create, format and delete partition. Windows 7 enhanced the ability by adding new Shrink and Extend Volume functions to help resize allocated partition, but they only work under restricted condition. To manage disk partition for Windows computer and server more efficiently, you need a powerful disk partition manager software.
NIUBI Partition Editor is a magic partition manager software for Windows 10/8/7/Vista/XP (32 & 64 bit) and Windows Server 2019/2016/2012/2008/2003 (R2). Local/removable hard disk with any interface, Hyper-V/VMware, all types of hardware RAID with any raid controller, USB disk and memory cards are all supported.
As the most popular partition management software, it provides basic partition management to create, delete, format partition, change drive letter, etc. Advanced management to resize/move existing partition without data loss, copy disk partition to migrate Operating System and data, hide, set active, convert, defrag, check partition and much more.
What's inside of NIUBI Partition Editor
Re-size Disk Partition
Shrink, extend, move and merge partitions to optimize space usage without losing data.
Partition Management
Create, Delete, Format, Explorer partition, Change partition label and drive letter, Set Active partition, etc.
Convert Disk Partition
Convert MBR disk to GPT, Convert Logical partition from/to Primary, Convert NTFS partition to FAT32.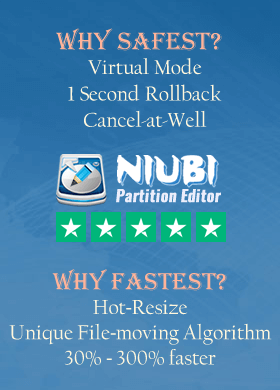 Clone & Migration
Migrate OS to new disk, clone entire disk or single partition to back up or migrate data.
System Optimization
Partition defragment, Fix file system error, Scan bad sectors, Initialize disk, view disk/partition properties, etc.
Data Security
Hide partition, Set disk read-only attribute, erase data in disk/partition/Unallocated space.
Download free partition manager for Windows 10/8/7/Vista/XP
NIUBI Partition Editor Free Edition is 100% free for home users, 100% clean without any bundles. It is specially designed for Windows 10/8/7/Vista/XP (32 and 64 bit). You can fully resize volume and manage disk partition the same with paid version. This free partition manager is widely used and highly recommended by many professional editors.
Other Partition Manager Free Download
Server Partition Manager
NIUBI Partition Editor Server Edition is specially designed for small and medium company. It supports Windows Server 2019, 2016, 2012, 2008, 2003, Small Business and Home Server. 1 license code can be registered on 1 or 2 servers.
Enterprise Partition Manager
NIUBI Partition Editor Enterprise Edition is designed for medium and large companies. It covers all features of Server Edition and supports Windows PCs as well. 1 license can be registered on unlimited servers and PCs in a company.
Profitable Partition Manager
NIUBI Partition Editor Technician Edition covers all features and services of Enterprise Edition, in addition, it can be used to provide profitable service to unlimited companies and individuals. Furthermore, it can be upgraded to all latest versions 100% freely.