Partition manager server free download
Looking for a partition manager software to manage disk partition with ease? Need a safe partition manager to repartition hard disk drive? You reach the right place.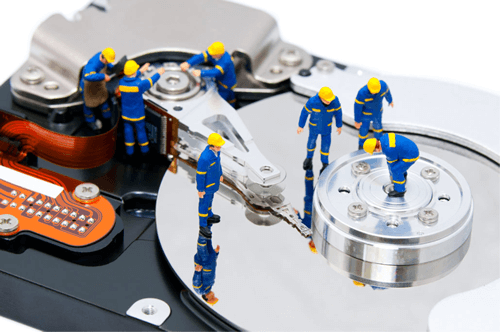 NIUBI Partition Editor Server Edition is a magic and reliable partition management software for Windows Server 2016/2012/2008/2003 (32 & 64 bit). It perform basic partition management to create, delete, format partition, change drive letter, etc. Advanced management to resize, move existing partition without data loss, copy, hide, set active, convert, defrag, check partition and much more.
Download Free
The safest partition manager for server
About disk partition management software, which aspect is most important? Powerful features, beautiful interface? No, it's the data protection ability. Some people think it doesn't matter because there is backup, simply restore if anything goes wrong. Really? I've heard many true stories that the server administrators spend almost a whole day to restore, verify all data and back the server to normal, causing partition/data damage by some partition software.The worst experience is completely losing data because the backup/recovery software failed to restore. It is disaster to a server!
To avoid the terrible disaster, you'd better select the safe and reliable partition management and backup recovery software.

As the safest server partition manager, NIUBI Partition Editor Server integrated unique 1 Second Rollback technology to ensure 100% system and data safety. If any software related error or hardware issue including power failure occur while resizing, it can automatically roll back the server to the status before resizing in ONE second. So you won't lose any data, even if this software failed to resize volume, the server could be back online in a short time.
The faster, the better
Besides data protection, it is also important to reduce operating time on a server. Many partition utilities has the ability to extend NTFS volume without rebooting, however, to extend C drive you should shrink D first. In some cases, you cannot close the running Windows services in volume D, so it still requires reboot to execute. If you use a utility that resize and move partition very slowly, it may cost hours to complete this task, the server is disconnected during this time, so of course it is better if the partition utility is faster.
The unique file-moving algorithm helps resize disk partition 30% to 300% faster than any other tools. In some situations such as large amount of file in the volume you want to resize, or very high CPU usage, NIUBI Partition Editor could be 5 times faster. If you have virtual machine or physical testing environment, simply compare it with other tools in same condition with a timer.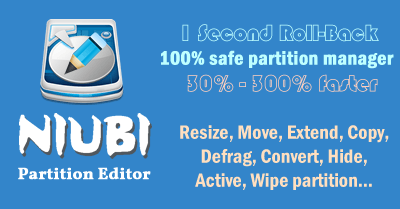 Why not download to try? It is 100% safe and clean.
Download Server Partition Manager