Unique Server Partition Software
The Safest & Fastest Server Partition Software

Want to resize partitions and extend C: drive for Windows Server? NIUBI Partition Editor is your best choice.
1 Second Rollback technology to ensure 100% data intact
30% – 300% faster than any other tools
Easy to use – just click and drag
Everything keeps the same after resizing
Virtual mode before applying changes to disk
Hot Resize to extend volume without rebooting
Hardware RAID and virtual machines supported
Risk free – 100% 90 day money back guarantee
24*7 web online support
Watch the video (full screen is recommended)
There is data loss and system damage risk while re-partitioning disk drives with unreliable partition software. To resize partitioned drives, the parameters in MBR, DBR and other place of related disk, volume and files should be modified correctly. Any software error or hardware issue such as power failure will cause part of the parameters unable to be modified. In this case, system, partition and/or data will be damaged.
You'll be disappointed if you think that backup software can avoid any disasters. Imagine what you have to do if damage occur? It waste several hours to a whole day to restore, verify data and back everything to normal. You'll lose part of data if the backup software is not working in real time.
Thanks to the built-in unique 1 Second Rollback technology, NIUBI Partition Editor is the ONLY program that can ensure 100% everything intact. It can automatically roll back the server to the status before resizing in ONE second, if any software error or hardware issue occur. That means nothing will be changed or lost if something goes wrong, so the server could back online without damage rapidly even if the program failed to repartition due to some reasons. Data safety and keeping online are most important to a server!
Resize disk partition
Resize existing disk partitions safely and easily. It is also able to extend NTFS partition without rebooting.
Partition management
Create, Delete, Format, Explorer, Copy partition. Change partition label and drive letter, Set Active partition, etc.
Convert disk partition
Convert MBR disk to GPT, Convert Logical partition from/to Primary, Convert NTFS partition to FAT32.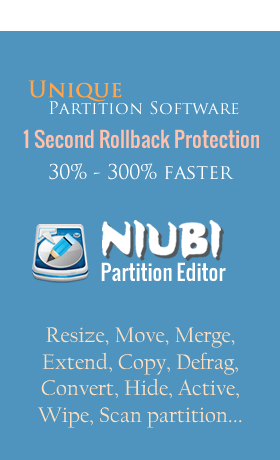 System Optimization
Partition defragment, Fix file system error, Scan bad sectors, Initialize disk, view disk/partition properties.
Data Security
Hide partition, Set read-only attribute, wipe disk/partition/Unallocated space to prevent recovering.
Bootable Media
Create bootable CD/DVD/USB disk to do disk partition management without Operating System.
What Customers Say
You'll be satisfied, too.



Have Any Questions?
Fill in the form or contact live support on middle right