Norton Partition Magic does not support Windows 10 (32 and 64 bit). This article introduces free alternative of Partition Magic for Windows 10.
Forget Partition Magic for Windows 10
Norton Partition Magic, originally called as PowerQuest Partition Magic is a very famous disk partition management software. Before acquired by Symantec, the manufacturer PowerQuest is a Fortune 500 company. This shows that, so many people use this software in the age of Windows 2000 and XP.
Can Partition Magic be installed on Windows 10? Yes, I've tried installing to my Windows 10 desktop successfully.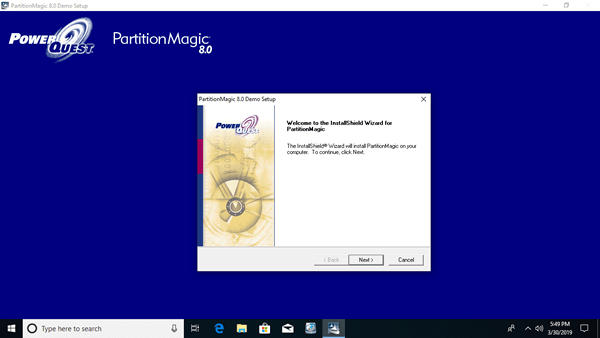 But after starting it, I received error:
It reports error 110 and saying that the length of the partition table is incorrect. After clicking Yes, it reports more similar errors.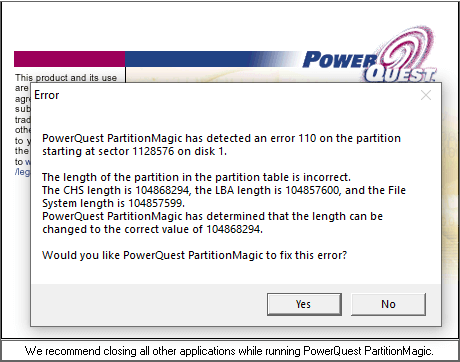 Finally it reports error 117 saying that Partition's drive letter cannot be identified. After clicking OK, it disappeared. If restart, it reports same error.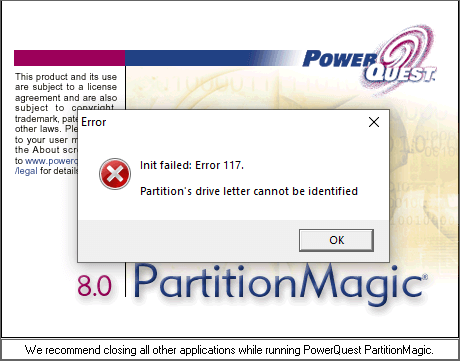 I've tried to change drive letter and made other efforts without success. In fact, it is not a real issue of drive letter, it is because Partition Magic cannot read the parameters of disk partition with the same way in Windows 2000 and XP.
PartitionMagic 8.0.5 is the last version released under Symantec. On December 8, 2009 the Symantec website states: "Sorry, we no longer offer Norton Partition Magic."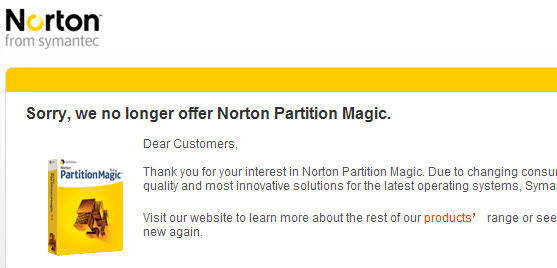 Symantec has stopped updating and selling Partition Magic for such as long time, so, it's really time to say goodbye.
Partition Magic portable for Windows 10?
I can't believe so many people still finding a way to run Partition Magic on Windows 10. Nowadays, many people like to use portable media such as USB disc. Then is it possible to create USB portable version of Partition Magic for Windows 10?
I've tried many methods but failed. Searching by Google completely and I found no successful case.
Even if anyone can create Partition Magic portable USB, I don't suggest running on Windows 10 computer. Yes, portable method does not rely on Operating System, but as I tried Partition Magic even cannot read drive letter. Can it guarantee system, partition, files and everything intact?
Boot manager is changed, new disk and partition type are added in Windows 10, 8, 7, so obviously, Partition Magic cannot handle everything on Windows 10. You'd better find out some alternatives.
Free Windows 10 Partition Magic alternative
In fact, there are many Partition Magic alternatives for Windows 10 in the market, including free and commercial. Among these tools, NIUBI Partition Editor is recommended by many people, because it has some advantages such as:
Its free edition is 100% free to home users without any bundled advertisement or plugins.
Unique 1 Second Rollback technology - automatically reverts computer to original status in a flash if encounter any error.
Virtual Mode - avoid incorrect operations by listing all as pending for preview, real disk partitions won't be modified until click Apply to confirm.
Unique Cancel-at-well technology - cancel incorrect but executing operations without causing damage.
Unique Hot-Resize technology - shrink and extend most of partitions without rebooting computer.
Advanced file-moving algorithm - 30% to 300% faster when moving and resizing disk partitions.
Download it and you'll see the main window.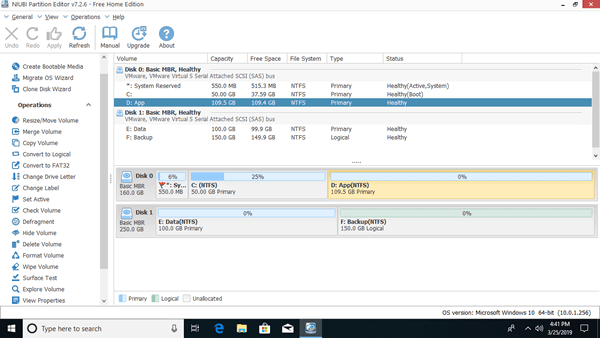 Single partitions are listed on top right with detailed parameters. All hard disks are listed on bottom right with partition layout. Available operations to selected disk or partition are listed on the left. (Unavailable operations will be hidden automatically.)
NIUBI Partition Editor helps you shrink, extend, move, merge, copy, convert, defrag, check, hide, wipe, create, delete, format partition, etc. The limitation of free edition is that it allows home usage only and cannot build bootable CD/DVD/USB disc.
It is 100% clean and only 12MB in size, why not download to try.