This article introduces how to resize system reserved volume in Windows Server 2008 R2, shrink other drive to extend system reserved partition without losing data.
Extend Volume is disabled for system reserved partition
Microsoft improved the ability of native Disk Management tool in Windows Server 2008 by adding new Shrink and Extend Volume functions. However, if you want to extend system reserved partition by shrinking C or other drive with this tool, it is impossible.
How to extend system reserved partition from C drive
With partitioning software such as NIUBI Partition Editor, you can shrink C drive and make Unallocated space on the left, then system reserved partition can extended easily. If you have shrunk C drive with Disk Management, you can move Unallocated space behind system reserved partition with it.
Download NIUBI Partition Editor and you'll see all disk partitions with structure and other information on the right. System Reserved partition is in Disk 0, there are other drive C, D and E in the same disk.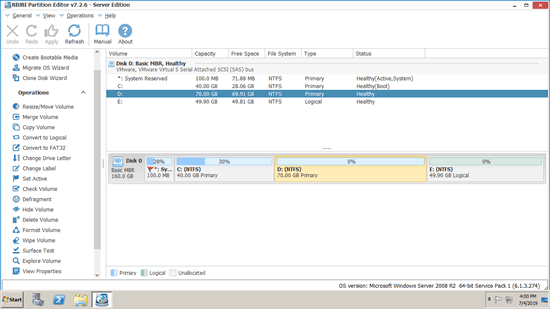 Steps to extend system reserved partition in Windows Server 2008 R2:
Step 1: right click C: drive and select "Resize/Move Volume", drag left border towards right in the pop-up window, or enter an amount in the box of Unallocated space before.
Step 2: right click the System Reserved partition and select "Resize/Move Volume" again, drag right border towards right to combine Unallocated space.
Step 3: click Apply on top left to execute, done.
Extend system reserved volume from data partitions
If there is not plenty of free unused space in the right contiguous partition C, you may shrink any other data volume on the same disk. In that case, there's an additional step to move partition.
Watch the video how to increase size of system reserved partition on Windows Server 2008 R2: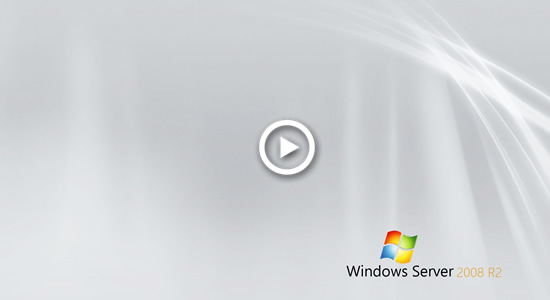 If you use any types of hardware RAID arrays, do not break array or do any operations to raid controller, simply follow steps above. If you want to resize system reserved partition for VMware VMDK or Hyper-V VHD, the steps are the same.
Take care of system and data
It is easy to resize and extend system reserved partition in Windows Server 2008, however, not all software can accomplish this task well. Some unreliable software could cause system boot failure and data loss, so remember to back up first.
Better than other tools, NIUBI Partition Editor provides innovative technologies to protect system and data such as:
Virtual Mode

- all operations will be listed as pending for preview, real disk partitions won't be modified until click Apply to confirm.

Cancel-at-well

- if you applied wrong operations, it doesn't matter, you can also cancel the ongoing operations without losing data.

1 Second Rollback

- if encounter any error while resizing partition, it automatically reverts server to original status in a flash.
It is also much faster because of the advanced file-moving algorithm. Besides shrinking and extending partition, NIUBI Partition Editor helps move, merge, copy, convert, wipe, hide, scan partition and much more.