This article shows why unable to shrink partition in Windows Server 2012 R2 Disk Management, and what to do when you cannot shrink volume/drive.
Why unable to shrink partition in Server 2012 DM
After running the 2012 server for several years, you need to modify the disk partition configuration. For example: shrink a large volume to create new or expand other drive that is running out of space.
To help shrink partition without starting from scratch, Microsoft provides Shrink Volume function in native Disk Management tool. It works in most cases, but sometime you can't shrink partition with it. In addition, it has limitation in some situations although Shrink Volume is activated.
This article lists 3 common reasons why Server 2012 Disk Management is unable to shrink partition volume.
Reason 1:

Not supported partition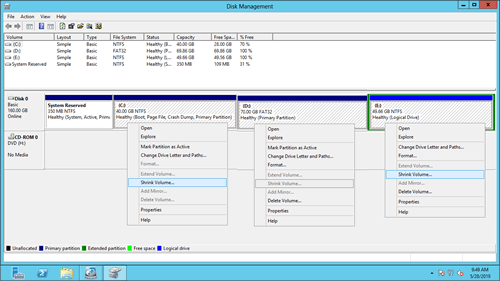 As you see in my server, drive D: is formatted as FAT32, Shrink Volume greyed out when right clicking it.
Only the partitions that formatted as NTFS or without file system (RAW) can be shrank.
If this disk is GPT style, EFI System and Recovery partition are not supported, too.
Reason 2:

Not enough space

After you start Shrink Volume function, Disk Management will firstly query available free space in this partition and give you the maximum amount by default in the shrinking window.

If you entered an larger amount manually, or some files saved into this partition, you'll receive error after clicking Shrink:

"There is not enough space available on the disk(s) to complete this operation."

Reason 3:

Unmovable files

There is a tip in the shrinking window - "You cannot shrink a volume beyond the point where any unmovable files are located."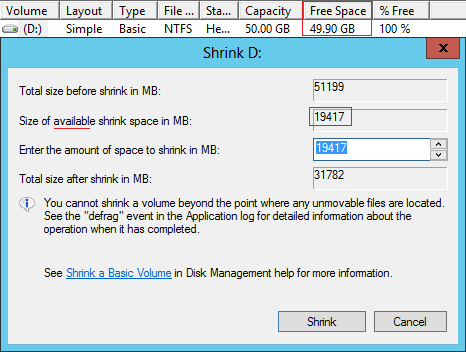 In my test server drive D: is blank with 50GB space, but in the shrinking window, Disk Management gives me only 19417MB (18.96GB) available space.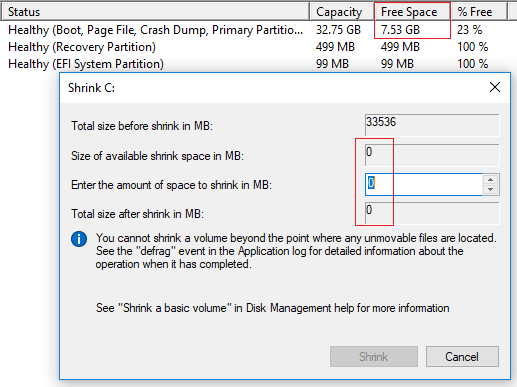 In some computer, you can't shrink volume for even 1MB.
What to do when you cannot shrink volume
If you cannot shrink partition in Windows Server 2012 no matter for which reason listed above, run NIUBI Partition Editor. Comparing with Shrink Volume function in Disk Management, NIUBI has advantages such as:
Both NTFS and FAT32 partitions are support.
Unallocated space can be made on either side while shrinking a partition.
It can move "unmovable" files, so it can shrink a volume to minium size if you want.
Dynamically change size if there is not enough free space.
If you want to extend a partition by shrinking other one, Server 2012 Disk Management is useless, because:
Shrink Volume can only make Unallocated space on the right side after shrinking a drive (such as D:), Extend Volume cannot combine this Unallocated space to the right partition (E:) or any nonadjacent partition (C:).
With NIUBI Partition Editor, you can make Unallocated space on either side, this space can be combined to any other partitions in the same disk (except EFI System and Reserved partition in GPT disk).
Better way to shrink and extend partition
Download NIUBI and you'll see all disk partitions with structure and other information in the main window.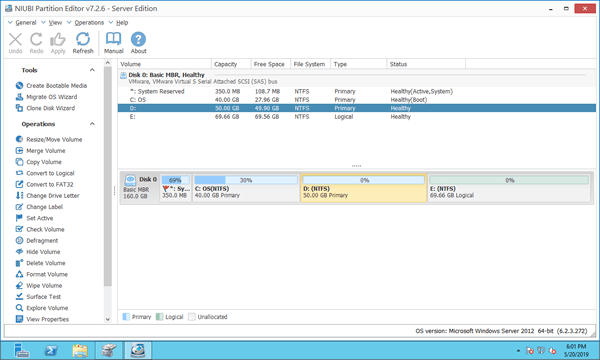 To shrink hard drive partition, you just need to drag and drop on the disk map. For example how to shrink drive D: in Windows Server 2012.
Right click D: and select "Resize/Move Volume", drag the border towards other side to shrink it, you have two choices in the pop-up window:
Follow the steps in the video to extend other partition after shrinking: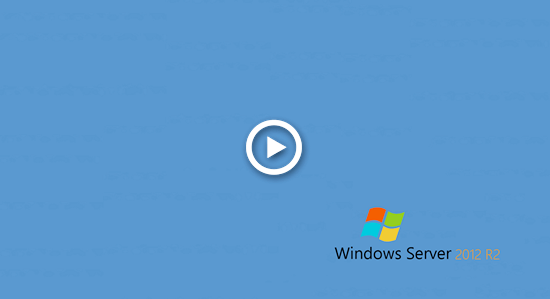 Besides shrinking and extending disk partition, NIUBI Partition Editor helps you do many other operations.