Windows Server 2012 (R2) is the latest Operating System from Microsoft. Many organizations have started to test and deploy it. Certainly, Microsoft adds new features to this new OS, however, no improvement to disk management, even no option to create partitions when installing, so you see only one drive finally. All server managers know the truth that it is not a good idea to use only one drive for everything, it is better to devide a hard disk into several drives, one for operating system, one for applications, one for user data, etc. then how to get new partitions, what to do if a created drive running low (no free space left). Today, I want to share some ideas how to manage disk partitions in Windows Server 2012.
How to create partitions after installing?
As we know, to create new drives, there must be free Unallocated space in a hard disk, but after installing Windows Server 2012, the system C drive uses the whole disk space, how can we create new partitions for user data or third party applications. From Windows 2008 Server, Microsoft has added "Shrink Volume" feature in Disk Management, let's see how to do this in Server 2012.
Step1, right click the "Windows" icon on bottom left corner and click "Disk Management", where you'll see all hard disks and partitions connected to this server.
Step2, Right click drive C and select "Shrink Volume…"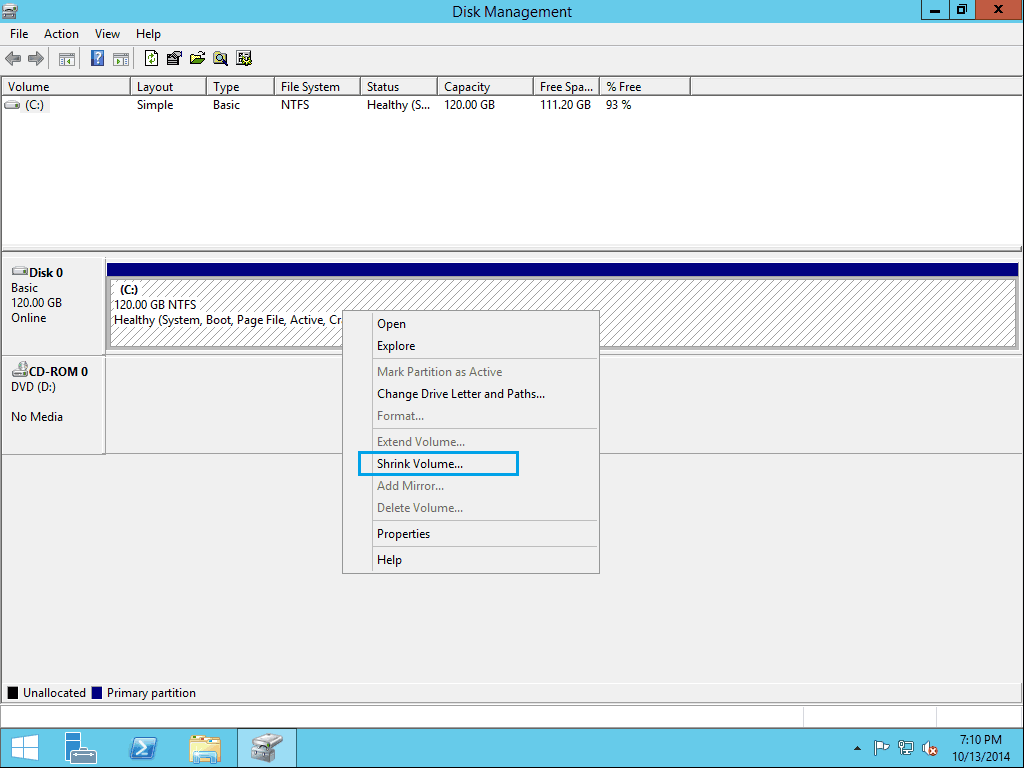 Then enter the amount of space to shrink.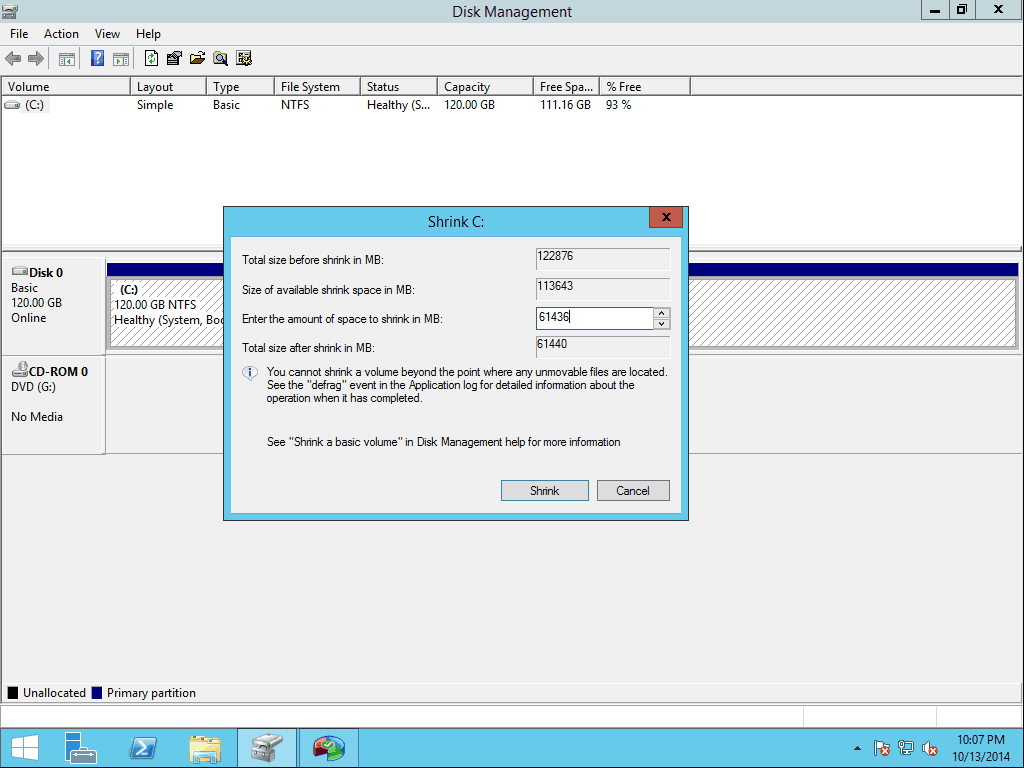 Click "Shrink", you'll get a smaller C drive and Unallocate space, then you can create new partitions with this free unallocated space.
How to extend C drive on Windows 2012 Server?
The same with older Windows operating systems, C drive runs full regularly, sooner or later there will be no free space left, because Windows updates and applications being added to this drive continuously. Is there a way to extend drive C without reinstalling? In Disk Management console, you can expand C drive with "Extend Volume" feature.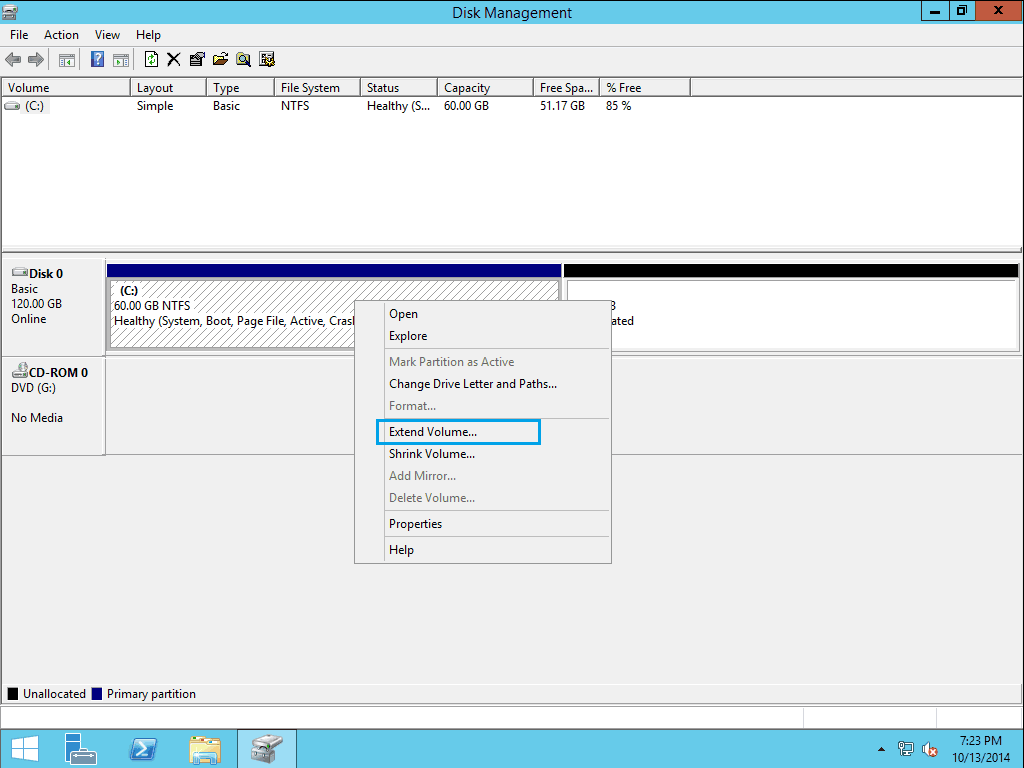 However, there is a big problem, in most cases, the "Extend Volume" option is grayed out, of course you cannot extend C drive.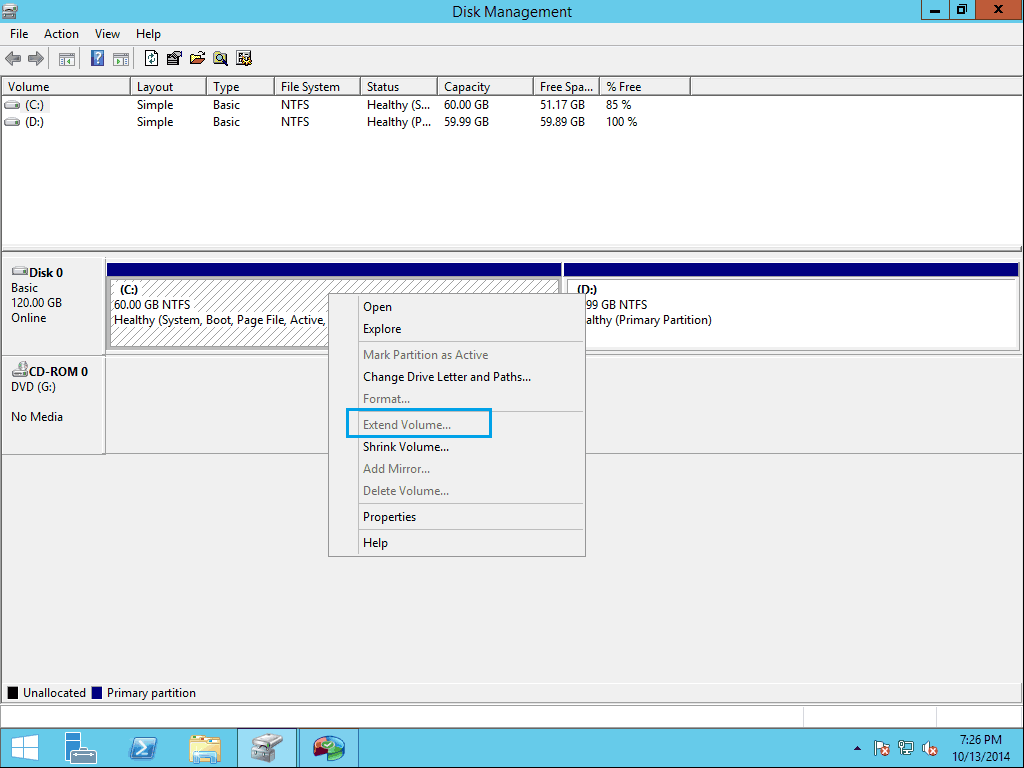 Comparing with these two screenshots, you'll find out the difference, "Extend Volume" works only when there is free Unallocated space behind, so what to do now, delete drive D? Of course you can extend c after deleting D, but I don't think anybody would like do this. Athough you can backup files on D, after deleting, applications stop running, some Windows servies down, drive letters change and a series of symptom. However, there's still a way to extend C drive without deleting D or reinstalling your Windows OS.
Expand C by shrinking D or other data drives
Actually, you can easily expand C by taking free space from D or other data drives. Operating System, applications and all files keep the same after repartitioning. No other operations requried, even if you are running RAID drives (Don't break the RAID array). Amazing, right? Let's begin.
Step1. Download and install partition assistant, after launching it, you'll see all disk partitions (similar with Windows disk management) and all features. Here, I just share how to change partition size of a created disk drive. Firstly, we need to take some free space from D. Right click drive D and select the first option "Resize Partition.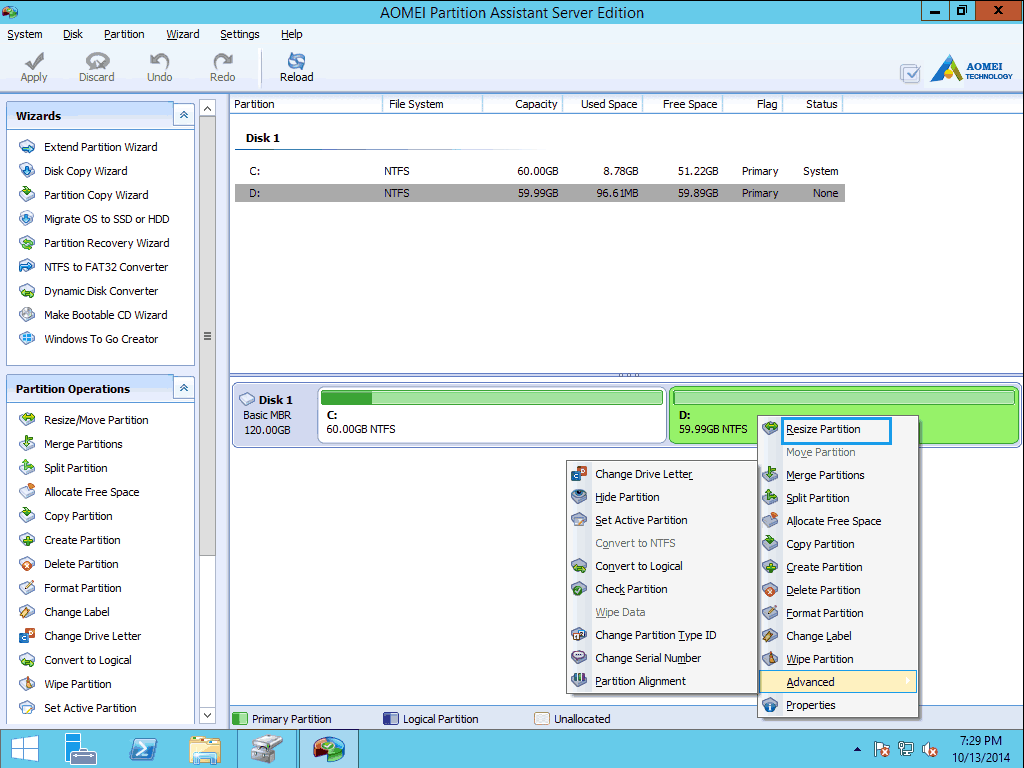 Step2. In the pop-up window, put the mouse pointer on left border, when it chanes to double-headed arrow, drag rightwards. You can click the up and down button or type a value directly in the box to change partition size.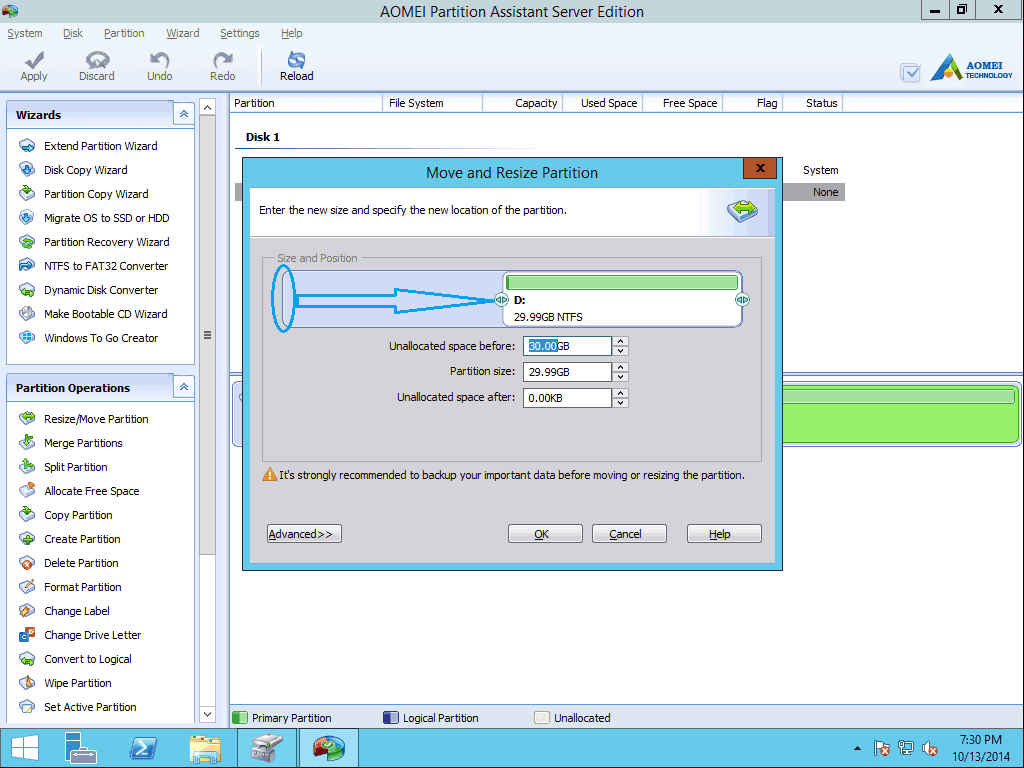 Click "OK" and back to the main window, you'll see the Unallocate space created.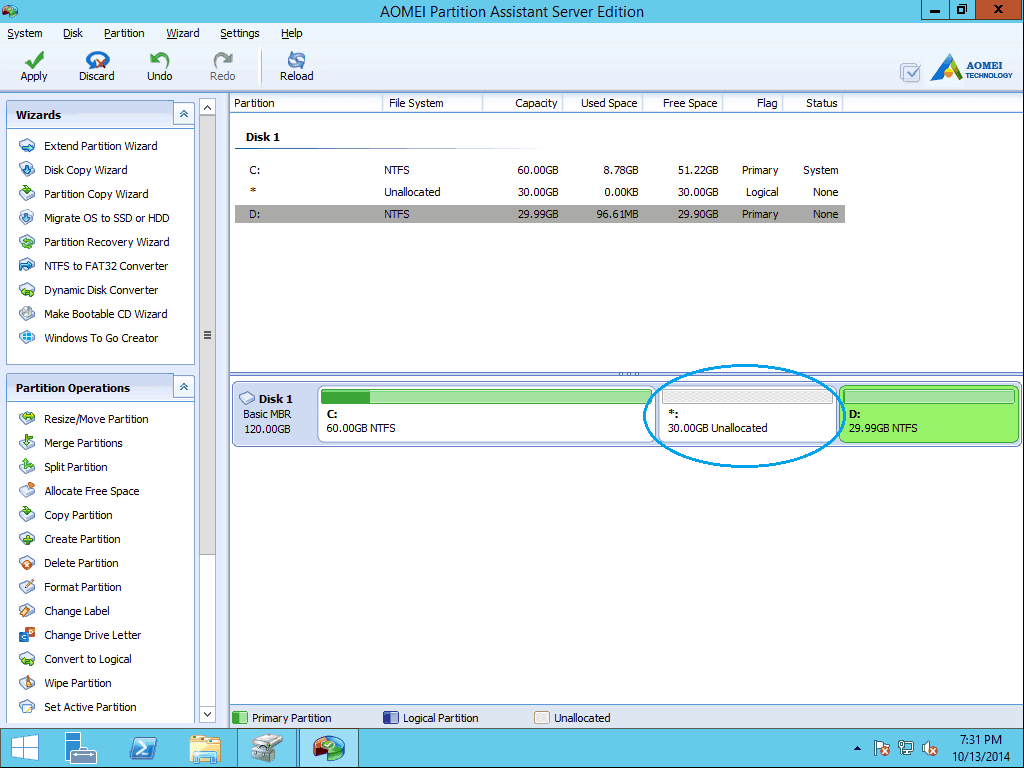 REMEMBER to click "Apply" on top left to proceed, otherwise, what you see is in virtual mode, that is to say, the partitions are not really changed.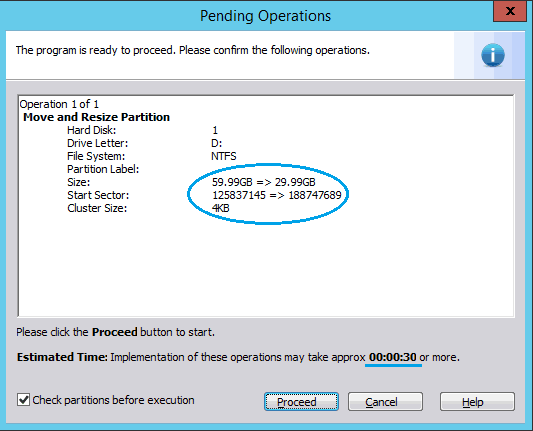 After proceed, check again in Disk Management.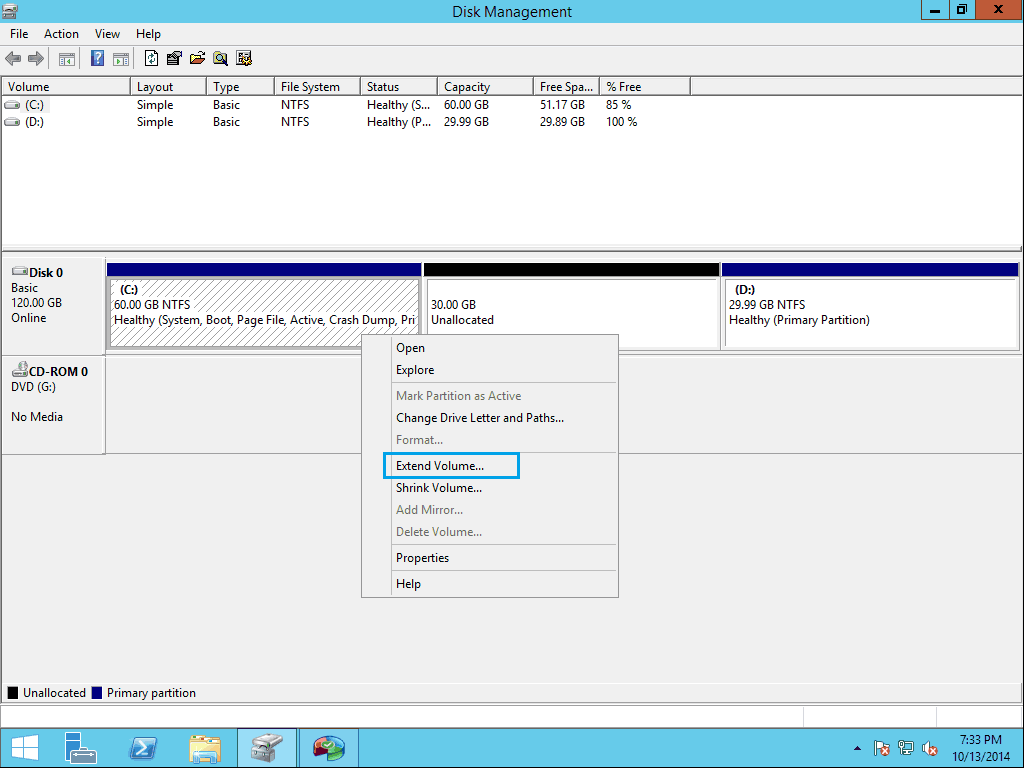 Right, this tool didn't cheat us.
Step3. Now we need to add the free space to C drive. Similarly, right click drive C and select "Resize Partition.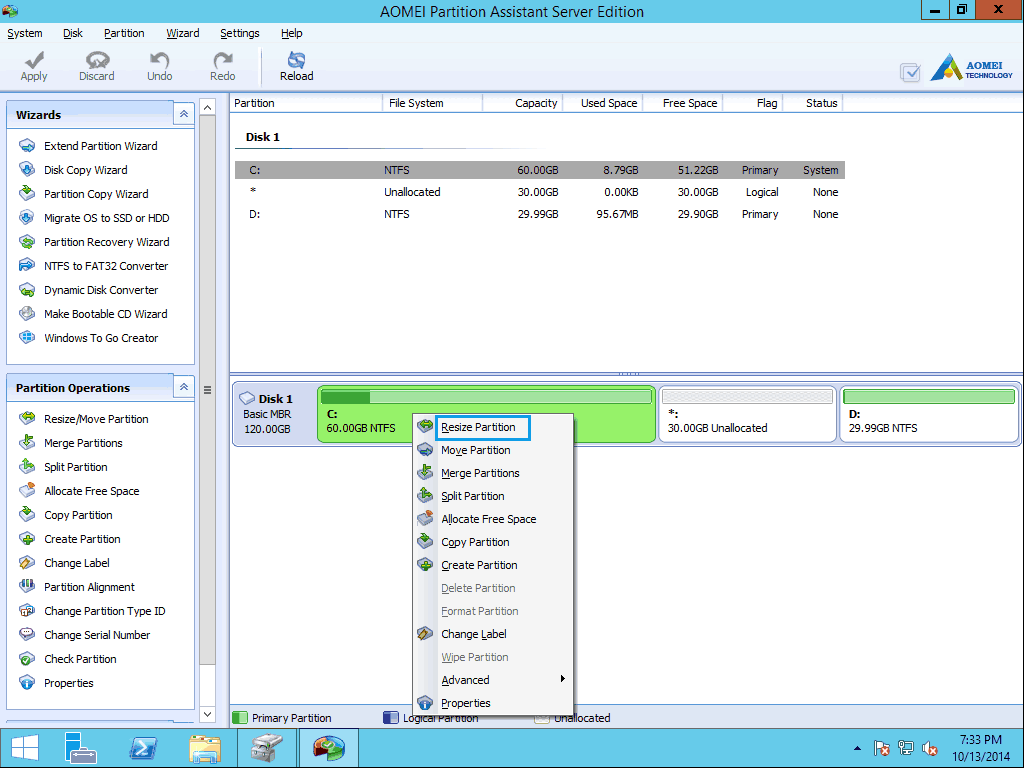 In the pop-up, drag the RIGHT border rightwards to hold the free space.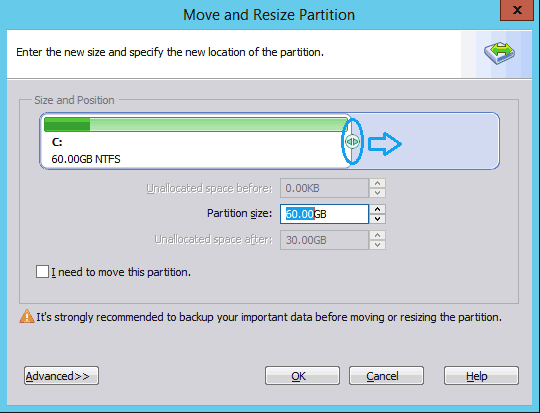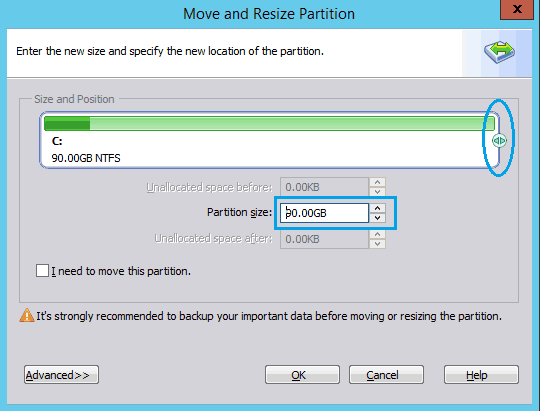 Click OK and back to main window, press "Apply" again (you may also add all steps and click Apply once at last).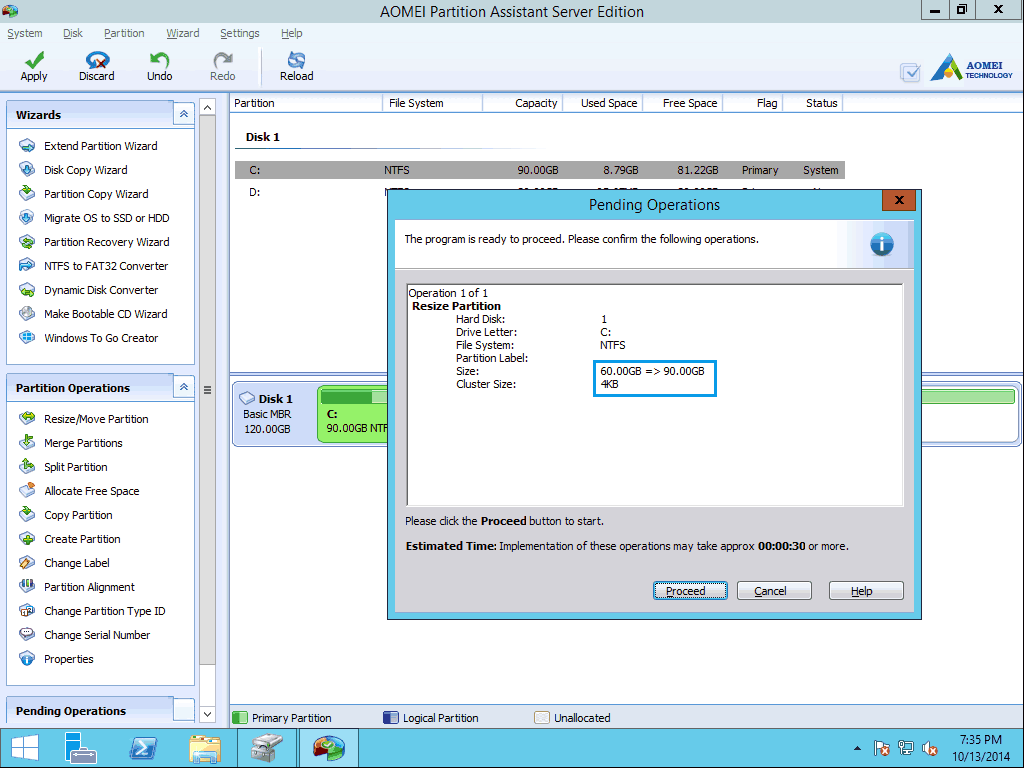 After proceed, check again in disk management.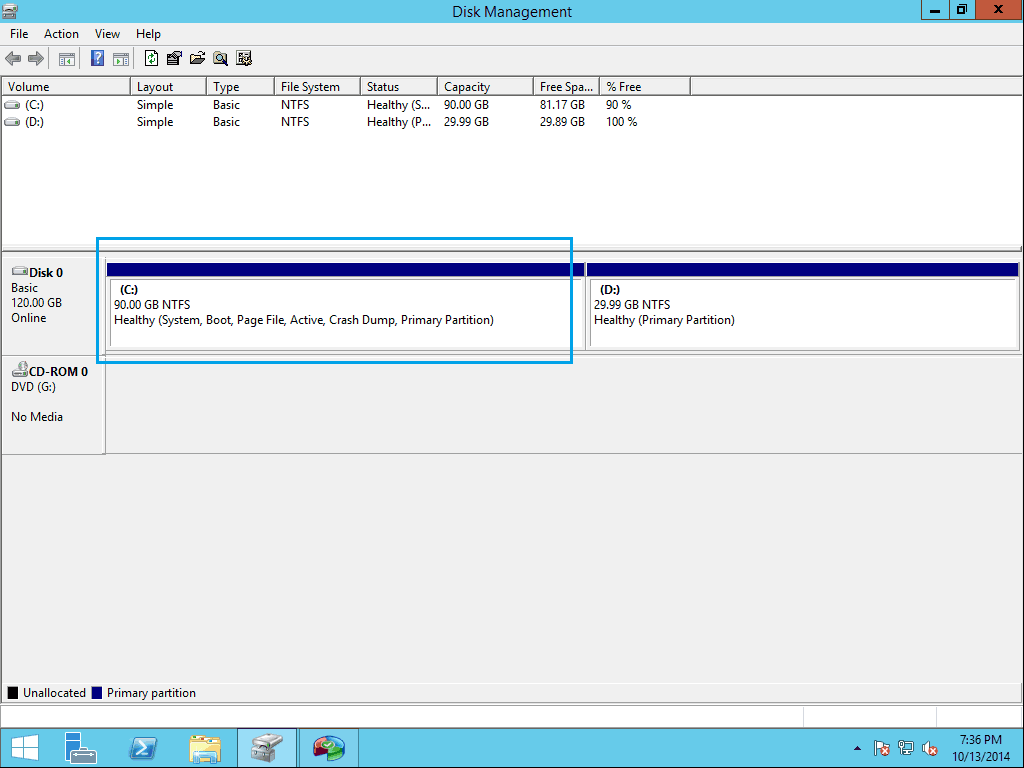 Yes, c drive was extended. As I said above, no other operations are required and everything keeps the same. However, I still suggest you back up before any operations to a server.
Now, I need a rest………………
BTW, if you want to take free space from a non adjacent data drive such as E, I don't suggest following the steps above to resize partitions one by one, there is a much easier way.
Once again, if you use RAID drive, DO NOT breake the array, just follow the steps above to repartition.
Any suggestions or questions, just leave a comment below.