Best Server Partition Manager Software for Windows Server
Disk partition management software is very useful for a server, it helps resizing existing volume without reinstalling Operating System or starting over, it also helps do advanced disk partition management to improve server performance. Many people ask me which is the best server partition software, it is hard to say which is best. The most important is make sure it fulfill your requirements and whether it is reliable and safe to a server. In this article, I'll introduce a most popular server partition manager for Windows Server 2016, 2012, 2008, 2003 (R2). To me, it is the best partition manager software for server.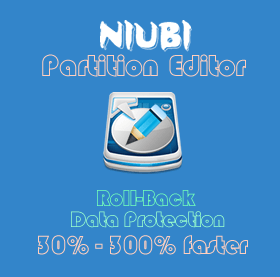 Overview:
Server partition manager overview
NIUBI Partition Editor Server Edition is the most popular partition manager for Windows Server, it supports Windows Server 2016, 2012, 2008, 2003 (R2), Small Business Server 2011, 2008, 2003 and Home Servers. Local/removable hard disk with any interface, VMware/Hyper-V virtual machines and all types of hardware RAID arrays are all supported. NPE Server Edition is the only server partition manager that can ensure 100% system and data safety while resizing existing disk volumes. Besides resize volume to optimize disk space usage, it also helps copy partition to migrate data, create, delete, format, hide, active, defrag, convert partition and much more.
What's inside of this server partition software
Resize Volume
It helps resize existing disk volumes safely and easily, extend NTFS partition without rebooting server.

Manage Partition
Set partition Active. Copy, Create, Format, Delete, Explorer partition. Change partition label and drive letter, etc.

Optimize System
Fix file system error. Scan bad sectors. Partition defragment. Initialize new disk, view disk/partition properties.

Convert Disk/drive
Convert Logical partition from/to Primary. Convert GPT disk to MBR. Convert NTFS partition to FAT32.

Ensure Security
Hide partition. Set disk read-only attribute. Wipe disk, partition, Unallocated to prevent data been recovering.

Bootable Media
Create bootable CD/DVD/USB disc to do disk partition management without installing to server.

Why Partition Editor Server is the best
1 Second RollBack
NIUBI Partition Editor is the ONLY program that can ensure 100% data safety while resizing volumes.

Extremely Fast
Unique file-moving algorithm helps resize partition 30% to 300% faster than ANY other tools.

Extend NTFS Partition Online
Expand NTFS partition without rebooting computer to reduce offline time.

Virtual mode
To avoid mistake, all operations are listed in virtual mode before executing.

All-in-One Solution
Most of your disk partition maintenance requirements can be fulfilled.

Multiple Storage Supported
Hard disk, Hyper-V/VMware, USB disk, memory cards, all types of hardware RAID are all supported.

Resize server partition 100% safe
To change size of existing disk drives, all partitioning software will modify all parameters of related disk, partition and all files in File System, it also move files in some condition, so there is risk of losing data if something goes wrong. Besides software related error, hardware issue such Power failure also cause data loss.
Most of the servers have backup, so some server administrators do not pay enough attention to data safety. If damage occur, it costs several hours to a whole day to restore everything, verify data and back everything to normal, keeping server offline for such a long time?
NIUBI Partition Editor is integrated unique 1 Second Rollback technology, it can automatically roll back the server to previous right status in ONE second if any software error or hardware issue occur during resizing volumes. It is the only one server partition manager that can ensure 100% data safety.
Do you understand the importance? If Partition Editor failed to resize volume due to some reasons, it won't do any damage and the server could back online in a short time. In that case, you can try other method while server running smoothly.
Advanced server partition manager
Because of its data protection and fast resizing ability, powerful features and easy to use, NIUBI Partition Edition is recommended as the best partition manager for both Windows PC and server by many professional editors. However, it is not expensive. 1 license of NPE Server can be registered on 2 servers to save cost for small organizations.
If you purchase the lifetime upgrade service, you can upgrade to all latest version to enjoy new features 100% free lifetime.
For medium and large companies, NPE Enterprise Edition can be installed on unlimited servers and PCs and servers.
If you are technical service provider, 1 license of NPE Technician Edition can be used to provide profitable service to unlimited companies and individuals. Free lifetime upgrade is included by default.