This article introduces Windows built-in disk partition manager and the best partition software for Windows Server 2003/2008/2011/2012/2016/2019.
Disk partition management software is very useful to a server, it helps initialize brand new disk, create and format partition to save files, resize allocated partition to optimize disk space without losing data, fix file system error and defrag partition to improve server performance, copy disk partition to migrate OS and data, convert disk partition type, etc. In this article, I'll introduce both Windows native and third party server partition software for Windows Server 2019, 2016, 2012, 2011, 2008, 2003 (R2).
Built-in Windows Server disk partition manager
Server partitioning software overview
There are many server partition software in the market, the functions are all similar. Among them all, NIUBI Partition Editor is recommended as the best partition software for Windows Server. I'll explain the reasons in next section.
NIUBI Partition Editor is compatible with Windows Server 2019, 2016, 2012, 2008, 2003 (R2) and Small Business Server 2012, 2011, 2008, 2003, as well as Home Servers. It supports local/removable hard disk with any interface, VMware/Hyper-V virtual machines, all types of hardware RAID arrays, USB flash drive and memory cards. This server partition software helps change size of allocated partition without losing data, optimize system, copy, convert, wipe, etc. to manage disk partitions with ease.
After installing this partition software in any server, you'll see the main window with 5 sections.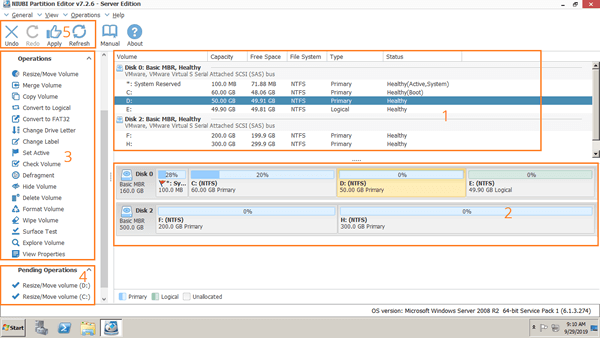 All single partitions with detailed parameters.
All physical disk and RAID array with graphical partition structure.
Available operations to a selected disk or partition. (Unavailable options are hidden automatically to keep interface clean.)
Pending Operations, all operations you do won't be done immediately, instead, they'll be listed there as pending.
Cancel, redo or apply the pending operations.
Why NIUBI is the best partition software for Windows Server
1:
Virtual Mode
2:
Cancel-at-well
3:
1 Second Rollback
4:
Hot Resize
To a server administrator, one of the most important task is managing hard disk drive without server offline. NIUBI Partition Editor provides Hot-Resize technology to help shrink and extend partitions without rebooting server. However, there is precondition: close the running applications and opening files/folders in the partition that you want to shrink/move before starting NIUBI.
The pending operations that marked as 

 can be done in Windows on the fly and the ones marked as 

 should be reboot to complete. If you find any operations that require rebooting, you may close NIUBI, close the applications or files/folder, and then restart NIUBI to repeat.
5:
Much Faster
When you shrink D to extend C drive, the start position of drive D is changed, so all files in this drive should be moved to new locations. It costs much time especially when there are large amount of files in this drive. A good algorithm is helpful to reduce time. Thanks to the unique file-moving algorithm, NIUBI Partition Editor is 30% to 300% faster than ANY other server partition software. The speed is important especially when the operations require server rebooting.
6:
Easy to Use
You just need to click, drag and drop on the disk map to modify disk partitions, anyone can use this disk partition software for Windows Server very well without help. For example, watch the video how to resize partition on Windows Server 2019: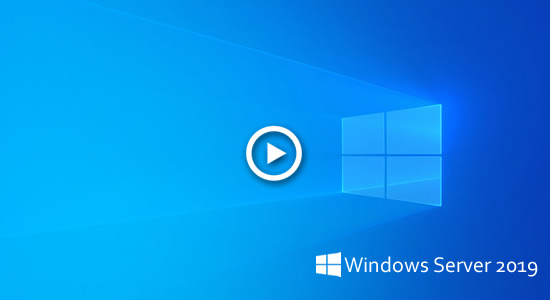 Download server partition software
Because of its data protection and fast resizing/moving ability, powerful features and easy to use, NIUBI Partition Editor is recommended as the best Windows server partition software by many professionals and editors. There are 3 editions to server users.