This article introduces how to adjust/resize disk partition in Windows Server 2012 R2. Detailed steps to resize volume/drive on Server 2012 without losing data.
The same with Windows PC, hard drive partition of Windows Server runs out of space after a period of time, especially to system partition C and the drive for exchange, database and backup. Comparing with other volumes, it is complicated to system C: drive, no matter the disk is physical for RAID array.
With right tool you can change partition size without wasting a long time to recreate partitions and restore everything from backup. However, it is still not an easy task for many server administrators. Many people ask the similar questions such as: is it safe to resize allocated partition, how to resize hard drive partition fast and easily.
Don't worry, using reliable tool and following the right steps, it is easy and safe to resize partition on Windows Server 2012 (R2). In this article, I'll show you how to do this with detailed steps.
Which tool to resize partition in Sever 2012
There are two kinds of tools: Windows built-in Disk Management and 3rd-party partition software.
Advantage of Disk Management:
It is safe to resize volume in most cases.
It is very fast to shrink and extend partition, because the start position of this partition won't be changed.
Shrink and extend partition on the fly without rebooting.
Disadvantage of Disk Management:
Only

NTFS

partitions can be shrunk and extended.
Unallocated space can only be made on the left while shrinking a partition.
Only the partition with

adjacent

Unallocated space on the right can be extended, Extend Volume is disabled for all other partitions.
Operations can't be undone, disk partitions will be modified immediately even if you did something wrong.
Lack of many disk partition management ability.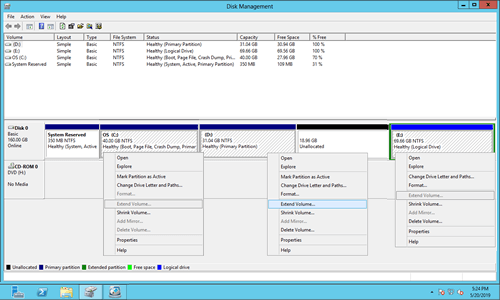 Third party software is much more powerful, however, you should back up first and use reliable software, because there is potential system damage and data loss risk while resizing partition on Windows 2012 server.
To adjust size of partition on Windows Server 2012, for example shrinking D to extend C:
The start and end position as well as other parameters of drive C and D must be modified correctly.
All files in drive D should be moved to new locations, all parameters of these files should be changed, too.
System boot related files must be updated.
Any slight error could cause damage. Many people feedback issue that caused by unreliable partitioning software, for example: system boot failure with error message or black screen. Partition changed to be RAW and Windows ask to reformat it.
Better than other tools, NIUBI Partition Editor has innovative technologies to protect system and data, speed up moving files to save time.
Virtual Mode

- all operations will be listed as pending for preview, real disk partitions won't be modified until click Apply to confirm.

Cancel-at-well

- if you applied wrong operations, it doesn't matter, you can also cancel the ongoing operations without losing data.

1 Second Rollback

- if encounter any error while resizing partition, it automatically reverts server to original status in a flash.
Unique

file-moving algorithm

- move and extend partition 30% to 300% faster, saving much time especially when there are large amount of files.
Therefore, to resize volume on Windows Server 2012 or 2019/2016/2008/2003, NIUBI Partition Editor is better choice.
How to resize partition in Windows Server 2012
Actually, it is very easy and you just need drag and drop on the disk map to resize disk partitions. In most of the server machines, there is another drive D in the same disk, so you can decrease it to release some unused space and then add into C drive. If you want to extend partition D by shrinking C, just drag towards the opposite direction.
Steps to resize partition D and C in Windows Server 2012:
Step 1: Download NIUBI Partition Editor, right click drive D: and select "Resize/Move Volume", drag left border towards right in the pop-up window. (or enter an amount in the box of Unallocated space before)
Step 2: Right click C: drive and select "Resize/Move Volume" again, drag right border towards right to combine Unallocated space.
Step 3: Click Apply to take effect.
Disk partition resizing video guide
As long as there's free unused space in the same disk, you can transfer and add to the partition that you want to expand. Watch the video how to resize volume partition in Windows Server 2012 R2:
In some servers, C drive is full but there is no other partition, or no available free space in entire disk. In that case, no software can add space to C drive from another separated disk. However, you can copy to a larger disk and resize partition with extra disk space.
Follow the steps in the video: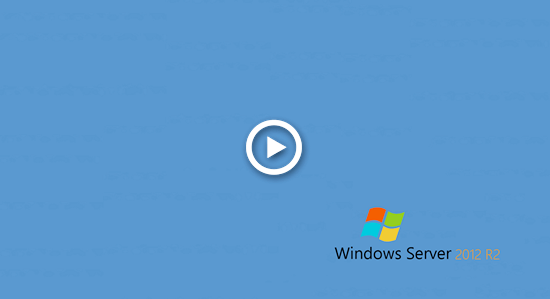 If you want to resize RAID array partition or VMware/Hyper-V virtual disk partition, there is no difference. Do not break array or do any operations to raid controller, just follow the steps above to resize partition with NIUBI Partition Editor.