This article introduces how to run Extend Volume in Windows Server 2016 Disk Management, and better way to extend Server 2016 partition without losing data.
About Server 2016 Extend Volume function
All disk partitions are allocated when installing Operating System or got from server OEM manufacturer, after running the server for a period of time, system C drive is getting full. Originally, you have to back up, recreate partitions and restore everything. It may cost a whole day to complete this task.
From Windows Server 2008, Microsoft added new Extend Volume functionality in native Disk Management tool, with which you can increase disk space of the allocated partitions without losing data.
However, only few partitions can be extended because of some limitations of Disk Management. Windows Server 2016 Extend Volume function is inherited from old version without any improvement, so many server administrators feedback that they cannot extend partition with this tool.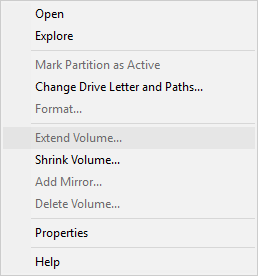 How to run Extend Volume in Windows Server 2016
It is easy to run Extend Volume in Windows Server 2016 Disk Management, but there are several steps, here we go.
Press

Windows

and

X

together on the keyboard and then select Disk Management from the list.
Extend Volume Wizard will be launched, simply click Next to continue.

Available disk and space is selected by default, simply click Next or change the amount of space manually.

Click Finish to confirm and start extending.

In a short time, drive D is extended.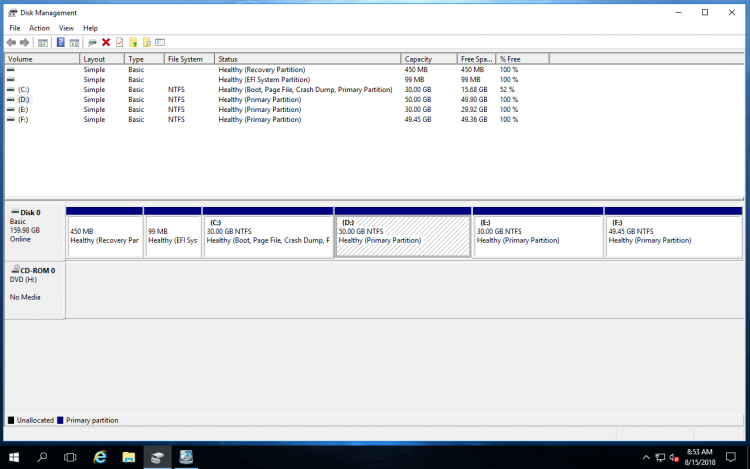 It is easy to run Extend Volume in Server 2016 if your disk partition configuration meet the requirements, but in fact, because of its limitations you cannot extend partition with this native tool in most cases.
Limitations of Extend Volume function
GPT and MBR are 2 common types of hard disk in Windows, if your disk is GPT, there are 2 common limitations while extending partition with Server 2016 Extend Volume function. If your disk is MBR, there's an additional limitation.
Limitation 1

- cannot extend a volume by shrinking another one

There's another Shrink Volume function in Disk Management, many people tried to shrink the adjacent drive D and got some Unallocated space, but they found that it's impossible to add Unallocated space into C drive. This is the most common issue while running Extend Volume in Server 2016 Disk Management.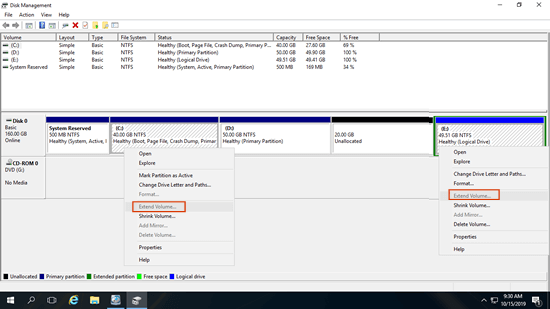 As you see in the screenshot, Extend Volume greyed out for both C: and E: drive after shrinking D.
This is because: Extend Volume only works when there's adjacent Unallocated space on the right, but Shrink Volume cannot make such required space.
As you see, the 20GB Unallocated space that shrunk from D drive is non-adjacent to C drive and is on the left of E, so Extend Volume is disabled.
The only way to enable Extend Volume in Windows Server 2016 is by deleting the right contiguous partition. Caution: if you installed programs or any Windows services in drive D, do NOT delete it to expand C drive.
Limitation 2

- only NTFS partition can be extended
NTFS and FAT32 are most common partition type in Windows computers, but both Shrink and Extend Volume functions only support NTFS partition.
That means, if the partition that you want to expand is formatted with FAT32 or other file system, you cannot extend this partition even if you can delete the right contiguous partition.
Limitation 3

- the partitions that you want to extend and delete must be the same type

This limitation only exists in MBR style disk. The partitions that you want to delete and extend must be the same Primary or Logical partition, otherwise, you still cannot extend partition after deleting the right contiguous volume.
Better way to extend Server 2016 disk partition
With NIUBI Partition Editor Server, there are no such limitations, comparing with Windows Disk Management, it has many advantages such as:
It can shrink and extend both NTFS and FAT32 partitions.
It can make Unallocated space on either left or right side while shrinking partitions.
It can combine Unallocated space to either contiguous partition by 1 step, no matter this partition is NTFS or FAT32, Primary or Logical.
It can move and merge Unallocated space to any non-adjacent partition on the same disk.
Much easier, you just need to click, drag and drop on the disk map.
Merge, copy, convert, defrag, wipe, hide partition, scan bad sectors and much more functions.
Unlike read-only programs, partitioning software will change parameters of associated disk, partition and files, also move files under some conditions. Therefore, there's potential system damage and data loss risk while resizing disk partitions. It is important to back up first and run safe partitioning software.
Better than other tools, NIUBI Partition Editor has innovative technologies to protect system and data such as:
Virtual Mode

- all operations will be listed as pending for preview, real disk partitions won't be changed until click Apply to confirm.

Cancel-at-well

- if you applied incorrect operations, it doesn't matter, you can cancel the ongoing operations without causing damage.

1-Second Rollback

- if anything goes wrong while resizing partition, it automatically reverts server to original status in a flash. If it happens, your server could back online rapidly without modification.
How to extend partition volume in Windows Server 2016 with NIUBI:
Download NIUBI Partition Editor, right click drive

D

and select "

Resize/Move Volume

", drag the

left border

towards right in the pop-up window.
Right click C: drive and select "Resize/Move Volume" again, drag

right border

towards right to combine Unallocated space.
Click

Apply

on top left to execute. (All operations before this step only works in virtual mode.)
It is similar if you want to extend other partitions. If you use any types of hardware RAID array or VMware/Hyper-V virtual machine, there's no difference to shrink and extend partitions for Windows 2016 server.
If there's no available free space in a disk, no software can extend volume by adding free space from another separated disk. In that case, follow the steps to extend partition by copying to other disk.
In Summary
Windows Server 2016 Extend Volume functionality can only extend NTFS partition by deleting the right adjacent drive. In addition, it still cannot extend partition after deleting in some conditions. To extend volume partition on Windows Server 2016, NIUBI Partition Editor is the best choice, it helps complete this task easily and safely.