This article introduces what does Windows Server 2016 Disk Management tool do, benefits and disadvantages comparing with partition manager for Server 2016.
1. About Server 2016 Disk Management tool
Hard disk drive is an indispensable component to a computer, all files are saved to this device. Before saving file to a hard disk, you should initialize, create and format partition. After using this disk for a period of time, you may want to delete, shrink or extend a partition, etc. So you need a disk partition management tool to help accomplish these tasks.
Firstly (initial release in 1983), there's a fdisk command line utility running from DOS, In 2000, Microsoft provided a new diskpart command line tool which has more advanced ability. Later, Microsoft developed a new Logical Disk Manager (LDM) which has ability to manage dynamic disk. To make this tool easier to be used, Microsoft provides a GUI Disk Management snap-in from Windows XP.
To help resize allocated partitions without starting over, Microsoft added new Shrink and Extend Volume functions in Server 2008. Windows Server 2016 Disk Management inherited the same GUI and functions without any improvement.
2. How to run Disk Management in Windows Server 2016
There are 2 way to run Disk Management in Windows Server 2016:
Press

Windows

and

X

together on the keyboard and click Disk Management from the list.
Press

Windows

and

R

to open Run, input diskmgmt.msc and press

Enter

.
3. What does Server 2016 Disk Management do
After opening Server 2016 Disk Management snap-in, right click a partition, the front of disk or any Unallocated space, you'll see associated functions, the unavailable options will be grayed out.
To an allocated partition:
Open root directory with File Explorer
Mark partition as Active
Change drive letter and path
Format partition
Shrink volume and make Unallocated space on the right.
Extend volume with Unallocated space behind it.
Delete partition
Add mirror
If you select Add Mirror, both disks will be converted to dynamic.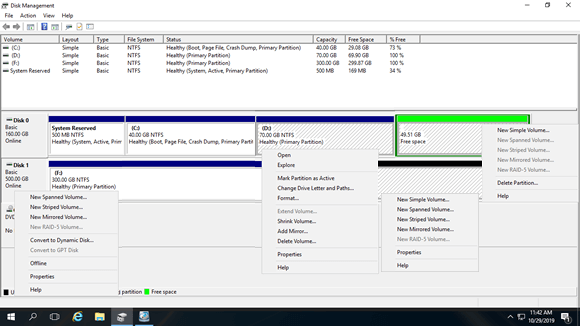 To a brand new hard disk:
Online, offline and initialize brand new disk.
To a disk with volume:
Convert basic disk to Dynamic disk.
To a disk without any volume:
Convert MBR disk to GPT and vice versa, convert basic disk to Dynamic disk and vice versa.
To Unallocated space:
Create new volumes.
To dynamic disks:
Disk Management can create Simple, Mirrored, Spanned, Stripped and RAID-5 volume.
To create RAID 5 volume, there must be at least 3 dynamic disks. There are only two in my computer, so this option is grayed out.
4. Benefits of Server 2016 Disk Management
All third-party software requires server rebooting while shrinking system partition C, but Disk Management can accomplish keeping server online.
Windows Disk Management has the ability to create and manage dynamic disk volumes, however, it is not suggested to use dynamic disk volumes nowadays, because:
It uses much resources of this server and

degrade

performance.
Many software do not support dynamic disk volumes.
Hard disks and RAID controllers are much cheaper now.
5. Disadvantages of Disk Management
Windows Server 2016 Disk Management can only do some basic operations, in addition, the advanced Shrink and Extend functions has many restrictions.
It can only shrink and extend NTFS partitions, FAT32 and other types of partitions are not supported.
In some situations, for example when there's file system error in a partition, Disk Management cannot shrink it.
If there are unmovable files in a partition, Disk Management can only shrink little space.
It can only make Unallocated space on the right side while shrinking partition.
It can only extend partition when there's contiguous Unallocated space on the right side.
It cannot extend a partition by shrinking any other volumes.
Lack of many abilities such as move, merge, copy, convert, wipe partition, scan bad sectors, etc.
To manage disk partitions on Windows Server 2016, NIUBI Partition Editor is better choice. Comparing with other software, it is much safer and faster because of its innovative technologies:
Download NIUBI Partition Editor, you'll see all disks with partition structure and other parameters on the right, available operations to selected disk and partition are listed on the left and by right clicking.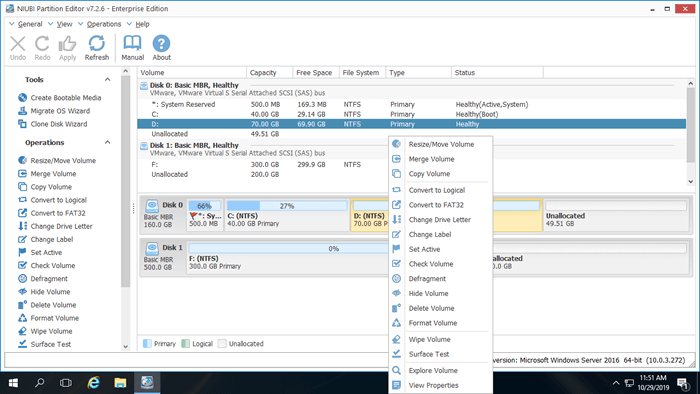 Learn how to resize, copy and manage disk partition in Windows 2016 server.