Other benefits of this server partition tool
Easy to use
You just need to click, drag and drop on the disk map to modify disk partitions, anyone without help or experience of running such kind of software can use this tool well.
Hot-Resize
The Hot-Resize technology of NIUBI helps you shrink and extend most of partitions without rebooting server. (Note: close the running applications and opening files/folders in the partition that you want to shrink or move before stating NIUBI.
The pending operations with  in front can be done in Windows.
The ones marked as  requires reboot.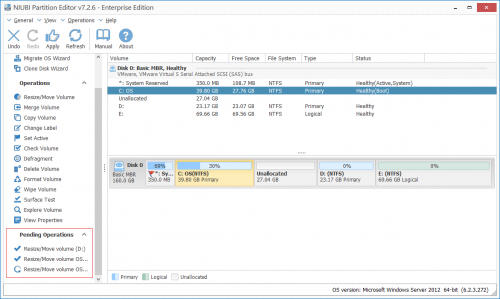 Support multiple OS & Storage
This partition tool supports Windows Server 2012, 2016, 2019 and previous Server 2008, 2003. Any local/removable hard disk, VMware, Hyper-V, all types of hardware RAID arrays, USB flash drive are all supported.
All-in-One toolkit
Most of your disk and partition management requirements can be fulfilled. NIUBI Partition Editor is not the one that has most amount of functions, but because of its powerful data protection ability, fast file-moving algorithm and many other advantages, it is recommended as the best disk partition tool for Windows Server 2012 and other versions.
➤