Looking Partition Magic for Windows 7 (32 & 64 bit)? Need PartitionMagic to resize and manage disk partitions? This article introduces free Windows 7 partition magic software.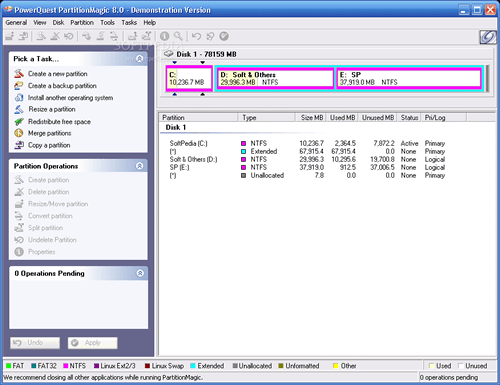 Norton PartitionMagic for Windows 7?
PartitionMagic is originally made by PowerQuest, a software company that produces utility software, which is focus on computer data storage management.
PowerQuest PartitionMagic is an utility software for hard disk drive partitioning, which runs on Microsoft Windows operating systems including Windows 2000 and Windows XP SP1. It can resize NTFS, FAT16/32 partitions without data loss, copy and move partitions, convert between FAT16/32 and NTFS, modify cluster size, merge adjacent NTFS and FAT partitions, etc.
However, PartitionMagic is incompatible with Windows XP SP2/3, Vista, 7, 8, 10. On December 5, 2003, PowerQuest was acquired by Symantec. On May 5, 2004, PartitionMagic 8.0.5 was released under Symantec and the software name was changed to Norton PartitionMagic. This is the last release and on December 8, 2009, the Symantec website officially states: "Sorry, we no longer offer Norton Partition Magic."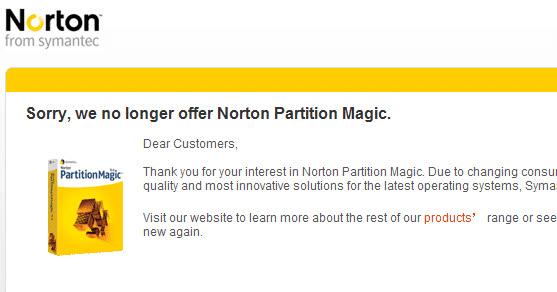 What happens if installing Partition Magic in Windows 7?
Once you double click the setup file, there's a window pops up saying that this program has known compatibility issues.
If you click Run program, Partition Magic can be installed to Windows 7 without issue. However, if you double click to start it, the program compatibility issue window pops up again.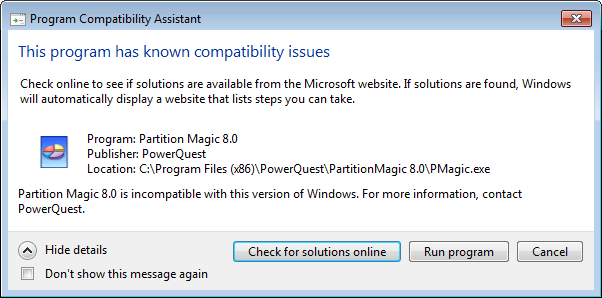 If you click Run program again, Partition Magic pops up another error 116 window and asking if you want to fix this error.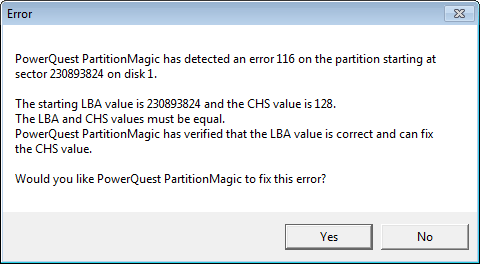 If you click Yes, another similar error window pops up, it seems to be endless. If you click No, Partition Magic reports "Init failed: Error 117. Partition's drive letter cannot be identified". After clicking OK, this program is terminated.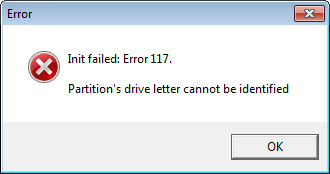 So, PowerQuest/Norton PartitionMagic can't run from Windows 7.
Windows 7 Partition Magic portable?
Norton PartitionMagic is so famous, so many people still try to find a way to use Partition Magic for Windows 7/8/10 computers. Search by Google and you'll see many similar questions: is it possible to use Partition Magic portable USB media or create Partition Magic bootable CD/DVD tool?
PartitionMagic provides a way to create rescue disk with floppy disk, but there's no way to build bootable CD/DVD/USB that doesn't rely on Operating System. After searching the Internet I found Partition Magic EXE format portable version, but if run it in Windows 7, nothing happens, if run it in Windows 10, it reports "PartitionMagic can only run on Windows NT Workstation 4.0, Windows 2000, and Windows XP."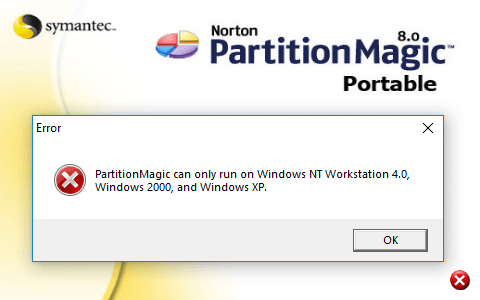 Do not run any types of Partition Magic bootable media on Windows 7 to resize partition or do any modification to the system partition, otherwise, system and associated partition could be damaged. Windows 7 boot manager is different with Windows 2000 or XP. In addition, there are new file system, new technologies and new disk type added which Partition Magic cannot recognize.
To modify disk partition on Windows 7, 8, 10, you need some alternative of Partition Magic similar software.
Partition Magic alternative for Windows 7
There are many partition management software for Windows 7 which are similar with Norton PartitionMagic, including free and commercial, Windows setup and Linux kernel based, of course Linux based software is not suggested. How to select the right alternative of Partition Magic for Windows 7? There are several factors you may consider:
Data protection ability
Functionalities that fit for your needs
Efficiency
Price and services
- Data protection ability
Why this is the first factor you should consider? Different with read-only programs, partition management software could cause damage to your disk drives, especially when resizing and moving partitions, because all parameters of related disk, drive and files should be modified correctly. Any incorrect modification leads to system boot failure and/or partition corruption.
Better than Partition Magic and other utilities, NIUBI Partition Editor has innovative 1 Second Rollback technology to ensure system and data intact. If any software error or hardware issue occur while repartitioning disk drive, it rollback the computer to original status rapidly and automatically, so nothing will be changed or damaged.
If any disaster caused by other software, it costs a long time to restore even if you have backup.
- Functionalities that fit for your needs
Some people think that it's better if the partition software has more functionalities, but in fact it's not always correct. Many vendors design more functionalities for higher price, but some are useless or seldom used, furthermore, some poor designed features could cause program stuck, computer blue screen of death or files damage. So the most importance is checking whether this software has the features that you need, and whether they are working perfectly.
Download NIUBI Partition Editor and you'll see the main window with 5 blocks.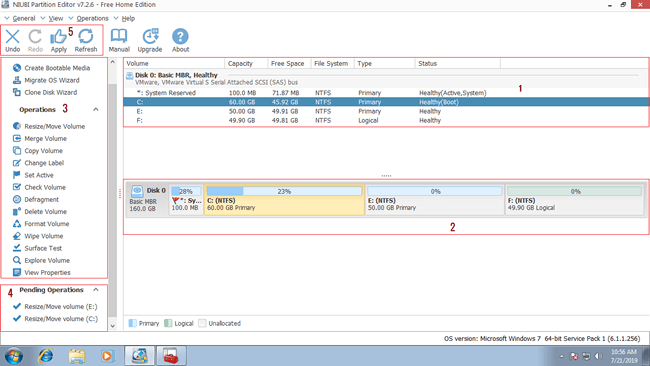 All single partitions with detailed information such as capacity, free space, file system, type and status.
All hard disks with graphical structure.
Available operations to the selected disk or partition, unavailable operations are hidden automatically.
The operations you do won't be executed immediately, instead, they'll be listed as pending.
Undo the unwanted pending operation, redo the canceled or click Apply to execute. (Real disk partition won't be modified until you click

Apply

to confirm.
What does NIUBI Partition Editor do?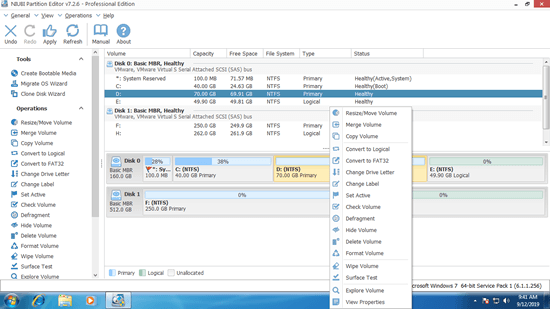 Available operations to a partition:
Resize volume (shrink and extend)
Move partition location
Merge two adjacent volumes by 1 step
Copy volume to Unallocated space
Convert partition between Logical and Primary
Convert NTFS to FAT32
Change drive letter (such as D:)
Change label (add or modify name of partition)
Set as Active
Check file system integrity
Defrag to improve performance
Hide from File Explorer
Delete (files can be recovered)
Format volume to use as new
Wipe (erase data permanently)
Surface test (scan bad sectors)
Explore (view files/folders with directory)
View properties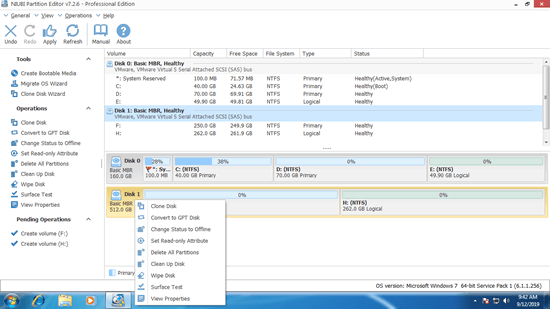 Available operations to whole disk:
Initialize brand new disk
Change status to offline or online
Set read-only attribute
Wipe disk (cannot be recovered)
Surface test
View properties
Clone disk to migrate data and OS
Convert MBR disk to GPT
Delete all partitions
Cleanup disk
- Efficiency
Nobody likes the software that is running slow. Comparing with other kinds of computer programs, disk partitioning software has some peculiarity:
Some operations such as shrinking and moving disk partition require computer reboot to execute, that means, you can't do other works until the operations complete.
You can't terminate the partition software or reboot the computer forcedly when resizing or moving partition is ongoing, otherwise, it causes system, partition and files damage.
Comparing with other disk partition software, NIUBI Partition Editor has advantages such as:
- Price and services
To home computer users that running Windows 10, 8, 7, Vista and XP, NIUBI Partition Editor Free Edition is 100% free without bundled advertisement or plugins. Comparing with the Professional Edition, Free Edition is the same except lacking of 1 Second Rollback and bootable media builder. There's free 24/7 online chat support for both commercial and free edition users.
Guide of common disk partition operations for Windows 7.