All important files are stored in hard disk, no matter you use HDD, SSD or any types of hardware RAID arrays, so you'd better take care of the disk drives. It is a good habit to maintain and manage the server storage device regularly. To do this, Windows Server 2019 has native Disk Management, but it can only do some basic operations such as create new, format, delete, set Active partition. If you want to do advanced operations such as re-size, merge, split, copy, convert, wipe, scan partition, you need third party partition manager for Windows Server 2019. In this article, I'll introduce the safest and fastest disk partitioning software for Windows Server 2019/2016/2012/2008/2003.
First Impression
Download NIUBI Partition Editor, you'll see the main window with 5 sections.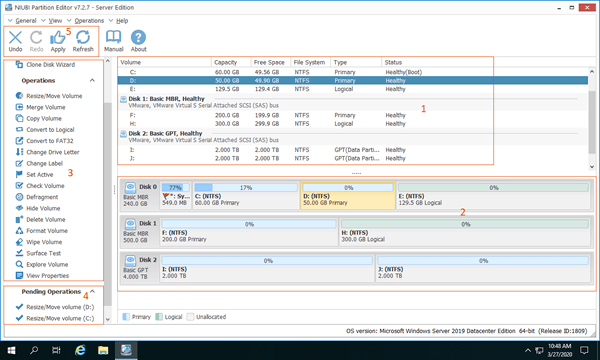 All single partitions with detailed parameters.
All physical and virtual disks (RAID array) with graphical structure.
Available operations to a selected disk or partition. (You'll see the same options by right clicking.)
Pending Operations, all operations you do won't be done immediately, instead, they'll be listed there as pending.
Cancel, redo or apply the pending operations.
Unlike other disk partition tools that list all options, NIUIBI only lists the available operations to keep interface clean, unavailable options are hidden automatically.
What does disk partition software do for Server 2019
NIUBI Partition Editor supports Windows Server 2019, 2016, 2012, 2011, 2008 and 2003 (32 & 64 bit). Local/removable hard disk with any interface, all types of hardware RAID arrays, VMware/Hyper-V virtual disk, USB flash drives and memory cards are all supported. It helps do most of common disk and partition management operations such as:
Resize Volume - shrink and extend partitioned drive without data loss
Move Volume - move partitions location with adjacent Unallocated space
Merge Volume - combine 2 partitions into a larger one
Partition Copy - clone entire partition to back up or migrate data.
Convert to GPT Disk - convert MBR disk to GPT without data loss.
Convert to FAT32 - convert NTFS partition to FAT32 without data loss.
Convert to Logical - convert Primary partition to Logical without data loss.
Convert to Primary - convert Logical partition to Primary without data loss.
Defrag to improve disk read and write efficiency
Surface test to scan bad sectors
Wipe disk, partition and Unallocated space to erase sensitive data
Create Volume - create new drives with Unallocated space
Format Volume - rebuild file system of a drive and reuse as new
Hide Volume - hide a drive in explorer to prevent accessing
Set Active - mark a drive as Active to boot system
Change Drive Letter - reset letter of a drive to C: D: E: etc.
Delete Volume - delete single or all drives with simple step.
Change Label - add or change name of a partition
Properties - view detailed parameters of a disk or single drive (for advanced users)
Check Volume - check file system integrity and fix errors if exists
Explorer Volume - view content of the selected partition
Change disk status to online and offline
Set Read-only attribute to hard disk
Initialize new hard disk
Safest partitioning software for Windows Server 2019
Data safety is most important to a server, but there's potential system damage and data loss risk while resizing partition or do other modification. Besides backing up, you'd better run safe partition software. It costs a long time to restore everything and verify data if this server is damaged by the unreliable software.
Better than other tools, NIUBI Partition Editor has advanced technologies to protect system and data:
Virtual Mode - all operations will be listed as pending for preview, real disk partitions won't be modified until click Apply to confirm.
Cancel-at-well - if you applied wrong operations, it doesn't matter, you can cancel the ongoing operations without causing damage.
1 Second Rollback - if encounter any error while resizing partitions, it automatically reverts server to original status in a flash. If it happens, your server could back online without modification in a short time.
Fastest partition manager for Windows Server 2019
It is also important to keep server running online, but when you copying disk, shrinking a partition towards right or moving a partition, it requires server rebooting to proceed. The more files in this partition or disk, the longer time to finish. A good algorithm is very important and helpful to save time. Thanks to the unique file-moving algorithm, NUIBI Partition Editor is 30% to 300% faster than other tools.
Because of its data protection and fast resizing ability, easy to use with neat interface, as well as plenty of disk/partition management features, NIUBI Partition Editor is recommended as the best disk partition manager software for Windows Server 2019/2016/2012/2011/2008/2003.