Hard disk drive is an indispensable component of a laptop and desktop, no matter you use SSD, traditional HDD or even hardware RAID array. Your personal or work files are saved to it, so you should pay more attention to this device. Disk partition management software is very important and helpful. A good partition software can help you:
Scan disk to check if there are bad sectors.
Fix file system error and defrag partition to improve computer performance.
Resize hard drive to optimize disk space usage without reinstalling Windows.
Migrate Operating System to SSD or larger disk if you want to upgrade computer.
Convert disk/partition type when needed.
Is it expensive to get such powerful partition software for your Windows 10 computer? No, in this article, I'll introduce free partition software for Windows 10 32/64 bit. 100% free and clean.
Native free partition manager for Windows 10
The same with previous versions, Windows 10 has its native partition manager - Disk Management. It is able to initialize a brand new hard disk, create and format partition to save files, delete partition, change drive letter and path. Besides the basic ability to manage disk partition, it has some advanced features such as:
Shrink and extend partition without losing data (in most cases). However, not all partitions can be resized. It can only shrink a NTFS partition towards left or extend NTFS partition by deleting the contiguous volume on the right.
Convert disk between MBR and GPT, between basic and dynamic, but, it's destructive, you must firstly delete all partitions in the disk.
Create and manage dynamic disk volumes. However, dynamic disk consumes much server resource (CPU, RAM, etc.). Nowadays, hardware such RAID controller and hard disk drives are much cheaper, hardware RAID array is better choice.
More about Windows 10 Management.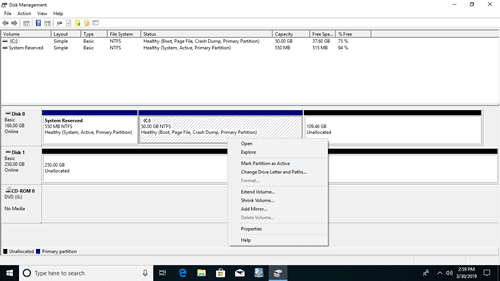 Disk Management vs free partition software
Dynamic disk volume management and destructive disk conversion is useless to most of personal computer users, here we only compare the functions that we may use.
| | | |
| --- | --- | --- |
| Features | NIUBI Partition Editor Free | Windows 10 Disk Management |
| Create, delete, format partition | | |
| Change drive letter, set Active | | |
| Shrink NTFS partition and make Unallocated on the right | | |
| Shrink NTFS partition and make Unallocated on the left | | |
| Extend NTFS partition with adjacent Unallocated on the right | | |
| Extend NTFS partition with adjacent Unallocated on the left | | |
| Extend/Shrink FAT32 partition | | |
| Resize, move, merge partition | | |
| Copy, convert, defrag, wipe, hide partition | | |
| Check volume, surface test, change status, set read-only attribute... | | |
Best free disk partition software for Windows 10
There are many free partition software for Windows 10 in the market, the GUI and functionalities are similar, then why NIUBI Partition Editor Free is recommended as the best? Unlike other Windows 10 free partition software that design trap by disabling some functions or bundles plugins and advertisements, NIUBI Partition Editor free edition is 100% free for all home users and 100% clean without any bundles. Furthermore, it has many advanced technologies.
1. Special moving algorithm
Sometimes when you shrinking a partition towards right or moving a partition, all files in this partition must be moved to new locations. It is a heavy work and costs much time if there are large amount of files. A good algorithm is very important to reduce time. Because of its unique file-moving algorithm, NIUBI Partition Editor Free is 30% to 300% faster than other free and commercial partition software.
2. Cancel-at-well
When you resizing or moving partition, other disk partition software including commercial version doesn't allow canceling even if you did something wrong. Because the cancellation causes part of the parameters unable to be modified, then system and/or data will be damaged. Similarly, you cannot forcedly terminate the programs with ongoing operations or reboot the computer manually even if the computer is running slowly because of low CPU/RAM.
Thanks to the unique Cancel-at-well technology, while running NIUBI you can cancel the ongoing operations at any progress without losing data. In addition, cancellation will be done in a flash without waiting a long time to revert.
3. Virtual mode
Windows Disk Management take effect of the modifications immediately, but, what to do if you did something wrong? To avoid mistake, NIUBI Partition Editor is designed to work in virtual mode and all your operations will be listed as pending for preview. If you find any incorrect operations, simply click Undo on top left to cancel. Nothing will be modified until you click Apply button to confirm.
4. Hot resize
Many skilled computer users heard about hardware hot-exchange that is to prevent server interruption. To a personal computer, it is not as important as a server to keep online, but why not complete partition resizing without rebooting, especially when you have other tasks to do? With the help of Hot-Resize technology, NIUBI Partition Editor has less possibility to reboot computer. (Close other running applications and opening files/folders in the partition that you want to modify before starting NIUBI.)
5. Easy to use
You just need to click, drag and drop on the disk map to modify disk partitions, anyone can use this free partition software well for your Windows 10 laptop or desktop. Watch the video guide how to operate.
6. 1-Second Rollback
There are many precious files in your computer such as family photos/videos, work documents/projects, but there is potential system damage and data loss risk when resizing disk partitions or do other operation. NIUBI Partition Editor has unique 1 Second Rollback technology to protect system and data. It reverts the computer to original status automatically and rapidly if anything goes wrong. (It is still suggested to make a backup first.)
This technology and bootable media builder is not included in the free edition, this is the only difference with paid edition.
Download free partition software for Win10
Download this free partition software in your Windows 10 computer, you'll see the main window with 5 sections.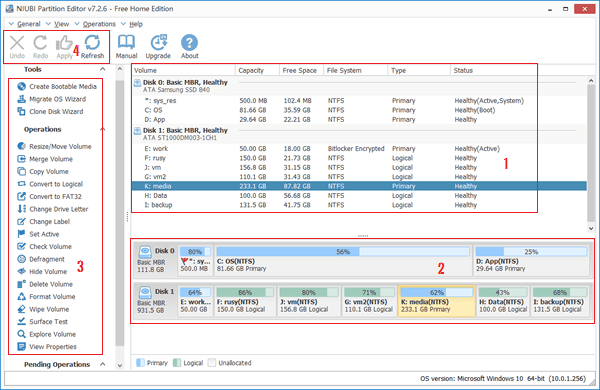 All single partitions with detailed parameters.
All physical and virtual disks (RAID array) with graphical structure.
Available operations to a selected disk or partition. (You'll see the same options by right clicking.)
Pending Operations, all operations you do won't be done immediately, instead, they'll be listed there as pending.
Cancel, redo or apply the pending operations.
Unlike other tools, NIUIBI Partition Editor only lists the available operations to keep interface clean, unavailable options are hidden automatically.