How to resize partition in Windows 10?
To many people, it is not an easy task to resize disk volumes in Windows 10, because my readers ask me many questions about it, such as: is it possible to resize the existing disk drive without reinstalling Windows 10? Which tool is better to resize Windows 10 partition? Is it safe to do partition resizing, will it cause data damage? What is the right step to resize Windows 10 volume? So in this article I'll introduce everything about Windows 10 partition resizing.


How partition resizing works?
A partition (also called as drive or volume) is just part of entire hard disk and there could be many partitions in a disk. A disk partition is used to store variety of files, including system and data files. To read and write files, there is a chain. Take MBR disk as example: Operating System read the parameters in MBR and then it knows how many partitions in this disk, the start and end position of each partition. From DBR of each partition, Operating System knows all the files record in this partition, from the record it knows the name, create date, type and other information of each file. To modify a file, Operating System simply modify the data area of this file, and then update the related record in DBR.
To resize a disk partition, it is much easier if it doesn't require moving location of this partition. In this case, the partition tool just modify the parameters of start and end position of this volume. But if partition moving is required, it is much more complicated, besides updating partition position, the partition tool also move location of every file in this volume, and update the related record in DBR. After all files are moved and updated, other information in DBR and MBR should be updated, too.
In one word: partition resizing in Windows 10 is possible, but whether it is safe to do this, continue reading.
Which tools to resize Windows 10 partition?
There are two kinds of tools to resize volume in Windows 10: the built-in Disk Management snap-in and 3rd-party software. The advantage of Disk Management is born from Microsoft, but meanwhile it has many limitations. It is far behind the professional partition management software. However, some people insist on using Windows built-in utility, I also introduce how to resize partition in Windows 10 Disk management.
Resize partition in Windows 10 Disk Management
Windows 10 Disk Management inherited Shrink Volume and Extend Volume functionalities from previous version, which can be used to re-size disk partition.
Section 1 – Shrink a volume
1. Right click Windows on bottom left corner and select Disk Management.
2. Right click the volume and select Shrink Volume.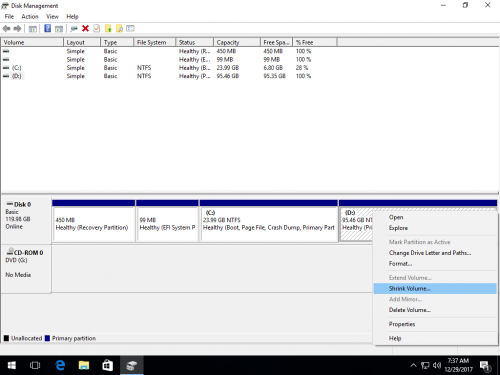 3. In the pop-up window, enter the amount of space to shrink, and then click Shrink to execute.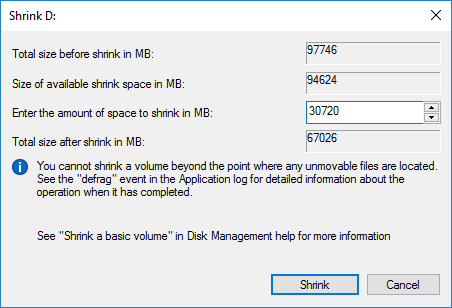 In a while, volume D was resized to 65.46GB.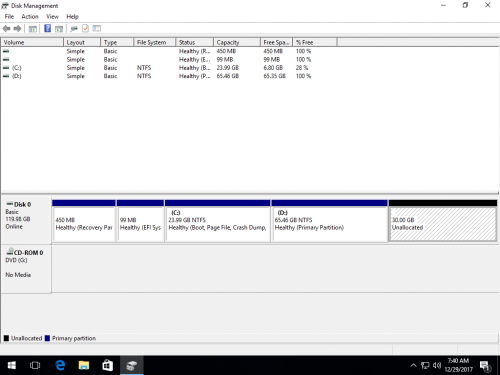 Section 2 – Extend a volume
To use Extend Volume, your disk partition configuration should meet all requirements below:
The drive you want to extend should be NTFS, FAT 32 and other types of partitions are not supported.
There must be adjacent Unallocated space on the right side of this drive.
In MBR style disk, Free space in Extended partition cannot be added to Primary partition, even if it is right adjacent.
Otherwise, Extend Volume is greyed out. From the screenshot below, only drive D can be extended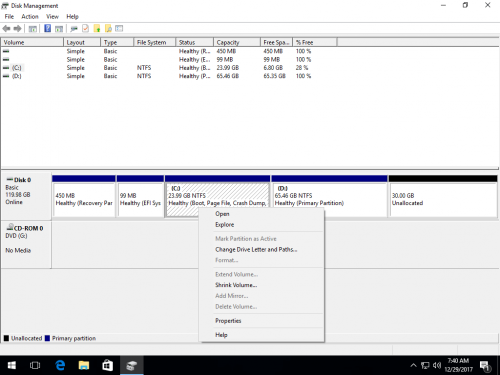 How to extend a partition:
Right click D and select Extend Volume.
Simply click Next in the pop-up Extend Volume Wizard window.
Confirm the operation and click "Finish" to proceed.
In one word, Windows 10 Disk Management can only shrink NTFS partition and generate Unallocated space on the right side. Extend Volume is valid only when the drive is NTFS and there is adjacent Unallocated space on the right side. If you want to shrink D to extend C, it is impossible. In this case, you need 3rd-party partitioning software.
Resize Window 10 volume with software
With professional partition software, both NTFS and FAT32 partition are supported to resize. Unallocated space can be generated on either side when shrinking. You can extend a drive when there is Unallocated space or free space inside of any other volume in the same disk, no matter these space are adjacent or not.
Download
NIUBI Partition Editor and you'll see all connected disk partitions, the interface is similar with Disk Management.
Steps to resize Windows 10 partition with NIUBI:
Step 1: Right click D drive and select Resize/Move Volume.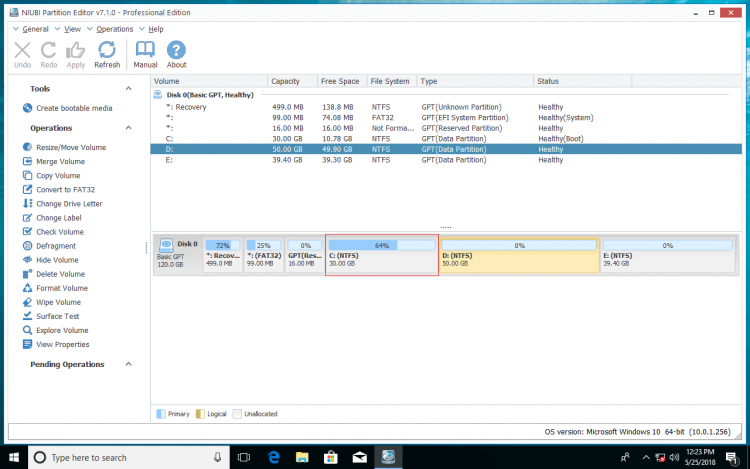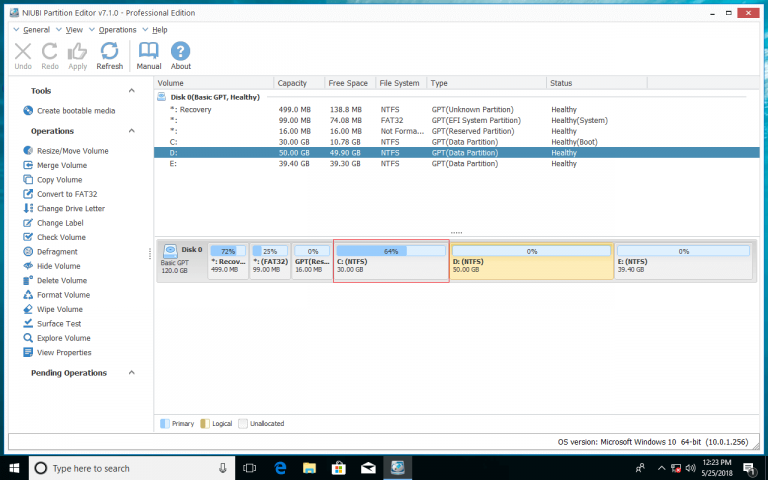 In the pop-up window, drag left border rightwards to take free space out from D.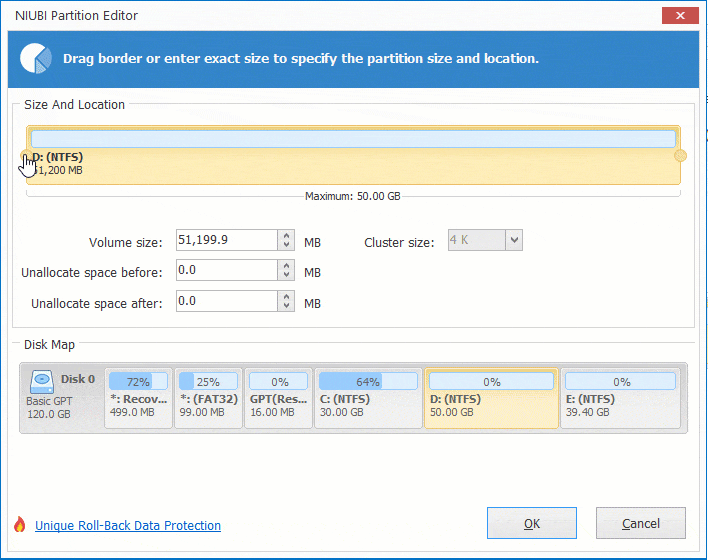 Click OK and back to the main window, as you see 20GB Unallocated space is generated behind C drive. (If you drag right border leftwards, Unallocated space will be generated on the right side of D)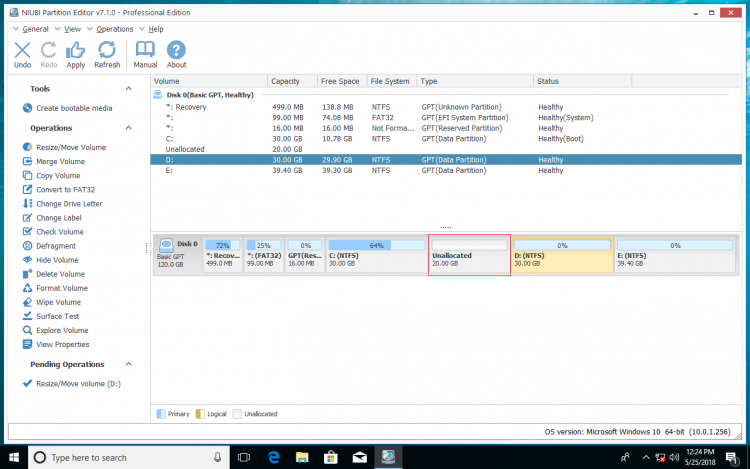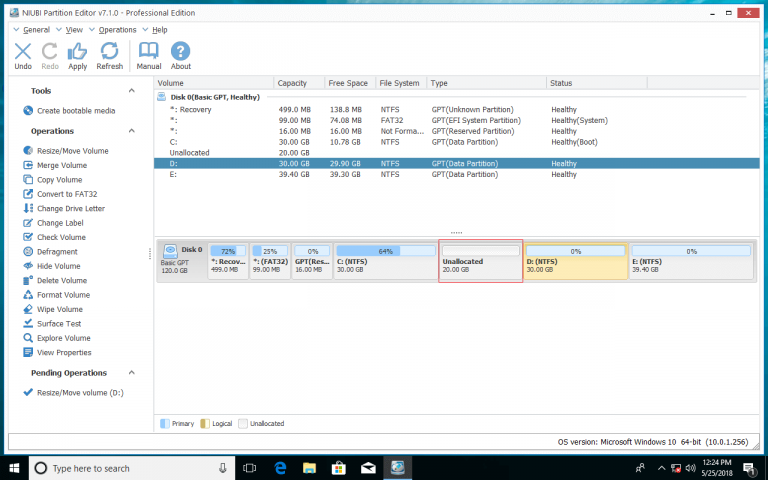 Step 2: Right click C drive and select "Resize/Move Volume" again. In the pop-up window, drag the right border rightwards to hold the Unallocated space.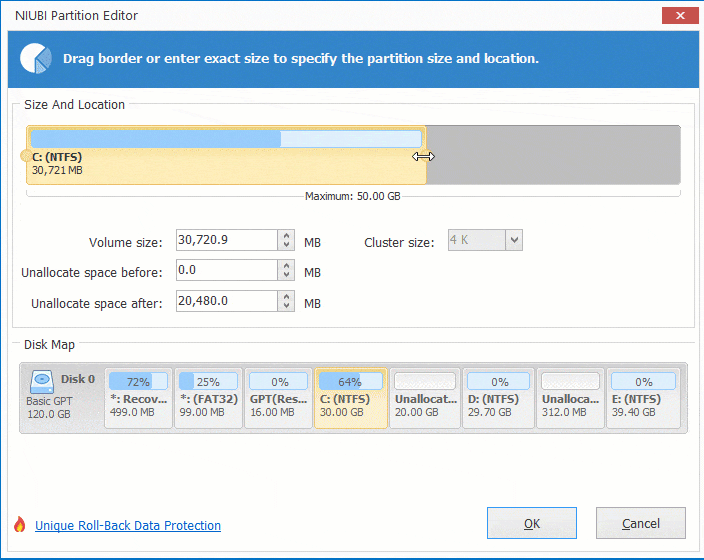 Step 3: Click Apply on top left to execute, done. As you see, you can shrink D to extend C drive by several click and drag. The pending operations with 

 can be done in Windows without rebooting.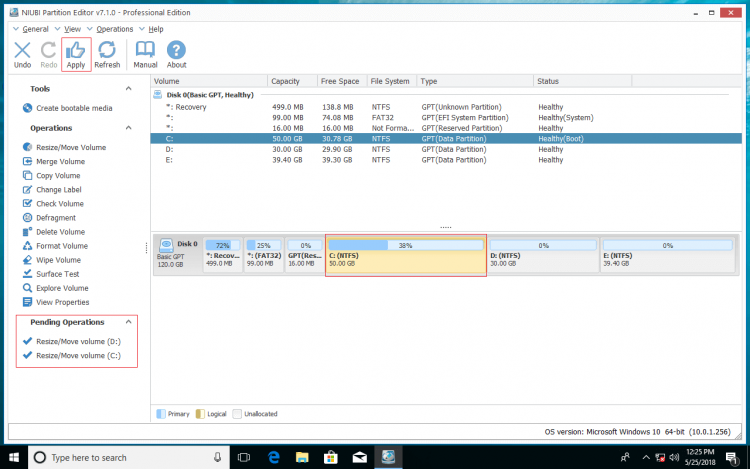 If there is not enough free space in volume D, you can get free space from any other nonadjacent volumes in the same disk, just need an additional step to move partition.
Video guide to resize Windows 10 volume
Pay attention to data safety while resizing partition
Data safety is most important and nobody likes to see system boot failure or data loss after resizing partition. Better than other partitioning tools, NIUBI Partition Editor is the only software that is integrated 1 Second Roll-Back technology to keep system and data intact. It is able to roll back the computer to original status automatically and rapidly, if any software error or hardware issue such as power failure occur during resizing Windows 10 partition. Besides resizing and moving disk drives, it helps do many disk partition management operations.