Easily extend C drive on Windows 10 with free partition software
Windows Updates and services, applications and many other kinds of files write into system C: drive continuously every day. Sooner or later your C drive becomes full, especially when C drive was created less than 40GB. Several days ago, a reader of my blog ask for help, because the C drive was created as 80GB but now is running out of space. The fast way to solve this problem is by resizing partitions. Shrink other disk volumes to get free space and then extend C drive. Some Windows 10 users feedback they don't know how to resize disk partition and worry about losing data. In this article, I'll introduce how to extend system C: drive in Windows 10 without data loss.

The points before extending C drive
There are several points you should know before extending C drive in Windows 10, otherwise, it may cause trouble:
Check if there is free space in any other volume in the same disk.
No partitioning tool can resize partitions beyond 2 hard disks. That is to say, the volume that take free space to expand C should be in the same hard disk.
You'd better close other running applications before extending C drive.
Pay attention to data safety.
Different with read-only operation, to resize and extend volume, the partitioning tool will modify all parameters related to this disk, partition and all files in the volume. A slight error may cause data loss, so it is important to select a reliable tool. NIUBI Partition Editor is the only program that integrated Roll-Back Protection technology to ensure 100% data safety while resizing partitions.
How to extend C drive in Windows 10
To extend system C: drive in Windows 10, there are two choice: Windows built-in Disk Management and 3rd-party application. Because of the limitations of Disk Management, I always recommend 3rd-party application such as NIUBI Partition Editor. However, some people insist on using Windows built-in utilities, though I don't know why, I also give the steps here.
Expand C drive in Windows 10 Disk Management
The precondition to expand C drive: there must be adjacent Unallocated space on the right sides. Some people try to shrink the adjacent volume D with Shrink Volume and got some Unallocated space, but when right clicking C drive, Extend Volume is grayed out.
To extend volume in Windows 10 Disk Management, the only option is deleting volume to get free space.
Steps to extend C drive in Windows 10 Disk Management:
Back up or transfer all files in volume D or other one that is right next to C drive.
Right click Window icon on bottom left corner and select Disk Management.
Right click volume D and select Delete Volume to get Unallocated space.
Right click C drive and select Extend Volume.
Finish the Extend Volume Wizard and then C drive will be extended.
Note:
The applications and Windows services that points to volume D stop working.
In some situation, you cannot get adjacent Unallocated space even if deleting D, of course you cannot extend C drive in that case. See why Extend Volume is disabled.
With professional partitioning software, it is much easier and powerful.
Extend C drive with free partition manager
For Windows 10 users, there is free partition manager – NIUBI Partition Editor Free, which is most popular and highly recommended by professional editors.
How it works to extend C drive on Windows 10:
Download
this 
free partition manager
 and you'll see all connected disk partitions.
Step 1: Right click D drive and select Resize/Move Volume.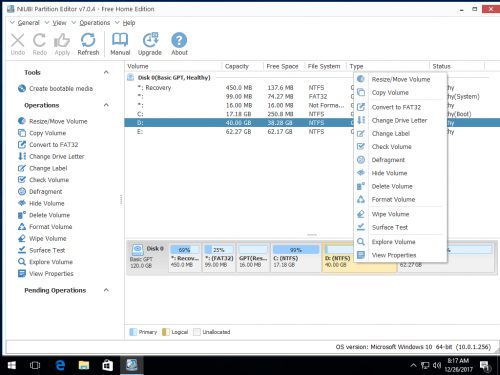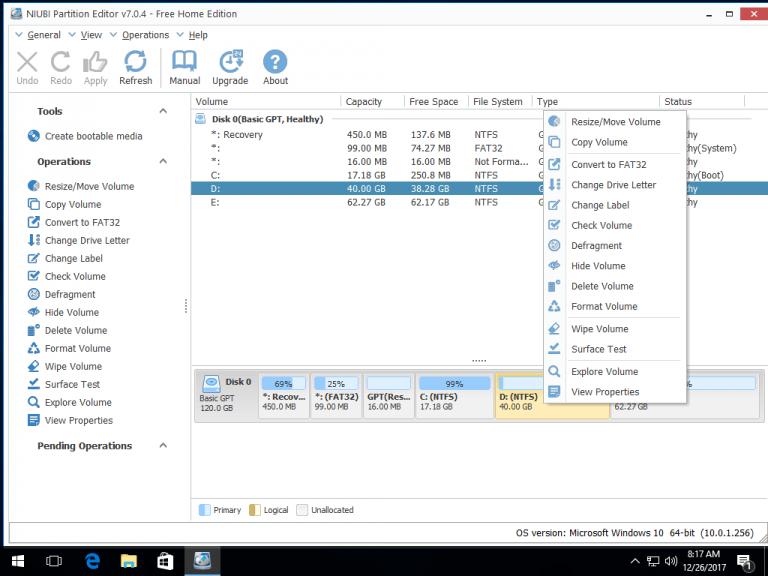 In the pop-up window, drag left border rightwards to take free space out from D.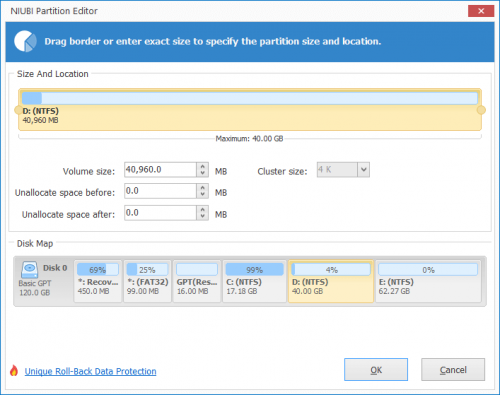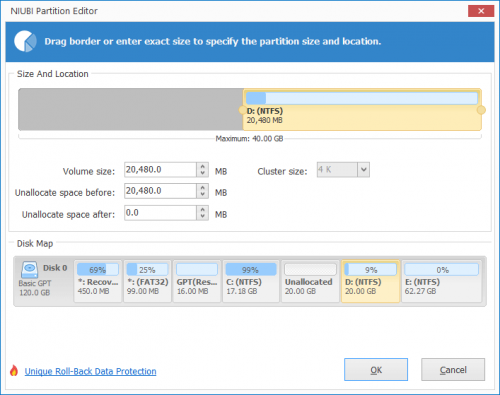 Click OK and back to the main window, as you see 20GB Unallocated space generated behind C drive.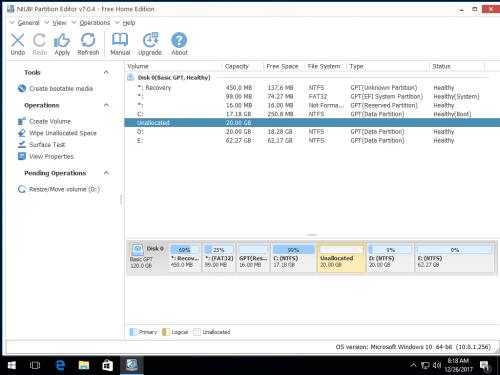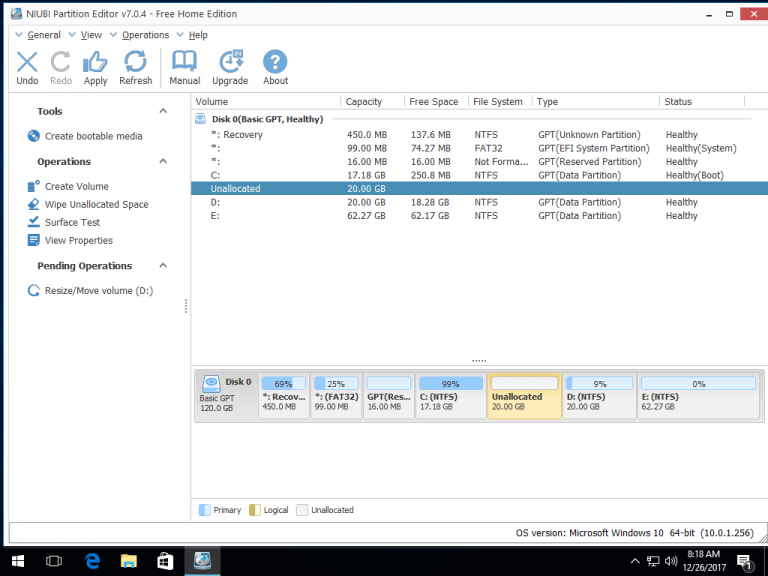 Step 2: Right click C drive and select "Resize/Move Volume" again.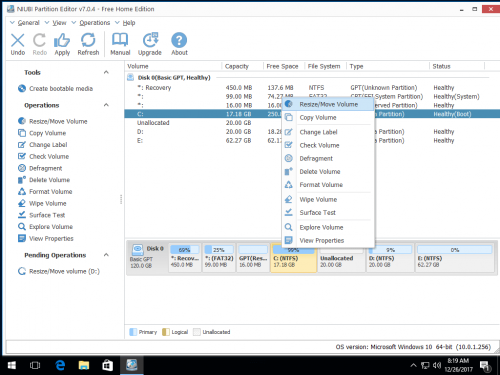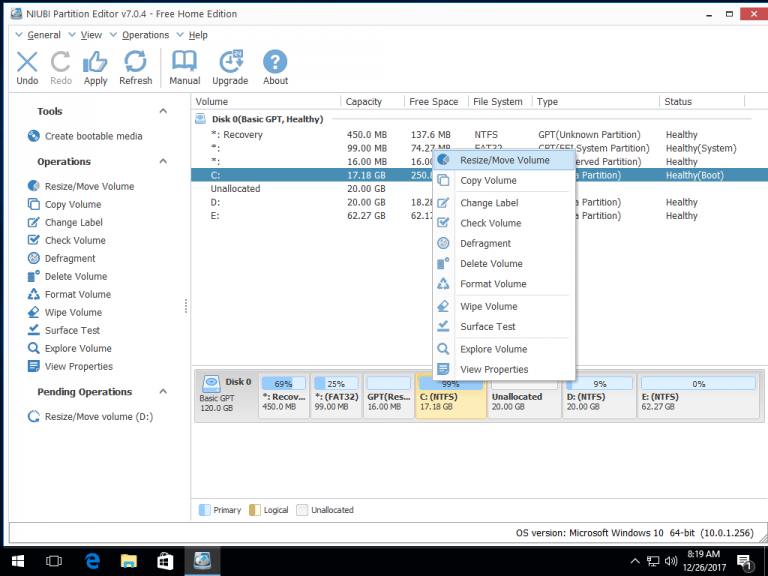 In the pop-up window, drag the right border rightwards to hold the Unallocated space.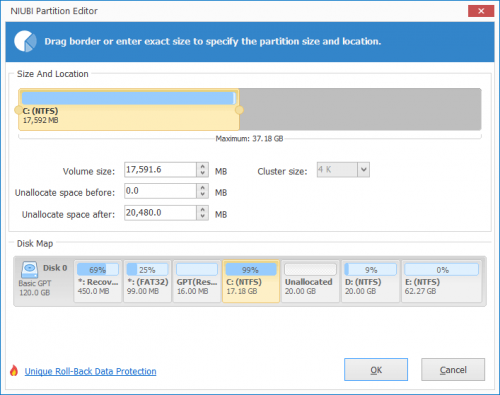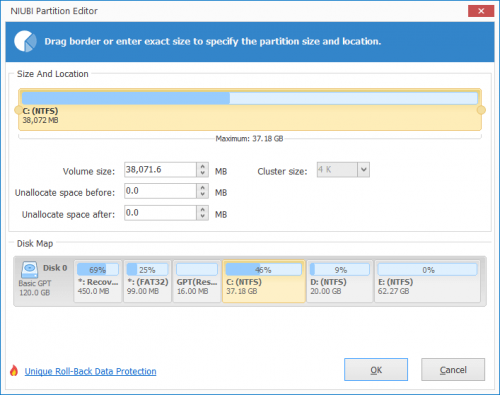 Step 3: Click OK and back to the main window, C drive was extended to 37.18GB by transferring 20GB free space from volume D. Click Apply on top left to execute, done.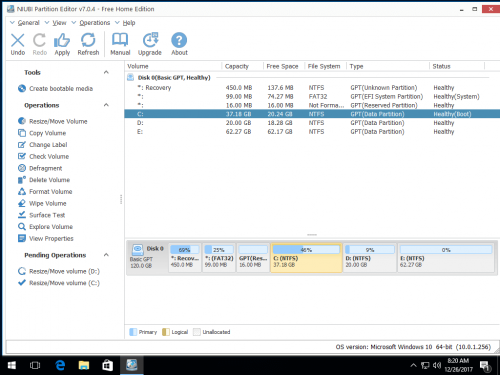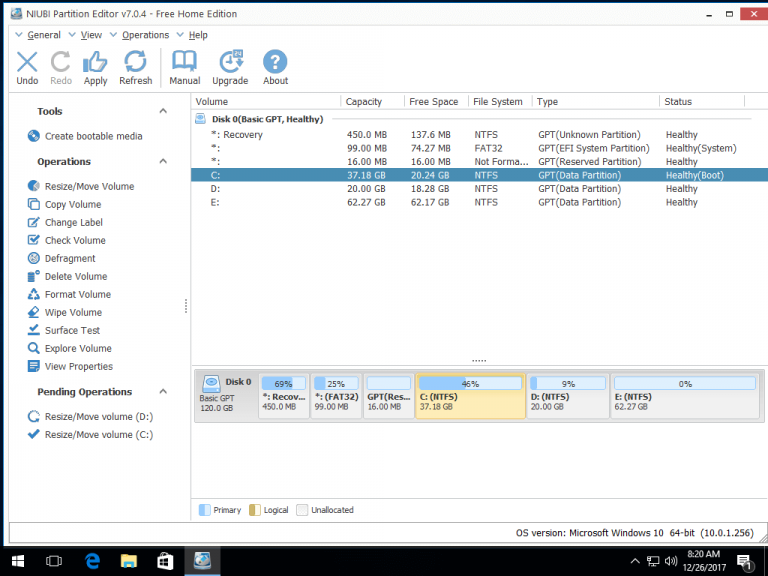 If there is not enough free space in volume D, you can get free space from any other volumes in the same disk, just need an additional step to move partition.
Note: Roll-Back technology and bootable CD/DVD/USB function is included in Professional edition, if you need these functions and get higher performance, you may consider Upgrade to higher version.