Windows Updates, services, applications and many other kinds of files write into system C: drive continuously every day. Sooner or later your C drive becomes full, especially when C drive was created less than 40GB.
The fast way to solve this problem is by resizing partitions. Shrink other data volumes to get unused space and then add into C drive. Some Windows 10 users feedback they don't know how to resize hard drive partition and worry about data safety. In this article, I'll introduce how to extend C drive volume in Windows 10 without data loss.
Tips before extending C drive
There are several points you should know before extending C drive in Windows 10, otherwise, it may cause trouble:
Check if there is enough unused space in any other volume in the same disk. No partitioning tool can expand C drive with space in other separated disk. If there is no other volumes or not enough unused space, you may copy to another larger disk to enlarge C drive.
You'd better close other running applications before extending C drive.
There is no difference if you use single hard disk or any types of hardware RAID arrays.
Pay attention to data safety. Different with read-only operation, to resize and extend volume, the partitioning tool will modify all parameters related to this disk, partition and all files in the volume. A slight error may cause data loss, so it is important to select a reliable tool.
Better than other tools, NIUBI Partition Editor provides unique 1 Second Rollback, Cancel-at-well and Virtual Mode technologies to ensure system and data intact.
Expand partition C via Windows tool
To extend system C: drive in Windows 10, there are two choice: Windows built-in Disk Management and 3rd-party application. Because of many limitations, Disk Management is not the best.
The precondition to expand C drive with Disk Management: there must be adjacent Unallocated space on the right side. Some people try to shrink the adjacent volume D with Shrink Volume and got some Unallocated space, but when right clicking C drive, Extend Volume is grayed out.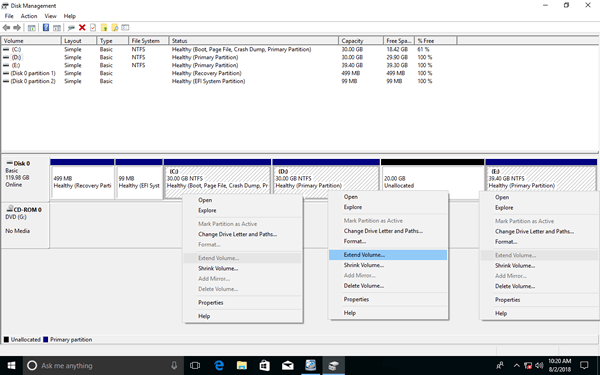 To extend volume with Windows 10 Disk Management, the only option is by deleting the adjacent volume to get Unallocated space.
Steps to extend C drive with Windows 10 Disk Management:
Back up or transfer all files in the adjacent volume (usually D:) .
Press Window and X on keyboard and select Disk Management.
Right click volume D and select Delete Volume to get Unallocated space.
Right click C drive and select Extend Volume.
Finish the Extend Volume Wizard and then C drive will be extended.
Note:
Do not delete the adjacent volume if you installed programs in it. Otherwise, some programs will stop working even if you moved all files.
In some situation, you cannot extend C drive even by deleting D.
Extend C drive with partition software
With NIUBI Partition Editor, it is much easier to resize partition and expand C drive, you just need to click and drag on the disk map. Beside resizing disk drives, it also helps do many other operations, such as move, merge, copy, convert, defrag, wipe, active, label, check partition, etc.
Steps to extend partition C on Windows 10 with NIUBI:
Download this software, you'll see the main window with disk partition information and available operations.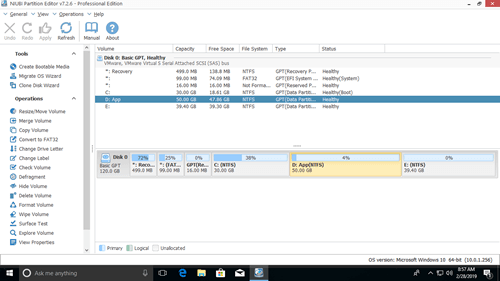 Step 1: Right click drive D and select "Resize/Move Volume", drag left border towards right in the pop-up window.
Step 2: Right click drive C and select "Resize/Move Volume" again, drag right border towards right in the pop-up window.
This software is designed to work in its virtual mode, the operations you do will be listed as pending on bottom left, and real disk partitions won't be modified until click Apply to confirm.
Video guide to enlarge C: drive on Windows 10.
It doesn't matter if there is not enough unused space in the adjacent volume (D:), you can get from any non adjacent partition in the same disk. To do this, follow the steps here.
In Summary
If you want to extend C drive in Windows 10, no matter it is 32 bit or 64 bit, laptop or desktop, mechanical hard disk or SSD, the native Disk Management tool can only accomplish by deleting the continuous partition. You can't do do this in most situations, so you'd better run safe partition software such as NIUBI partition editor. It provides unique data protection technologies and several ways to help extend volume. Besides resizing and extending partition, it also helps you merge, copy, convert, defrag, wipe, hide partition, etc.
➤