More and more Windows 10 laptop and desktop use SSD for system disk, it is useful to improve computer performance, because the read and write speed of SSD is much faster. But on the other hand, SSD is more expensive, so it is smaller than traditional mechanical hard disk. Of course C drive is more likely running out of space. In this situation, nobody likes to reinstall Operating System and all programs. Many people ask whether it's possible to extend C drive volume without losing data. The answer is yes. In this article, I'll show you detailed steps to extend C drive in Windows 10 computer with Windows native and third party tools.
Extend C drive in Windows 10 Disk Management without any software
Some people don't like to use third party software if problem can be solved by Windows native tool. To help extend C: drive volume in Windows 10/8/7, there are indeed 2 native tools: Disk Management and diskpart. Diskpart is command line tool, so it's not good for every user. Disk Management is easier to use with graphic interface, but it has same shortages with diskpart cmd.
To extend C drive in Windows 10/8/7 using diskpart or Disk Management, your disk partition configuration must meet the requirements:
There's a contiguous partition (such as D:) on the

right

of C drive.
There's no programs installed in D drive, so you can

delete

it.
There's a third partition to save all files in drive D.
If your system disk is MBR, the contiguous D drive must be

Primary

.
There's another Shrink Volume function, why not shrink D to expand C drive? Because to expand a partition with either Windows native tool, there must be adjacent Unallocated space on the right. You cannot get such required Unallocated space by shrinking another partition. As you see in the screenshot, the Unallocated space that shrunk from D is nonadjacent to C drive, therefore, Extend Volume is grayed out.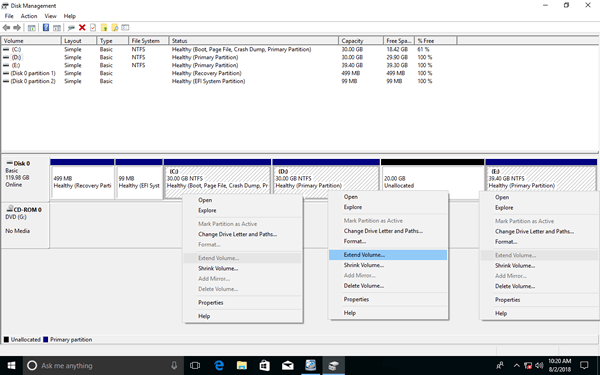 If you want to increase C drive space for Windows 10 computer without any software, you must delete D to get contiguous Unallocated space.
Note:
Do not delete D if you installed programs in it.
D drive in this article means the contiguous partition on the right of C drive. In some computers, it is E.
Steps to extend C drive in Windows 10 using Disk Management tool:
Back up or transfer all files in the adjacent D: drive.
Press Windows + X together on the keyboard, click Disk Management in the list.
Right click D: and select Delete Volume, its space will be changed to Unallocated.
Right click C: drive and select Extend Volume.
Simply click Next till Finish in pop-up Extend Volume Wizard window, then C drive will be extended in a short time.
Extend C drive volume with free partition editor
Obviously, it's not a good idea to extend C drive by deleting other partition. If there's no other partition to transfer files, or if D drive is Logical, you cannot extend C drive even if deleting D. With NIUBI Partition Editor, you can shrink D drive and make Unallocated space on the left, then C drive can be extended easily. There's free edition for Windows 10/8/7/Vista/XP home computer users. Besides shrinking and extending partitions, this free tool helps you move, merge, convert, defrag, hide, wipe partition and much more.
There are several ways to expand C drive partition in Windows 10/8/7/Vista/XP, select the corresponding method according to your own disk partition configuration.
1. How to extend C drive by shrinking D or another volume
In most of computers, there's another volume on the same disk no matter it is contiguous or nonadjacent to C drive. You just need to shrink this volume, then part of free space will be converted to Unallocated. Adding this Unallocated space to C drive, it will be changed to free space again. After extending C drive, your Operating System, programs and anything else keep the same with before.
Download NIUBI Partition Editor, you'll see the main window with disk partition structure and other information. Available operations are listed on the left and by right clicking.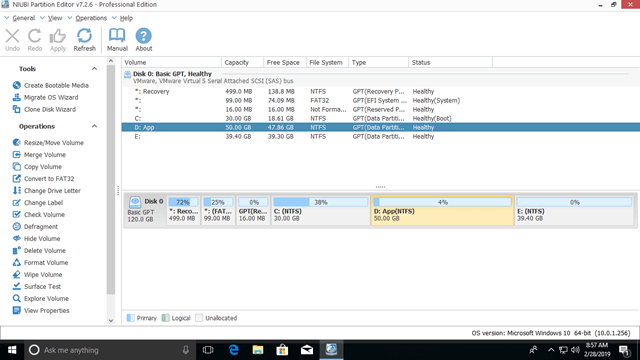 Steps to extend C: drive in Windows 10/8/7 without losing data or deleting volume:
Right click D: drive and select "Resize/Move Volume", drag

left border

towards right in the pop-up window, then D: drive will be shrunk and Unallocated space will be made on the left side.

Right click C: drive and select "Resize/Move Volume" again, drag

right border

towards right to merge this Unallocated space, then C: drive will be extended.

Click Apply on top left to execute, done. (All operations you do will be listed as pending, real disk partitions won't be changed until click Apply to confirm.)
If you want to get free space from a nonadjacent partition, there's an additional step to move Unallocated space before adding to C drive.
How to extend C: drive in Windows 10 with other partitions on the same disk: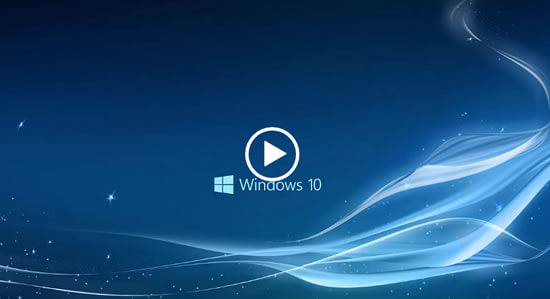 2. How to extend C drive partition with another disk
In some computers, there's no available free space on the same disk. For example, there's no other data volume or the whole system disk is full. In that case, no software can extend C drive by adding space from another separate disk. The separate disk means Disk 0, 1, etc. that are shown by NIUBI Partition Editor.
To extend C drive volume in Windows 10/8/7/Vista/XP under this condition, you have 2 options:
Move a data volume to another disk, delete it to get Unallocated space and then add to C drive.
Copy whole disk to a larger one and extend C drive with extra disk space.
If you use any types of hardware RAID, do not break RAID array or do any operations to raid controller, simply follow the steps above, there's no difference if you use RAID or single disk.
In Summary
If you want to extend C drive in Windows 10/8/7, no matter it is 32 bit or 64 bit, laptop or desktop, mechanical hard disk or SSD, Windows native tools can only accomplish by deleting the continuous Primary partition. NIUBI Partition Editor provides several ways to extend C drive without losing data. Better than other tools, it has Virtual Mode, Cancel-at-well and 1-Second Rollback technologies to protect your system and data.