Step 2: Type select volume 1 to give focus to the system C: drive.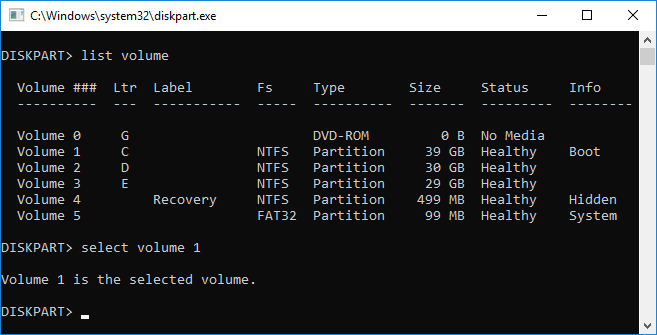 Step 3: Type extend to proceed extending.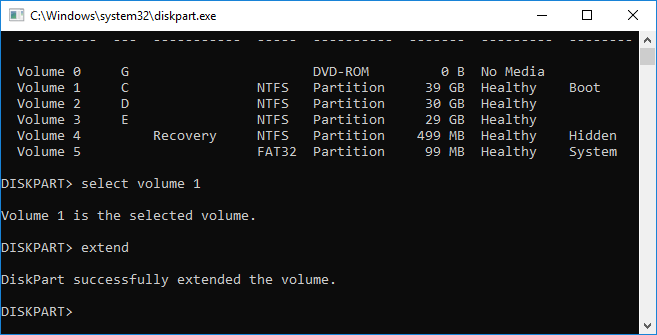 If you extend C drive again, you'll receive error message 'There is not enough usable free space on specified disk(s) to extend the volume.'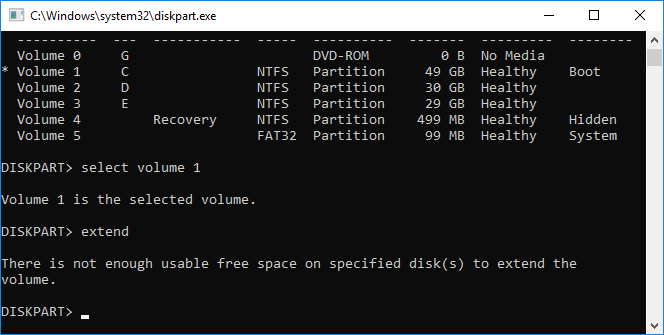 Limitation of diskpart when extending C drive
Only when there is adjacent Unallocated space on the right side, extend command is valid.
Only NTFS partition is supported to extend.
Unallocated space is not displayed in command window, so you don't know whether there is and where it is.
Volumes are shown as list without structure.
Operations cannot be undone, incorrect operation could cause data loss.
Because of the limitations, DiskPart command is not the best tools to resize partition and extend C drive on Windows 10. To do this, professional partition software is better choice.
Download NIUBI Partition Editor, you'll see all disks with partition structure on the right, available operations are listed on the left.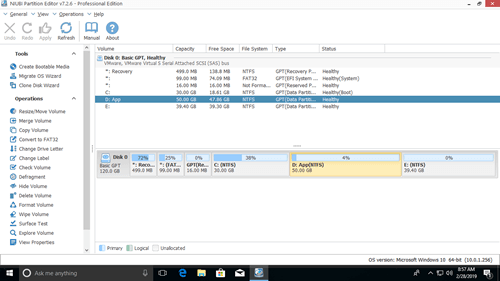 Step 1: Right click drive D and select "Resize/Move Volume", drag left border towards right in the pop-up window.
Step 2: Right click drive C and select "Resize/Move Volume" again, drag right border towards right in the pop-up window.
This software is designed to work in its virtual mode, all operations you do will be listed as pending. So if you did something wrong, simply click Undo to cancel. To change real disk partitions, click Apply to execute.
Video guide to enlarge C: drive on Windows 10.
Besides resizing and extending disk partitions, NIUBI Partition Edition can help you do many other disk/partition management operations, such as merge, copy, convert, defrag, wipe, repair, scan, set Active partition, etc.
➤