3. Click the check-box in front of the files that you want to cleanup and click OK.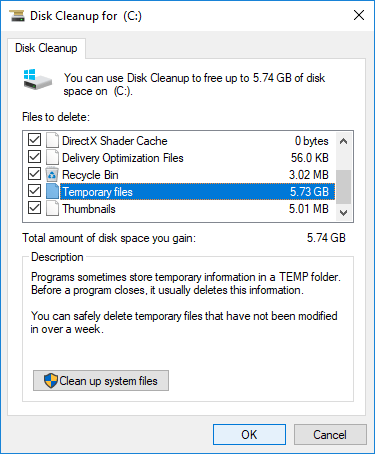 4. Confirm this operation by clicking Delete Files.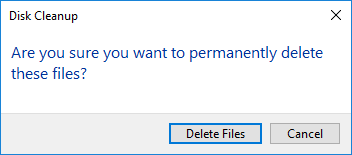 5. Repeat to Clean up system files.
You may get several GBs free space if you did not clean up C drive before. If you want to reclaim more disk space, check additional steps to free up disk space on Windows 10.
You'd better enlarge C drive even if you got 10GB free space after freeing up, because these space will be eaten up quickly by new generated junk files. That means, you may encounter C drive full issue again and again.
Increase C drive to larger size
To do this, there is free partition software to resize allocated partitions and transfer more unused space to C drive. However, there is system damage and data loss risk when resizing disk partition with unreliable software, so remember to back up before this operation.
As the safest tool, NIUBI Partition Editor has powerful 1 Second Rollback technology to ensure system and data intact. If something goes wrong during the whole process, it automatically reverts your computer to original status in a flash. If it happens, nothing will be changed or damaged.
Download NIUBI Partition Editor and follow the steps in the video.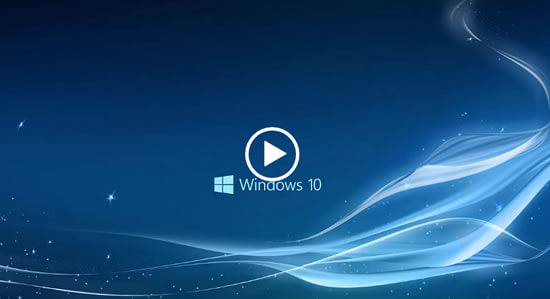 Use computer in right way
As I said above, new junk files are keeping generated, so you'd better delete them regularly and make C drive clean.
Traditional method:
Run Windows Cleanup as monthly maintenance utility.
Install new applications to other volume instead of C drive.
Change the output path of the applications to other large volumes.
New method:
Better than all previous versions, Windows 10 can complete this task automatically for you.
Firstly, you need to enable this service:
Press Windows and X on keyboard, then Settings
Go to System > Storage
Switch Off to On under Storage Sense on the right side.
Then click Change how we free up space automatically below it.
You have several options:
Firstly, select from the list to free up disk space when this partition is running low or every day/week/month.
Then you can select wether delete temporary files automatically.
Then select from the drop-down list to delete files in Recycle Bin and Downloads folder if they have been there for over 1/14/30/60 days.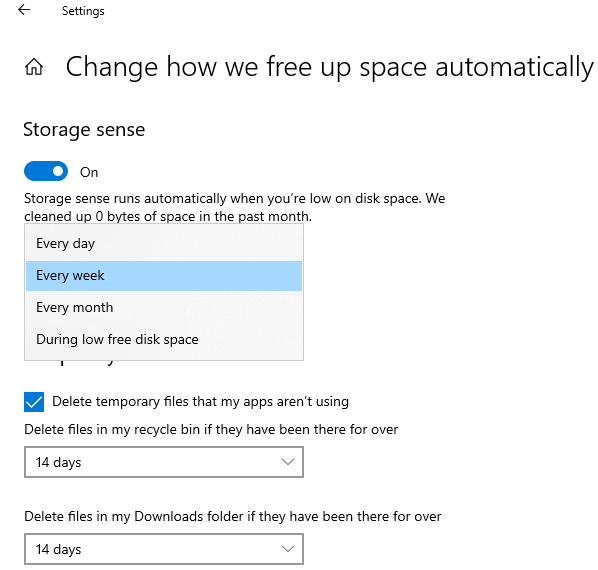 After the steps above, you can fix C drive full issue for Windows 10 computers. If you still worry about the available space, there are 2 useful options (new features in Windows 10).
Move installed apps and games
Follow the steps:
Press Windows and X on keyboard, then click Settings > Apps > Apps & features
Click an app or game.
Click the Move bottom.
Select the new location from the drop-down list.
Click the Move button.
Repeat the steps to move more items.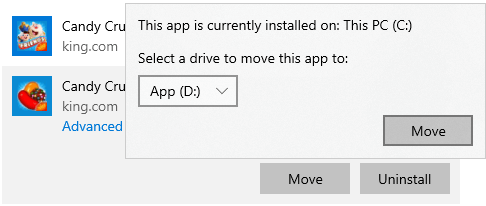 Save files to new location
Windows 10 has new option to change where new content is saved for apps, documents, music, pictures, and videos to other place, steps:
Press Windows and X on keyboard, then click Settings
Click System> Storage.
Click Change where new content is saved under More storage settings.
Click the drop-down list to select new location and click Apply.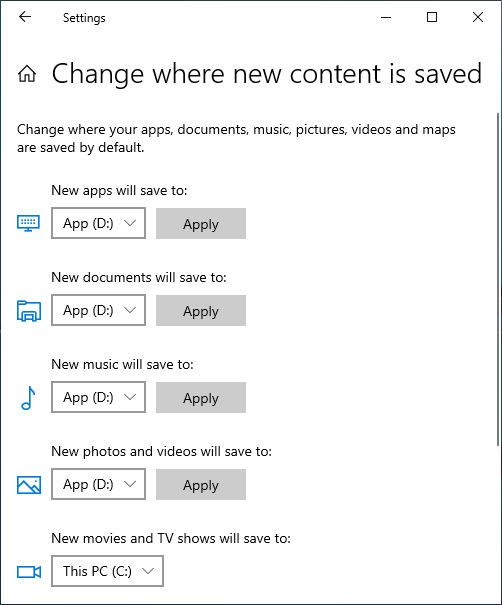 In Summary
To fix C drive full in Windows 10: expand C drive as large as possible, reclaim disk space with Disk Cleanup, free up disk space once a month or set to work automatically. Move applications and files if you want.
➤