Free up disk space in Windows 10
When a hard disk drive becomes full, you can free up to reclaim disk space without buying a new one, because there are tons of junk and unnecessary files in it. This article introduces how to free up disk space on Windows 10 with Disk Cleanup and additional 10 ways. In addition, expand C drive to larger size if it is created small.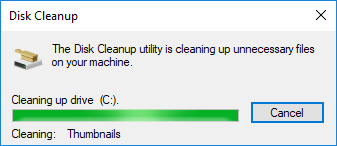 Top 2 reasons why freeing up disk space
Few people feedback that the low disk space issue is caused by virus or Windows error, but the most common reasons include:
Windows 10 Update and upgrade
C drive is filling up continuously
No matter upgrade Windows version or install Windows Updates, many people feedback C drive is almost full, because there are large amount of files save into C drive, many of which are very large.
In daily usage, many types of files are generated in the system C drive. If you do not free up disk space by deleting the junk and unnecessary files, C drive will be full sooner or later.
Tools to clear up space
There are many third party system optimization software that can help delete the unnecessary files, but Windows built-in Disk Cleanup is enough. From Windows XP to the latest Windows 10, I always use this utility to free up disk space. It is easy to use, runs fast, and it is able to clean up many types of files. The most important aspect, it is safe.
Starting with version 1803, Windows 10 Disk Cleanup is incorporated into Windows 10's Settings app, which has more options. In addition, you can set to free up disk space automatically. However, the traditional standalone Disk Cleanup utility is still available.
Free up space with Windows 10 Disk Cleanup

: Press

 and

 on keyboard, type cleanmgr, and then click OK.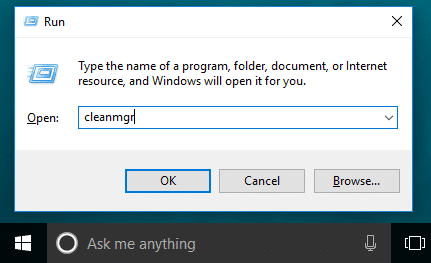 : Select the drive that you want to cleanup.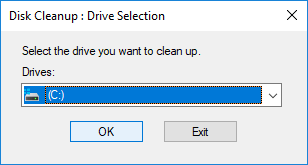 : Click the check-box in front of the types of files that you want to cleanup and click OK. If you are not sure what the files include, click it and you'll see the description.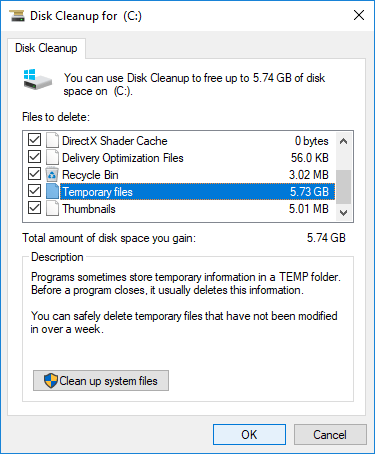 : Confirm this operation by clicking Delete Files.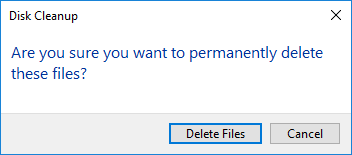 Disk cleanup will begin.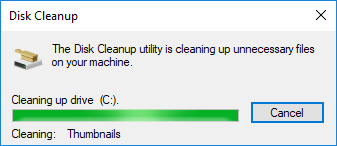 : Repeat the steps above to clean up system files.
If you never or have not free up disk space in Windows 10 for a long time, Disk Cleanup utility may help you regain several GBs of disk space.
Additional options
The options below could help free up disk space in Windows 10.
1. Delete or reduce hibernate
Hibernation is a feature that saves the content in memory to the hard drive allowing you to shut down your device completely without losing your current session. Hibernation is a useful feature but it requires several gigabytes of space to save the content in RAM to the hiberfil.sys file on the hard drive.
You can reclaim disk space by deleting the hibernation files or reduce the size of hiberfil.sys, steps:
Search cmd on task bar on bottom left corner of the screen, right click Command Prompt and choose Run as administrator.
To reduce hiberfil.sys file:
Type powercfg -h -size 50
The size will be changed from default 75% to the minimum 50%
To delete hibernate:
Type powercfg.exe -h off
Hibernate mode will be disable and any associated saved data from previous hibernations will be deleted automatically.
If you want to enable it:
Type powercfg.exe -h on
2. Move installed apps and games
On Windows 10, it's possible to move certain Microsoft Store apps and games to a different storage device without having to reinstall, (Note: you must have the external storage connected at all times.) steps:
Connect the removable drive.
Press  and  on keyboard, then click Settings > Apps > Apps & features
Select an app or game.
Click the Move bottom.
Use the drop-down menu to select the new location.
Click the Move button.
Repeat the steps to move more items to the external drive.
3. Move existing files
Connect the removable drive.
Open Windows File Explorer.
Navigate to the folder with the files/folders you want to move.
Select these files/folders.
Click Home menu on the top > Move to > Choose location.
Click the Move button.
4. Save files to new location
Windows 10 is much more smart that all previous versions. You can change the default save locations for apps, documents, music, pictures, and videos to other place, steps:
Open Settings.
Click System> Storage.
Under "More storage settings," click Change where new content is saved.
Click the drop-down menu to select new location.
5. Uninstall apps
You may uninstall some apps and programs that you no longer use or that came preinstalled on your computer from the manufacturer. Steps:
Open Settings
Click System > Apps & features
Click the items that you want to remove and click Uninstall.
6. Turn on Storage Sense
Storage Sense is a relatively new feature in Windows 10 that users may enable to free up disk space automatically when the drive is running low on space. It can delete 3 types of files right now:
Delete temporary files that are not used anymore.
Delete files in the Recycle Bin
Delete files in the Downloads folder.
How to enable Storage Sense on Windows 10:
Open Settings
Go to System > Storage
Switch Off to On under Storage Sense on the right side.
7. Decrease or change location for Recycle Bin
All files that deleted by pressing DEL without SHIFT key will go to Recycle Bin, where you can revert these files to original location manually if you deleted them by mistake. In Windows 10, you can decrease the disk space or reset the location for Recycle Bin. Steps:
Right click Recycle Bin.
Select the drive for Recycle Bin.
Select Customer size and enter an amount.
8. Change size and location for Pagefile
Page file uses part of disk space as virtual RAM and it is located in C drive by default. You can change it to other partition when C drive is running low. Steps:
Press  and  on keyboard to start Run
Type command sysdm.cpl ,3 and press Enter.
Click Settings

Click Change

Select drive, enter amount of Initial size and Maximum size in Customer size, and then click Set and OK. (It requires reboot to take affect.)

9. Decrease size for system protection
System Restore is Windows built-in backup feature that uses disk space to store system snapshots. These snapshots are created automatically by Windows when some operations are made to disk drive. System Restore allows you roll back the system to a recent state. This feature reserves quite a big disk space for its functionality, and one option that you can free up disk space is to reduce the reserved space. Steps:
Select C drive and then click Configure 
Sliding towards the left to decrease the Max Usage of disk space. 
10. Compress files
Compact OS is a tool introduced with Windows 10 that allows you to compress the installation files and built-in desktop applications reducing the footprint and freeing up space.
Note: this operation won't affect computer performance, but it will modify system files. This operation is only suggested when disk space is extremely low and you have no other choice.
Search for Command Prompt and run as administrator.
Type the command: Compact.exe /CompactOS:always
You can revert the changes using the command: Compact.exe /CompactOS:never
Indispensable step – expand C drive
Disk Cleanup and other utilities can help you free up disk space on Windows 10 more or less, but you cannot solve the low disk space issue completely, especially when C drive is created small. Several GBs of free space will be eaten up quickly by new generated junk files. You'd better expand C drive to larger size.
Download NIUBI Partition Editor and follow the steps in the video.
As you see, you can extend C drive by taking free space from other drives in the same disk. All what you need to do is dragging and dropping on NIUBI Partition Editor and everything keeps the same after resizing disk partitions. Within several minutes to an hour (depends on the amount of files), C drive has plenty of free space again.
Running computer in right way
To completely fix C drive out of space issue, you may consider following options:
If the entire disk is small, replace it with a larger one.
Default installation path of all programs are in C drive, change the path to other separate drive (such as D) when installing programs.
If you already installed the programs to C drive and do not want to reinstall, change the output path of the programs to other large partitions. The programs for videos, games and projects will generate many large files.
Run Windows 10 Disk Cleanup as monthly maintenance utility.
In one word: free up disk space in Windows 10 to get some precious space, extend C drive to as large as possible, so there will be plenty of free space, change Windows and program settings and output files to other drive, run Windows built-in Disk Cleanup to clear the new generated junk files monthly.