Solution of Extend Volume Grayed out in Windows
In old Windows XP and Server 2003, you can only do some basic operations in Disk Management such as create, delete and format partition. From Windows Vista, Microsoft enhanced the disk partition management ability by adding new Shrink Volume and Extend Volume functionalities. Windows 7 and the later Operating System inherited the same GUI and features. With the advanced shrinking and extending feature, Windows users can change partition size without reinstalling. This is significant improvement, however, many people feedback these functions are useless. Among all disk volumes, the system C drive is most likely running out of space, but Extend Volume is greyed out after shrinking the next volume D, so they cannot extend C drive until Extend Volume is enabled.
In this article, I'll show you a 1step method to fix Extend Volume grayed out in Windows 10/8/7/Vista and Windows Server 2016/2012/2011/2008 R2 (32 & 64 bit).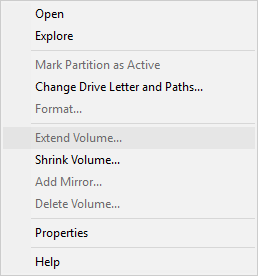 About Extend Volume functionality
As I said above, Extend Volume is an advanced functionality in Disk Management snap-in that added from Windows Vista. All later Windows versions inherited this function with same GUI and steps. As the name, Extend Volume can be used to expand an existing partitioned drive without data loss. However, not every disk volume can be extended. Only when there is adjacent Unallocated space on the right side, Extend Volume option is activated. Actually, there are other reasons that may cause Extend Volume greyed out for C drive.
Scenario of Extend Volume greyed out
There are 4 main reasons that cause Extend Volume disabled and I'll explain one by one.
1. No Unallocated space
Unallocated space is part of free disk space that not used by any volume, it can be used to create new volumes or combine into other volume.
The total disk space cannot be increased, so before expanding a volume, you must delete or shrink other volume to get Unallocated space. Some people that are not familiar with computer usage try to extend a volume directly. Of course Extend Volume is grayed out.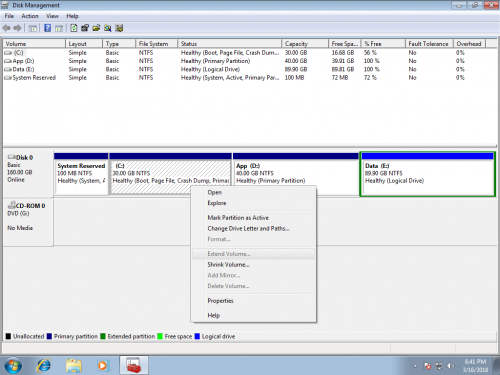 2. No adjacent Unallocated space
This is the most common scenario that Extend Volume can't be selected, but few people know about the reason. From the explanation from Microsoft, only when there is adjacent Unallocated space on the right side, you can expand a drive with Extend Volume.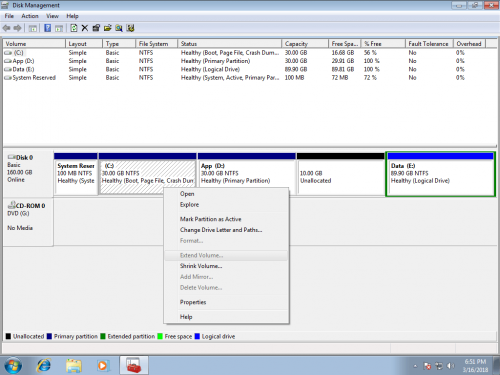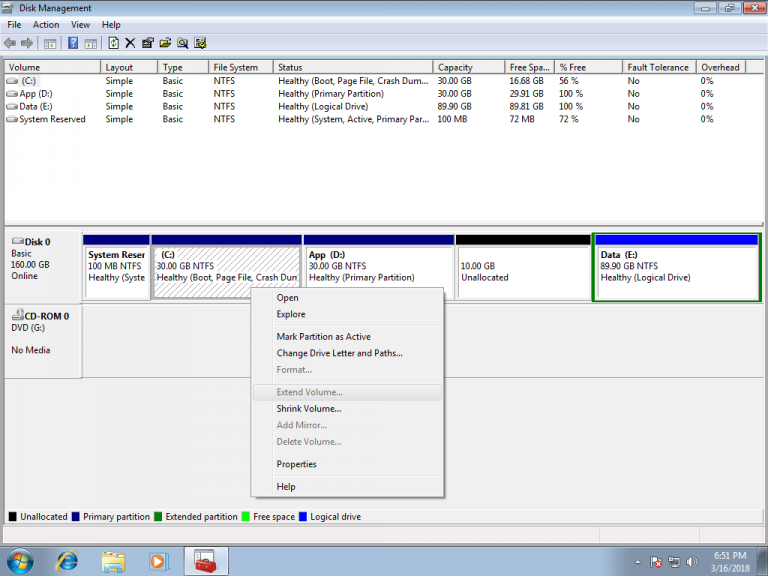 3. Unsupported file system
Extend Volume option is only enabled for NTFS and RAW partition. From the screenshot below, Extend Volume still greyed out even though there is right adjacent Unallocated space, because volume D is FAT32.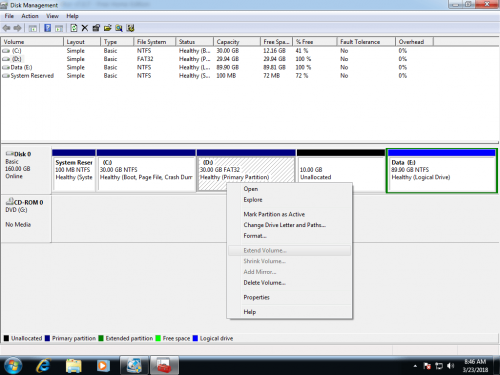 In this situation, you may convert FAT32 to NTFS, Windows has built-in utility to convert FAT32 to NTFS partition without losing data.
4. The adjacent partition is Logical
After reading the explanation from Microsoft or some websites, some people knew the truth that Shrink Volume cannot help. But whether it is possible to delete drive D to get adjacent Unallocated space? Yes it works in most cases but I do not suggest, because all Windows services and programs running from D stop working after deleting it.
In special condition, you cannot get adjacent Unallocated space even if you delete volume D, for example: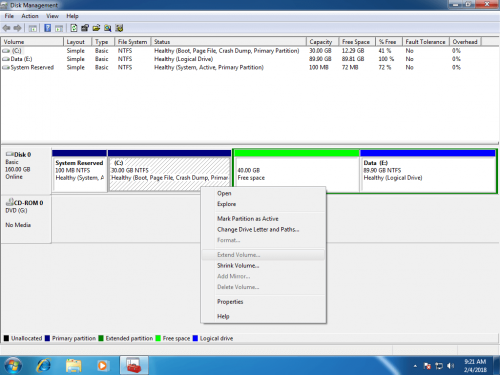 From the screenshot, the disk space of volume D displays as Free space after deleting and Extend Volume is grayed out for C drive, too.
Noe: If you want to convert the Free space to Unallocated, you must delete another Logical drive E and the entire Extended partition.
It is annoying, right?
How to fix Extend Volume grayed out
It seems complicated, but to solve this problem on both Windows Server and PC, you just need 1 step to move the Unallocated space to behind C drive.
Download
NIUBI Partition Editor, right click volume D and select "
Resize/Move Volume
":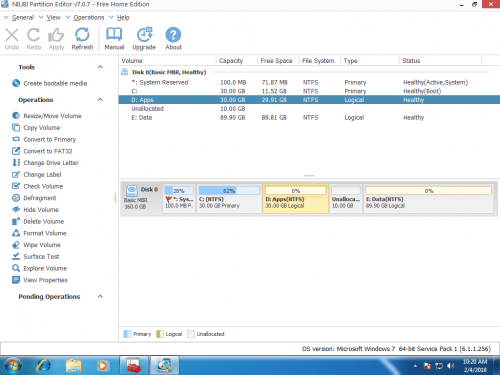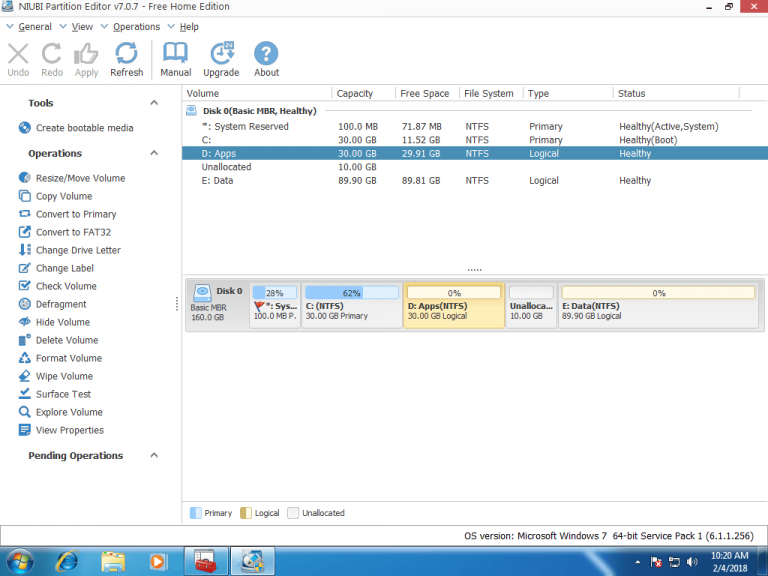 In the pop-up window, as you see the Unallocated space is behind volume D: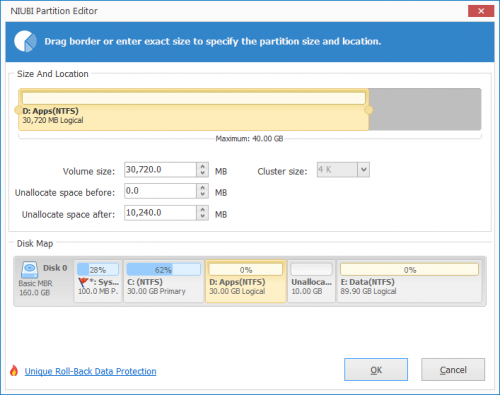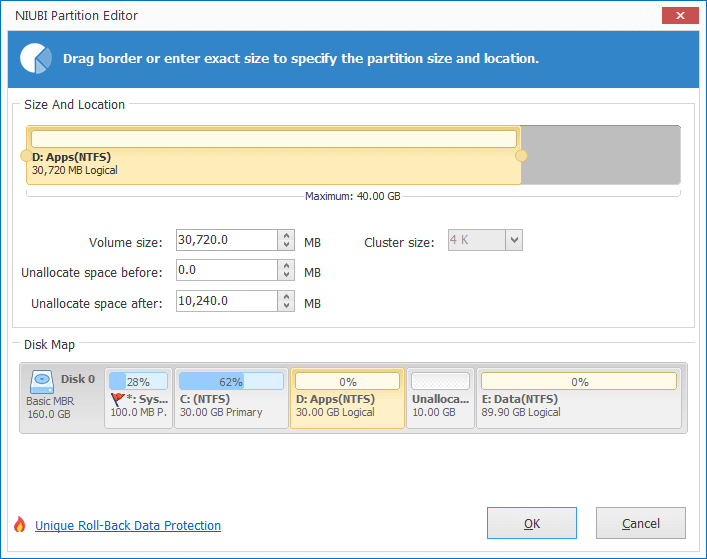 Drag the middle position of drive D rightwards to move it:

The Unallocated space will be moved to the left side of Volume D: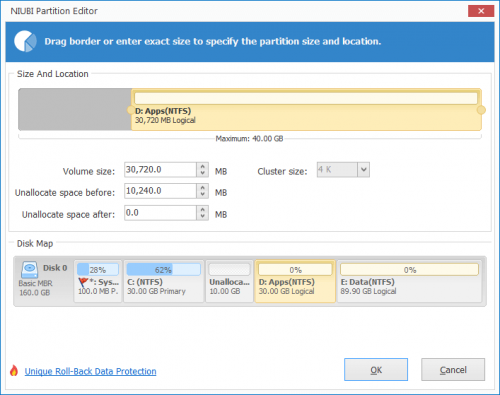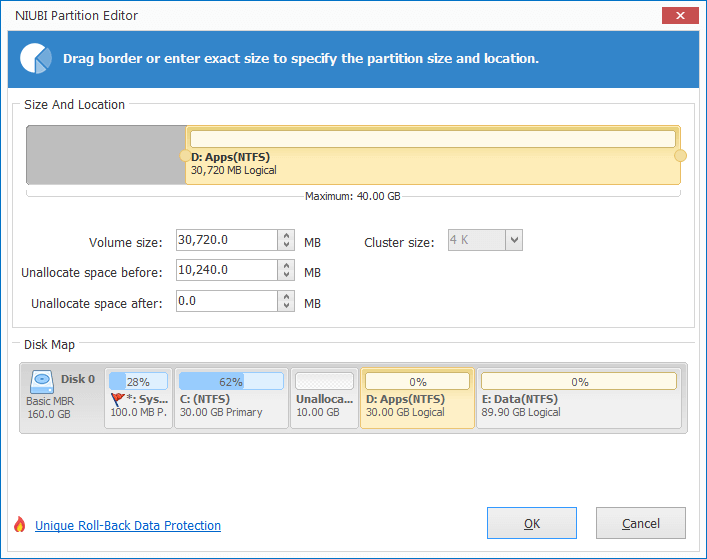 Click OK and back to the main window, as you see, the Unallocated space is behind C drive now. (Remember to press Apply on top left to execute, otherwise, the program only works in virtual mode and the partitions won't be changed.)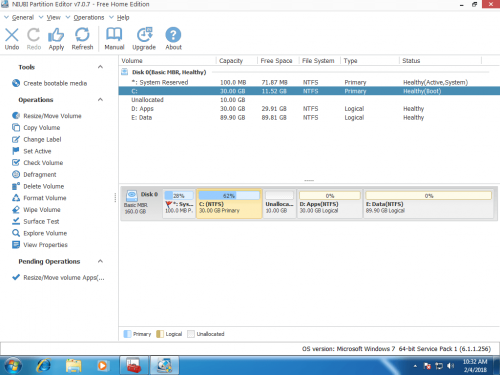 Now Extend Volume becomes valid for C drive, you may either extend C drive in Disk Management or with this free partition software.
Right click C drive and select "Resize/Move Volume" again, drag the right border rightwards to combine the Unallocated space in the pop-up window:

Within several seconds, C drive will be extended.
Resize and manage drive with free partition software
Besides moving partition to fix Extend Volume greyed out issue, you can do many disk & partition management operations with this free partition software. In addition, NIUBI Partition Editor integrates unique 1 Second Rollback technology to ensure 100% system & data safe while partitioning. Thanks to its special file-moving algorithm, it is at least 30% faster than other partition tool.
Both data protection and fast resizing ability are very useful and important, especially for Windows servers.