This article introduces how to shrink volume on Windows PC and Server without losing data, 3 ways to shrink disk partition with Disk Management, diskpart command and free partition editor software.
Applies to: Windows 10, Windows 8, Windows 7, Windows Vista, Windows XP, Windows Server 2019, Windows Server 2016, Windows Server 2012 (R2), Small Business Server 2011, Windows Server 2008 (R2) and Windows Server 2003 (R2).
In some situations, you need to shrink an allocated partition. For example, forget to edit disk while installing Operating System, so C drive occupied all disk space, then you can create new volumes by shrinking C drive. Another typical example is that C drive runs out of space but there is plenty of free space in other data volume such as D. So many people want to shrink D to extend C drive. In this article, I'll show you detailed steps how to shrink partition on Windows Server and PC with 3 kinds of tools.
How to shrink partition with Disk Management
Disk Management is a Windows built-in component that shows connected storage device as well as the detailed info of each volume. You can only do some basic operations such as create, format and delete partitions in Windows XP and Server 2003. In Windows 7 and subsequent versions, Microsoft integrated Shrink Volume and Extend Volume to resize partition without losing data (in most cases). However, because of some limitations, Disk Management is not the best tool.
Steps to shrink volume/partition with Windows Disk Management:
Press Windows and R on keyboard, type diskmgmt.msc and press Enter, and then Disk Management will be opened.
Enter the amount of space to shrink in MB and then click Shrink to proceed.

In a while, volume D is shrank and 20GB Unallocated space is generated behind D.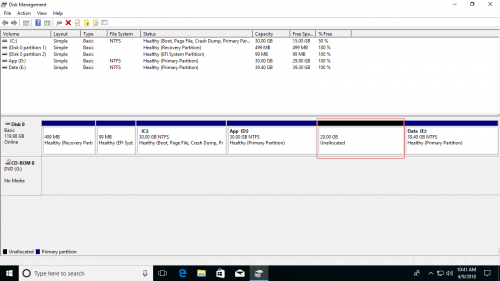 Limitations of Shrink Volume function:
It can only shrink NTFS partition, FAT32 and any other types of partitions are not supported.
As the tips in the shrinking window, you cannot shrink a volume beyond the point where any unmovable files are located.
Unallocated space can only be made on the right side after shrinking partition, Disk Management only give you an option to enter the amount of free space to shrink.
How to shrink drive with DiskPart command
Diskpart is a command prompt tool. Comparing with GUI Disk Management, diskpart is more difficult to use. In addition, in Disk Management you'll see partition layout and detailed information of each volume, but in diskpart command window, Unallocated space and some information won't be displayed.
Steps to shrink partition volume with diskpart command prompt:
Press Windows and R on keyboard, type diskpart and press Enter.
Type list volume to display all drives.

Type select volume X (X is drive letter or number of the partition that you want to shrink).

Type shrink desired=XX (XX is the amount of space to shrink in megabytes).

Diskpart works in different way, but it has same limitations with Disk Management.
How to shrink volume with free partition editor
Comparing with Disk Management and diskpart, NIUBI Partition Editor has more advantages such as:
Both NTFS and FAT32 partitions can be shrunk and extended.
Unallocated space can be made on either left or right while shrinking a partition.
It is able to shrink a partition to minimum size because it can move the "unmovable" files.
It is able to merge Unallocated space to either contiguous and any nonadjacent partition on the same disk.
To shrink partition on Windows PC or Server, you just need to drag and drop on the disk map. There's free edition for Windows 10/8/7/Vista/XP home computer users.
Download NIUBI Partition Editor, you'll see disk partition structure and other information on the right, available operations to selected disk or partition are listed on the left and by right clicking.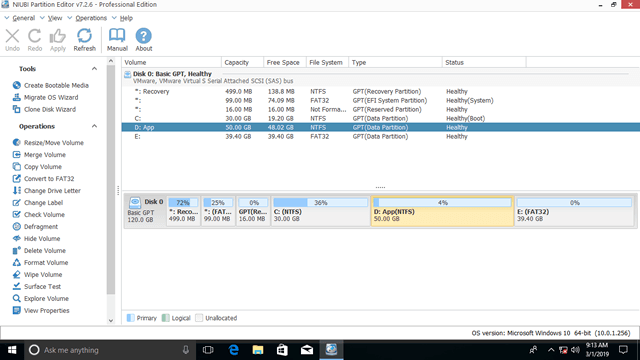 Right click the partition (such as D:) and select "Resize/Move Volume" feature. You have two options in the pop-up window:
1. If you drag left border towards right in the pop-up window,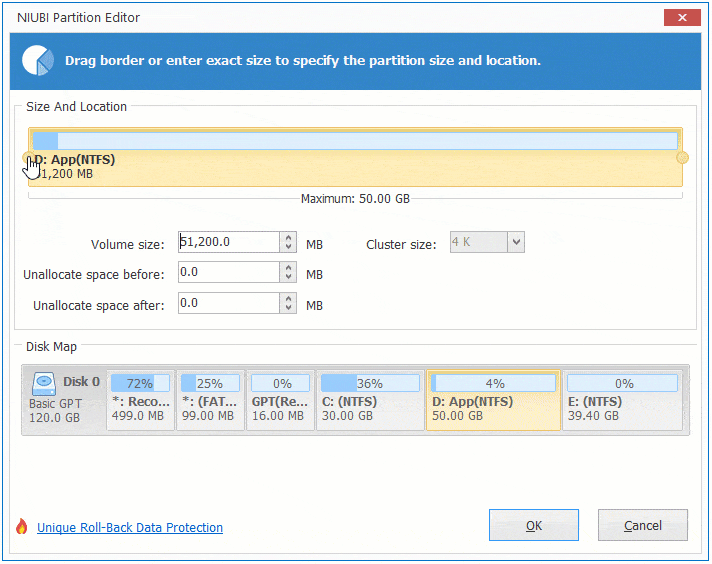 Unallocated space will be generated on the left side.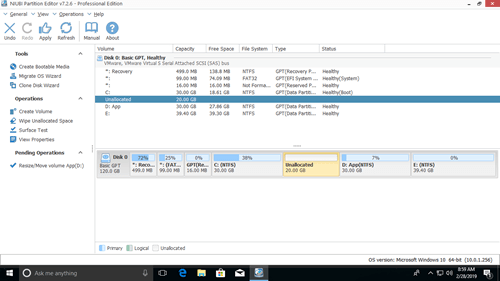 Different with Disk Management or Diskpart that take effect immediately, NIUBI Partition Editor works in virtual mode to avoid mistake. Only after you click Apply button on top left to confirm, real disk partitions will be changed.
Follow the steps if you want to extend C drive or increase D drive space.